2.3 billion people - nearly 30 percent of the world's population - are food insecure. And the problem has only worsened since the pandemic. Compassion's Vice President of the African Region tells three stories which illustrate the crisis, and explains how the Church is stepping in to provide support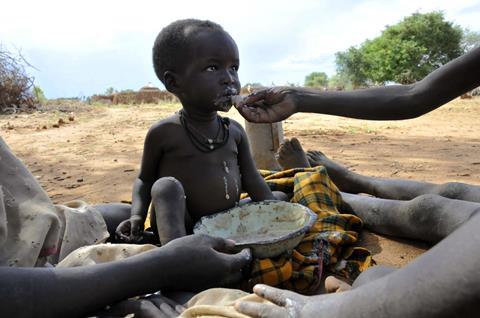 We are on the brink of a global food crisis on a scale beyond anything I have experienced in my lifetime.
But, despite the unprecedented scale, it is one of the most under-reported crises in recent history. The media's memory is notoriously short, but the reality is in recent months each news item has been contributing to a bigger picture.
Over the past two years, the pandemic has reversed decades of progress previously made in the fight against poverty and hunger in low and middle-income countries around the world. But the world hasn't had much time to recover. Conflict, economic shocks, weather extremes and the war in Ukraine led to even greater food insecurity in 2021.
According to The State of Food Security and Nutrition in the World 2022 report, around 2.3 billion people in the world, or nearly 30 percent of the world's population are food insecure - 350 million more that at the beginning of the pandemic.
While the impact of the crisis is far reaching children in poverty remain especially vulnerable. The report also estimated 45 million children under the age of five were suffering from wasting, a deadly form of malnutrition that increases a child's risk of death by up to 12 times; and 149 million children under the age of five had stunted growth and development due to a chronic lack of nutrition.
The numbers have become so colossal it is hard to comprehend what they mean and, like the news, they are all too easy to forget.
Working as Vice President of the African Region for the international child development agency Compassion, I hear the stories behind these numbers every day. Stories it's hard not to forget. I wanted to begin to give this crisis the visibility it so desperately needs by sharing three that have particularly impacted me.
Burkino Faso
The first story is from Burkina Faso in West Africa. Ongoing conflict continues to take its toll on Burkina Faso whilst the weather gets hotter and drier each year. As the heat rises, so does the price of food and the desperation of the people.
Wennefangdé is 14 old and lives with her parents in a tiny temporary shelter near the camps of displaced people in Burkina Faso. But it wasn't always like this. Wennefangde grew up on a farm in Northern Burkina Faso.
Marcel, Wennefangde's father heard the screams first. When he looked up from his work in the fields, he saw people running in a cloud of dust, some screaming and crying, some dragging children. A great fist squeezed in his stomach. A woman warned him of gunmen approaching. He ran.
They lost everything, their home, their farm, their source of income. These attacks aren't new and have contributed to the food insecurity in the region. Since 2016, Burkina Faso has experienced unprecedented violence. Thousands have lost their lives and more than two million people are now internally displaced. But with the rising prices and growing food shortages, adapting has become almost impossible.
Burkina Faso is one of the countries most affected by the economic and food crisis. This year, Marcel planned to increase his farm production and protect his family from food shortages. But he never imagined that all his efforts to sustain his family would collapse so quickly.
For the first time, the cost of a bag of 100 kilograms of corn reached $60 (US) whereas it used to be less than $30. Food security is Marcel's biggest challenging - affording at least two meals per day and school fees for his children. He and his family had escaped the violence - but living in town with no work and no prospects meant that hardships were waiting for them.
Uganda
Burkina Faso isn't the only country experiencing drought. Uganda, where my second story is from, is now at the tail end of a three-month drought that has killed most of the crops. People have taken to sleeping outside their houses - just to protect the crops that had survived from people who would come to steal during the night. Many people live day-today with machetes in their hands, and food has become a real problem.
In Uganda cassava flour is a food which even the poorest people would feel extremely lowly food to serve; Normally, it's prepared for dogs, for animals. But just the other day I heard from a colleague, a pastor at one of our partner churches in Eastern Uganda. He told me about one of his church elders who is from a community called Soroti. One day the elder got a call from his mother asking him to send her 5,000 Uganda shillings. That is roughly the equivalent of 5p. The 5,000 Uganda shillings was to buy cassava flour. Not to feed any animals but for herself and the rest of the family. In a rural farming community that would usually provide food for the city, she was turning to the city in desperation. Begging. Just cassava flour and water. That would be enough.
The pastor shared how in his own community, Kireka, all the children who are suffering under this dark wave. Every week he gets 30 to 40 phone calls from people saying, "Pastor, you've got to come in now. You've got to help. My child, our home. We don't know where to lay our head. We've been kicked out. I've lost a job."
Tanzania
The last story I want to share might not be a story you'd expect. It's a story, at first glance, that you might not think is really about the food crisis at all.
Winnie is from Tanzania. Her and her siblings have had a difficult upbringing, suffering from poverty and witnessing their mother's decline toward alcoholism. As their mother, Suzanna, grew more dependent on alcohol, she also became emotionally distant from her children. When Suzanna left to find work in another town, she left her children with their grandparents. Winnie's grandparents tried to provide for their three grandchildren, but without a stable income they struggled to meet their needs.
When Winnie was 11, her mother pulled her out of school and attempted to marry her off for about £1.70.
£1.70 for her daughter's life. Winnie heard about the plan and fled in terror. She sought shelter with her grandparents.
Winnie only just escaped, and she was one of the lucky ones. The direct impact of the hunger crisis on children is devastating but the indirect consequences are also heartbreak. The steep increase in child brides is among these with many turning to dowry money for their young daughters as the only way they can see for their family to afford food to survive.
Stepping in to help
In all three of these cases, we have been able to step in. As an organisation we are responding to the urgent need with food parcels and cash transfers but also equipping communities with sustainable solutions, such as drought resistant seeds. In Uganda alone the end of August 2022, over 48,000 Compassion-assisted children will each receive 56 kilograms of posho through the church and more than 28 kilograms of beans that will last them a month. Compassion's church partner in Burkina Faso provided a bag of 25 kilograms of rice and 5 litres of cooking oil for Marcel and Wennefangdé's family. And the Compassion centre were able to step in to ensure Winnie was safe, provided for and able to continue her education.
I am all too aware that these are just three stories. Three stories when there are over 300 million facing acute or crisis level insecurity. Working though our church partners across the world I am continually reminded that we are a global church facing a global crisis.
Churches are seeing the impact of the crisis before it's in the news and long after it is gone. Around the world they are serving children before disasters, during disasters, and they stay after the disaster. As people move on and forget it as an opportunity for us to stand up and stand out as Christians, to reflect the heart of our God in compassion and commitment to the vulnerable – to raise our voices for those whose suffering is not being heard and to support our brothers and sisters in caring for them.
To find out more about how Compassion is responding through their church partners, or to give to their food crisis response visit compassionuk.org/food-crisis
Palamanga Ouali is the Vice President of the African Region for Compassion International
View full Profile