As the Women's World Cup gets underway in Australia, Christians in Sport's Rosie Woodbridge writes an open letter to all those stepping out onto that pitch, or carrying the weight of their own expectations anywhere. Don't worry, God loves you, win or lose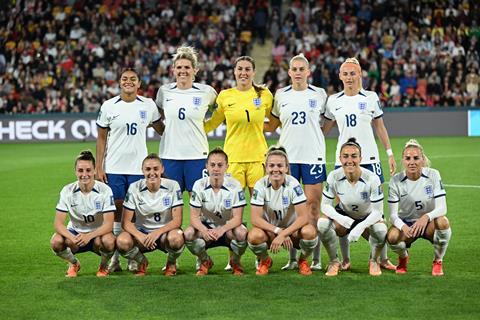 And so it begins.
We've been training for this moment for long months, years even. Dreaming of it for longer.
What a journey it's been. But we're ready now.
How will it feel to walk through the tunnel and step out onto the pitch?
As the crowds cheer, and we square up to the opposition, the moment of destiny awaits.
Millions around the world are watching, the pressure is on. It feels like the weight of the country, even of the world, is on our shoulders.
I try to stay focused on the game plan but questions creep into my mind: How am I going to perform? Will I shine or will I crumble? What will the world think of me? Will they remember my name? Will I go down as a legend in history? Or is it better to hide, so there's less risk of messing up and being remembered for all the wrong reasons? Will my teammates support me? Will my coach be pleased?
The cameras are on me.
Do I look OK? Am I displaying the image of myself that I hope to? Will I give a good impression of women's sport? Can I inspire the next generation of girls?
How will I cope if we don't win? How will I cope if I perform badly? If I get injured?
Does that make me a failure?
Will I let other people down?
Will I let myself down?
Will I still be loved?
And yet how will it feel if we win? If we get everything we ever dreamed of?
Will it be enough?
Will I be enough?
For the next month, the eyes of the world will be on the FIFA Women's World Cup where many players will be asking these questions, thinking about their identity. These are questions all of us in sport - but also in any form of performance environment, whether school or college or work - face.
But the Bible has good news for us as we wrestle with these questions.
The world tells us that we need to perform in order to be valued, in order to be enough, in order to be loved. Sport tells us we are as good as our last game, as good as our achievements. So what happens when we lose? What happens when we fail? It can feel like we lose something of ourselves. It can feel like we are incomplete.
Unworthy.
It can be crushing, devastating.
But the Bible tells us a better story.
"But God demonstrates his own love for us in this: While we were still sinners, Christ died for us" (Romans 5:8).
Jesus Christ demonstrates his love for us in the most incredible way. It is shocking; it is extreme. God himself is on a cross. Life itself is put to death.
Why?
Because of all our good deeds? Our moral perfection? Because of our achievements in life? Because of our performance on the pitch?
No. It was before any of that. While we were still sinners. When we had nothing at all to offer.
And yet even then, we are loved.
Not on the basis of our talent. Not on the basis of our performance. Not on the basis of our looks. Not on the basis of our fame. Not on the basis of our success.
But on the basis of the God who is love. Whose love never fails, never runs dry. He loves you because he loves you.
When the Gospel grips your heart, you can step onto the pitch with confidence.
Whether you win or lose, whether you fail or succeed; whether you give the performance of your life or a performance that feels like death; whether you spend 90 minutes on the pitch or the bench; whether you score or concede, you know that you are loved. The creator of the universe loves you so much that he was willing to die for you when he didn't have to. Nothing can ever change that.
You are more than a football player. You are more than a sportswoman. You are more than your body. You are more than your successes or failures. Do not let these define you.
You are loved.
That is who you are.

Rosie writes occasionally for Christians in Sport. She is an ultimate frisbee player and is at St Mary's Basingstoke with her husband Tom and young daughter.
View full Profile