The Liverpool star's move to Al-Ettifaq is the latest sports story to draw criticism over human rights issues. But those rights we champion as a secular society are deeply rooted in a Christian worldview says Dominic Hewitson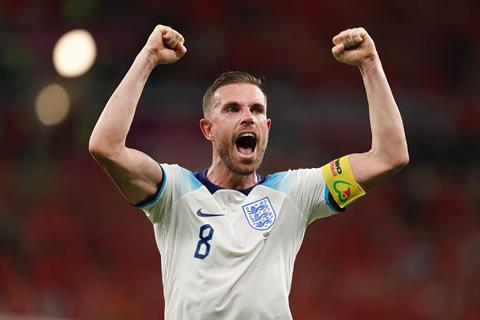 Liverpool captain and England footballer Jordan Henderson is on the verge of completing a move to Saudi Arabia. The BBC recently reported that Liverpool had agreed a deal in principle worth £12m plus add-ons to sell the 33-year-old to Al-Ettifaq, now managed by former Liverpool and England captain, Steven Gerrard.
But Henderson has received scathing criticism from LGBT campaigners over the proposed move. The player has publicly supported the LGBT community in the past, even wearing rainbow laces during England's Euro 2020 matches. Many in the community feel betrayed by what they say is "hypocrisy" on Henderson's part.
That human beings have rights is not a self-evident truth
Pundits and prominent football journalists have also voiced their condemnation of the 33-year-old, with Sky Sports News' senior reporter Melissa Reddy saying he has "folded at the first chance to make a stand".
The Athletic's Adam Crafton added: "There is a happy-ever-after version to all this, where we pretend that these sporting events and increased engagement with liberals all lead to a relaxation of laws and freedoms in Qatar and Saudi Arabia, but the theory that sport is a gateway drug for democracy has now been comprehensively debunked."
From darkness to light
Some may say it is cultural arrogance on the part of the West to assume that our values are superior to that of other cultures, and that once the rest of the world starts to think like us, everything would be better.
It sounds like a very religious attitude, wouldn't you say? Bringing people from the darkness into the light (see Ephesians 5:8-14) is a theme replayed throughout Christian history.
Many of Henderson's critics have said that LGBT rights are "inalienable human rights". In other words, this is not merely a political issue but something much more fundamental is at stake. Human rights must be respected. However, it seems that in our cultural moment, we have completely forgotten the roots of these supposed "inalienable" values.
A belief in equality
As historian Tom Holland beautifully lays out in his book, Dominion, human rights aren't just a universal moral position, they're a specifically Judeo-Christian belief.
The key word there being 'belief'.
The fact that we believe every person, including members of the LGBT community, should have equal rights, is because we're fundamentally Christian in our roots.
Writing for Premier Christianity, Holland says: "That human beings have rights; that they are born equal; that they are owed sustenance, and shelter, and refuge from persecution: these are not at all self-evident truths… Homo sapiens is just another species. To insist otherwise is to cling to the shattered fragments of religious belief."
Human rights are a specifically Judeo-Christian belief
We are forgetting that these 'rights' are, indeed, a belief that humans are of equal value, dignity and worth. And this idea has a theological underpinning that many in the West have sadly discarded as 'fairy tale' and 'fantasy'.
The wellspring of life
Henderson's move isn't the first time we're seeing uproar and damnation towards the Middle East's move into Western sport. See also LIV golf, the Newcastle United takeover and reactions to the Qatar World Cup as a few very recent examples.
But maybe, because of Henderson's status as being a vocal defender of liberal values, his U-turn might be a crucial juncture in a lot of people's minds.
Without a strong theological basis for these values in Western society, can they last? Perhaps it's about time we starting looking back to the wellspring of these supposed 'universal' ideas so that we can properly defend them.

Dominic Hewitson is the digital content lead for audio at Premier. He is a digital journalist who has worked at Sky Sports, ITV News and Reach PLC in the past. He is a keen sportsman, illustrator, and reader. He lives In Durham with his wife and two children.
View full Profile