The young English squad did their nation proud, says Emma Fowle. Shame about the fans though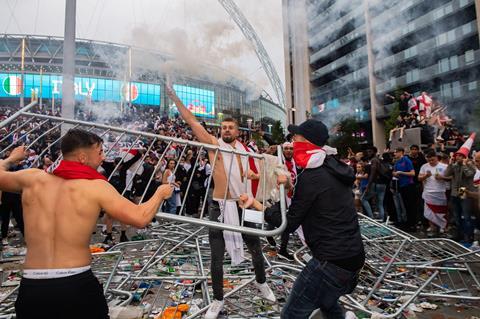 I thought I couldn't be any more disappointed than I was when I went to bed last night. Like most of England, as we crowded round the TV for the Euro 2020 final, the tension in our house was palpable. We'd been watching the build-up, impressed by an England squad that seemed to be growing in confidence with every game.
I'd been even more impressed by the demeanour, behaviour and attitude of the young squad, who, stewarded by Gareth Southgate's excellent example, seemed to exude respect, self-control and good behaviour.
When Saka missed the final penalty last night and was caught in Southgate's fierce embrace, like most mothers around the country, I too, wanted to hug the kid. What courage. What disappointment.
I actually fought back tears. What is wrong with the world?
This morning, I woke early, got the kids ready for school and jumped in my car. While waiting for my second Covid jab, the talk was, of course, all England. And that's when I heard it, and my heart broke all over again.
As I sat in my chair for the obligatory 15 minutes after my injection, I scrolled through my phone, reading BBC news reports and tweets condemning the racist comments levelled at Marcus Rashford, Bukayo Saka and Jadon Sancho. I blinked incredulously at a headline on an Australian news agency's facebook page: 'Three Black players failed in the penalty shootout which England lost 3-2 against Italy.' I wandered back to my car, stunned. I actually sat and fought back tears. What is wrong with the world?
Bad behaviour
I'd like to say I'm surprised, but after some of the scenes that had already been witnessed at Wembley yesterday, in truth, I wasn't. It's a beautiful game, but it sure can bring out the ugly in us all. Radio reports of families having to take their seats in the stadium hours before kick-off simply because the hoards of drunken fans outside were making the atmosphere feel too sketchy. Reports of violence as 'fans' breached security and tried to force their way into the stadium. The sea of empty bottles and beer cans that were left for street sweepers by people too drunk or too irresponsible to take their litter home or put it in a bin. The pictures of a man's bare bottom, a lit flare sticking out of it, doing the rounds on social media. It makes you so proud, doesn't it?
I grew up in a family who loved football. I nailed my own club colours to the mast aged nine when Leon Townley, a boy in the year above me, began his routine canvassing of the classroom. I don't know if I was intimidated or in awe of his persuasion tactics, but I was in: Arsenal 'til I die. As a teenager, I went to football fairly regularly, had friends who were season ticket holders at Highbury, one who even chained himself to the Clock End when the terraces were demolished. Later, I played for University College London women's first XI, winning league and cup medals with my team and even, as I like to remind my 13-year-old who is perennially embarrassed by her mum's achievements, occasionally making it onto the back page of my uni newspaper. Emma White, wonder winger!
When Southgate wrapped his arms around Saka, it was a beautiful image of God's paternal love
I remember hooliganism, although to be honest, the worst was over by the 90s when I was watching Adams, Seaman, Wrighty et al. win the league. Football was fun. Something you went to with your family, or your mates. My eldest daughter has – wisely- decided to follow in her mother's footsteps and has been begging me to take her to the Emirates for years now. Notwithstanding the distance (we live in Cornwall) and the cost (it's not what it was in the 90s!) I am sad to admit that I am also slightly nervous about exposing her to the atmosphere. The behaviour of some England supporters yesterday has done nothing to assuage that fear. But what, as Christians, can we – or should we - do about it?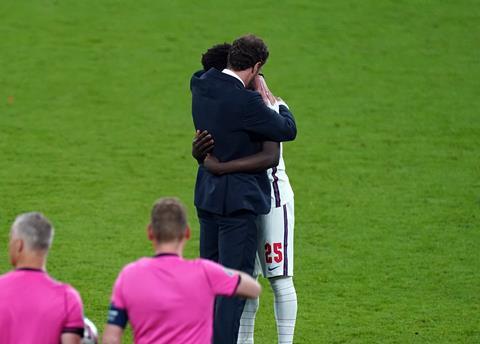 Creating culture
They say that culture comes from the top. Gareth Southgate has been rightly praised for ushering in a new era of integrity, high expectations and good behaviour. He's led from the front and taken action when standards were not adhered to (see Sterling's sanction after clashing with teammate Gomez in 2019). When he wrapped his arms around a broken Saka last night after his penalty was saved, my friend commented on what a beautiful image it was of God's paternal love for us.
Sometimes, in the face of injustice (see the racial abuse levied at Saka, Rashford and Sancho), and bad behaviour (see the drunkenness, violence and bad language that permeates much of football today) it is easy to feel overwhelmed, powerless and bone soul-tired. To every single one of my friends who are not white, and who have felt so painfully let down by the behaviour of a vocal minority in the past 24 hours: I am so sorry that you feel you are here again, back to this endlessly disappointing, heart-breaking reality.
We have an obligation to keep fighting for the change that we want to see in the world
But we are all called, as Christians, to carry on standing up to injustice, bad behaviour and broken culture wherever we see them. We cannot quit. We must not. Yesterday, as I sat in church, my pastor preached from Matthew 5:13-15: "You are the salt of the earth. But if the salt loses its saltiness, how can it be made salty again? It is no longer good for anything, except to be thrown out and trampled underfoot. You are the light of the world. A town built on a hill cannot be hidden. Neither do people light a lamp and put it under a bowl. Instead they put it on its stand, and it gives light to everyone in the house."
As Christians, we are meant to be different. To illuminate the darkness around us. To be distinct. We have an obligation to keep fighting for the change that we want to see in the world, to lead by example, just like Southgate has, and to refuse to quit just because the fight is tough and the road seems long. No matter how heartbroken I feel about the behaviour of my fellow Englishmen today, I must not allow the discouragement to immobilise me. I must, instead, turn that disappointment into fuel for the fire.
A different way
In 2019, I journeyed to Wembley Stadium with my daughter and a coachload of her teammates and their parents to watch the Lionesses play the German women's football team. An almost-capacity stadium was marked by its lack of violence, bad language and drunkenness at a match full of women, girls and parents. It was, by far, the nicest football match I had even been to. My point is that it can happen. It is possible. We need the FA to take action, just like it did against hooliganism, to continue to stamp out racism in football. We also need our politicians to stand up and be counted, unlike Pritti Patel and Boris Johnson when they refused to condemn fans who booed players for taking the knee last week. We need to recognise that if violence, abusive language and bad behaviour are ever going to be truly eradicated from football, it will need a wholesale culture change that comes from the top down. While a culture of drinking to excess is permitted to exist within football, this behaviour will not abate. It wouldn't be allowed at Wimbledon, so why is it OK at Wembley?
So often after a big loss, we hear footballers apologising for letting down their fans. In this instance, it's the fans who need to apologise. Marcus, Bukayo and Jadon: you deserved better. We're sorry. We'll keep pressing for change. And in the meantime, we're praying for you all. Stay safe, rest well and keep pressing on.

Emma Fowle is assistant editor of Premier Christianity and editor of Voice of Hope, Premier's quarterly devotional magazine. Emma is a trustee for Christian festival Creation Fest and lives in Cornwall with her husband and two teenage daughters. She loves to read, swim in the sea, play netball and lift weights with her dad.
View full Profile