As the World Cup 2022 kicks off, we take a look at the Christian faith of Bukayo Saka, one of the new breed of England players better known for their hard work and decency than off-the-pitch antics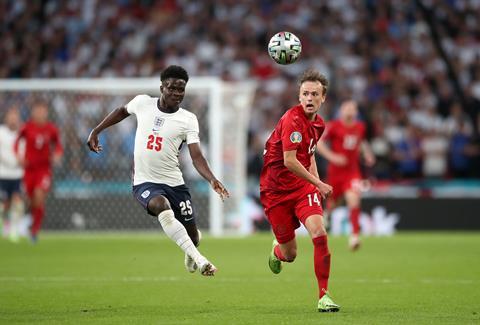 Bukayo Saka's star is definitely in the ascendancy. At Euro 2020, the then-19-year-old became the youngest Englishman to ever start a match at the semi-final stage or later of a major tournament. Now 21, he has already put two goals past Iran in England's opening match. But as he faces up to the pressure of his first world cup, what part will his faith play in helping him navigate his ever-growing fame and the pressures that come with it?
Saka grew up in West London and was raised in a Christian home. He still lives with his parents and brother, and says his family regularly pray for his success. He attended The Edward Betham Church of England Primary School, which has a strong Christian ethos.
My faith is constantly being exercised
In 2020, as part of a Year Five topic 'Do fame and Christian faith go together?' Saka wrote to pupils at his old school about the role that faith has played in his life. He said: "I grew up in a Christian family who believe strongly in God. This always made me curious to get to know God more and I have done so by reading my Bible a lot and going to church a lot over the years. My faith is constantly being exercised when I'm put in different situations or I play in big football matches such as my England debut."
"I hold onto God's promises such as the scripture 'Therefore I tell you, whatever you ask for in prayer, believe that you have received it, and it will be yours'. So before every game I ask God to help me play well, help my team and try to score a goal or assist a goal and he answers my prayers so this is why I point to the sky to thank him."
An inspirational role model
Speaking to Premier Christianity, head teacher Caroline Chamberlain told us that Saka was a "polite, modest and impressive young man" who was conscientious at school and has not been changed by fame. She said that pupils at the school were inspired by Saka's words because he "has shown that a strong faith is powerful in helping you to achieve in whatever field you work in."
God answers my prayers - that's why I point to the sky to thank him
His Instagram bio simply reads: "God's Child 😇" and a quick scroll through his feed finds none of the usual excesses often associated with young footballers. Instead, there's plenty of thanks to God for the growing number of accolades he has been amassing: A simple "GOD is GREAT" caption underneath a recent man of the match award; "#GodsWork🙏🏿 " underneath his 2021 London young player of the year award. "The Lord is my Strength" says a photo showing him taking a break during training.
A new generation
Saka is one of the new generation of English football stars, praised for their decency, work ethic and talent. A tee-total, straight A student, more likely to be found horsing around in the pool (see the England team TikTok video that went viral during Euro 2020 👇🏼) than falling out of a bar, Saka - like teammates Marcus Rashford and Raheem Stirling - has a faith in God that seems to have a positive impact both on and off the pitch. And people are noticing. An article for the Evening Standard comments on the new social consciousness of the young team, many of whom are Christians.
Before every game I ask God to help me play well
It is something that Chamberlain says is one of the many benefits of a faith-based education. It "gives children far more than just a moral grounding," she says, providing "pupils with the inspiration, rooted in the biblical truth that all people and all living things are valued by God, to challenge injustice wherever they see it - be it environmental, racial or any form of inequality." With Christian footballers such as Marcus Rashford more likely to be found making headlines for campaigning on food poverty than brawling in bars, she may be onto something.
Faith, hope and love
The school motto at Edward Betham is 1 Corinthians 13:13: "Faith, hope, and love; these three things will last forever, and the greatest of these is love." The school says it aims to put "God's love at the heart of all we do… Rooted in Christian hope, pupils grow academically and in their faith, equipped to live full and happy lives and care for the people and the world around them."
Chamberlain adds that Saka once said he hoped he would continue to make her and the children of Edward Betham School proud. Whatever the result come Sunday against Italy, the message she has for her ex-student is clear: "You certainly do – your achievements are amazing. Keep giving it your all!"
As Englad progress through the tournament, it won't just be Saka's family praying for success. All of England will be adding their prayers.

Emma Fowle is assistant editor of Premier Christianity and editor of Voice of Hope, Premier's quarterly devotional magazine. Emma is a trustee for Christian festival Creation Fest and lives in Cornwall with her husband and two teenage daughters. She loves to read, swim in the sea, play netball and lift weights with her dad.
View full Profile