Mykhaylo Mudryk's tattoos tell one very clear story. Chelsea's latest signing is (literally) wearing his faith on his sleeve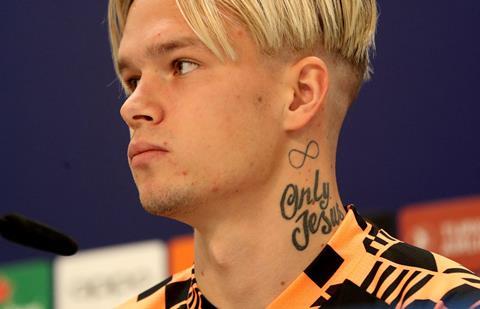 When Mykhaylo Mudryk signed for Chelsea, his contract broke Premiership records. The 22-year-old, who also attracted the interest of London rivals Arsenal, signed an eight-year contract with the Blues, the longest tie-in a top flight club has ever made. Paying £88m for the pleasure, manager Graham Potter is placing a whole lot of faith in this youngster who, despite being dubbed 'the Ukranian Neymar' has less than 50 league games to his name.
But taking a look at his body art, it's clear Mudryk has enough faith for both of them. He joins a raft of Premiership footballers who are Christians, including Arsenal's Bukayo Saka and Eddie Nketiah and Manchester United's Marcus Rashford.
Only Jesus
The most prominent of Mudryk's tattoos is on the side of his neck, above the collar of his football shirt and clearly visible every time he runs onto the field.
"All my tattoos have a meaning," he has told journalists," but 'Only Jesus' is the biggest and most important."
A quick scroll through his Instagram reveals many more pieces of body art, including an inscription on his chest that reads: "Dear God, if today I lose hope, please remind me that your plans are better than my dreams", accompanied by the caption: "When Jesus say yes nobody will say no… #becalm #justtrust #OnlyJesus"
Aged 9, I read the Bible. I began believing in God and learning more about religion
The player also has a capital "F" tattooed on the side of his right hand and an "E" on the left. When brought together in prayer, they spell "Fe" the Portuguese word for "faith".
Alongside images of him praying at the Wailing Wall in Jerusalem are photos of young Mudryk praying before matches. Making his Chelsea debut at the weekend, the player could clearly be seen crossing himself as he ran onto the pitch, and is rarely seen without a large crucifix around his neck:
On a journey
Speaking about his Orthodox beliefs, the Ukrainian told Tribuna that "no one forced me to believe in anything" but that he "came to it [faith] on my own."
"Aged 9, I read the Bible. I began believing in God and learning more about religion. Some people think it [religion] is to show off, for the public but they don't know what and how I feel about God, why I talk about him all the time."
And he clearly feels that God is with him in his chosen profession. Known by his colleagues as a hard worker who is disciplined and committed in training, Mudryk twice won player of the year at his previous club, Shakhtar Donetsk, and was recognised as Ukrainian footballer of the year in 2022.
Come together
Not all of his compatriots are enamoured with the youngster's move to a British club built on Russian money. But they may be heartened by the news that £20.5m of that transfer fee will be used to establish the Heart of Azovstal, a fund designed to help soldiers and their families affected by war in Ukraine. The sale was also contingent on Chelsea playing a friendly against Shaktar Donetsk at the Donbass Arena after the war. The Ukrainian club have been unable to play at their home ground since 2014 due to the Russian invasion of the region.
All my tattoos have a meaning, but 'Only Jesus' is the biggest and most important
Mudryk will not be the only player with a faith at Stamford Bridge this season. He joins current teammate, Raheem Stirling, as well as past legends, including French World Cup winner, Olivier Giroud, who is also a firm believer. The striker has Psalm 23 tattood on his arm and, in 2019, guest edited French Christian magazine Jesus.
As Chelsea add to their summer signings and spend big again this January, they continue to sit mid table in the Premier League. It won't just be Mudryk praying for success at his new club, fans and manager alike may well join him.

Emma Fowle is assistant editor of Premier Christianity and editor of Voice of Hope, Premier's quarterly devotional magazine. Emma is a trustee for Christian festival Creation Fest and lives in Cornwall with her husband and two teenage daughters. She loves to read, swim in the sea, play netball and lift weights with her dad.
View full Profile