Is there a growing influence of faith in the England dressing room, asks Tim Bechervaise? And if so, where and who is it coming from?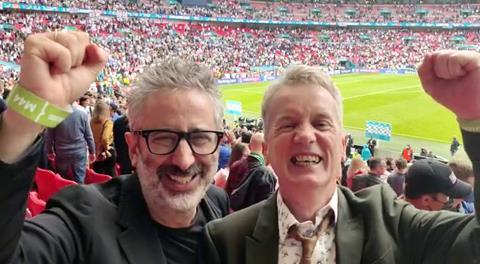 Three years ago, three words became the tagline for the English summer. "It's coming home!" people declared. But disappointment inevitably followed as the men's football team exited the 2018 World Cup in Russia in the semi-finals.
Today, the same three words again ring out across England. But this time, there is added poignancy. The words were first penned by Frank Skinner, David Baddiel and The Lightening Seeds in 1996 for the iconic song 'Three Lions', when England last hosted a major football tournament. This year's delayed tournament is being played across Europe, but for England it's effectively a home tournament, because if — and it's still a huge if — they do reach the final on 11 July, all of their games bar one would have been played at Wembley Stadium, London.
Since England's memorable 2-0 victory over arch rivals Germany on Tuesday, which put them through to the quarter-finals of Euro 2020, "It's coming home!" is being sung with growing fervour and expectation — much to the exasperation of anyone who doesn't love football or England! Inevitably, the spotlight on players and staff is intensifying — both on and off the pitch — but one thing rarely commented on is the influence of faith in the England dressing room.
But is there any influence at all, and if so, where and who is it coming from?
The three forwards united in faith
Amongst the 26-man playing squad, at least three have publicly shared how much God means to them — and one of them is arguably England's player of the tournament so far.
Free-scoring Raheem Sterling, who plays as a forward for Manchester City, grew up in Brent, in the shadow of Wembley Stadium, where his mum taught him faith and brought him up in the Church. Asked in GQ magazine what his faith means to him, Sterling answered: "Massive. Massive. Massive to me. I always give thanks for my life, always give thanks for my family's life and I'm just really grateful for the position I'm in." His move to Liverpool, to pursue his football career, resulted in a deepening of this faith. "I was praying in the house and it opened my eyes even more to have faith," he said.
In the revealing interview, Sterling added: "I know for sure" that God exists. "Every day you wake up, you just look around and you don't need to look any further than what you see. A lot of scientists, the cleverest people in the world tell you that there has to be a creator. And they need answers, but you just have to sometimes accept that it's bigger than you and you have to leave it at that."
God is on the move in the high-profile, high-pressure world of men's football. It's exciting times.
Sterling is not the only player in the England squad whose Christian upbringing has left a lasting impression on them. Marcus Rashford, the Manchester United forward, has turned into a national treasure for his tireless work during the pandemic ensuring vulnerable children in the UK don't go hungry during the school holidays. Asked in a recent interview with The Guardian if he is religious, Rashford replied: "Yeah, definitely. My mum is very religious. It's not that we practise it all the time, but sometimes the faith we have in God is shown by the people that we are. For me and my family, that's definitely the case. If you could see our lives 15-20 years ago to where we are now, it's impossible not to have faith in God and all he does for us."
Completing the trio is one of the rising stars of England's tournament, Bukayo Saka. A forward who plays for Arsenal, Saka was born in Ealing, London. He was raised as a Christian and attended a Church of England school. A quick scroll through his Instagram feed reveals the role of faith in his life. His bio simply reads "God's child", which is also used as a hashtag in his other posts. One post from earlier this season was simply captioned: "Trust in God's perfect timing."
What does the boss Gareth Southgate say about faith?
On the sidelines, a member of manager Gareth Southgate's coaching team is Chris Powell, who is also a Christian. "It gives me a sort of inner-peace, a sort of well-being," Powell has said of his Christian faith. "I live my life for this way, and that's because of the Lord and what has happened, and what he done to save me, and save everyone. It gives me a great joy to know that the Lord is around me at all times."
And what of Gareth Southgate, England's calm and highly personable manager? He doesn't appear to have a faith of his own. However, in an interview with Premier Christian Radio eleven years ago, Southgate referred to the Christians he played alongside and said that there was a greater openness towards faith than there had been in the late 1980s and early 1990s.
I was praying in the house and it opened my eyes even more to have faith - Raheem Stirling
With players such as Liverpool's Roberto Fermino and Alisson Becker regularly sharing their faith on social media platforms, this openness has only increased in recent years. Christians in Sport continues to play an instrumental role in supporting Christians involved in football and other sports, whilst Ballers in God — a network "led by the players and for the players" — has 150 Christian football players involved from 20 countries. God is really on the move in the high-profile and high-pressured world of men's football. It's exciting times.
God in the England dressing room
And this includes the England team, where God has a place in the dressing room — something which can't be taken for granted. We don't know the extent to which this is the case, but there is clearly a Christian influence which, under Southgate's charge, will be respected. And that's only from what we know. What of any players and staff who prefer to keep their faith quiet? Tournaments can be long, with plenty of downtime for games, reflection and chatter — all the more so this year with players and staff not able to see families due to being in a Covid-secure bubble. Could these be moments where the Holy Spirit quietly but powerfully works?
So, is football coming home? I certainly hope so! But more than anything, God wants to make a home in the hearts of those responsible for trying to bring it home (John 14:23). From what it looks like, God's already started. Let's pray for more!