As Christians, doing good works is critical, but so is being clear about why we do them, says evangelist Ben Jack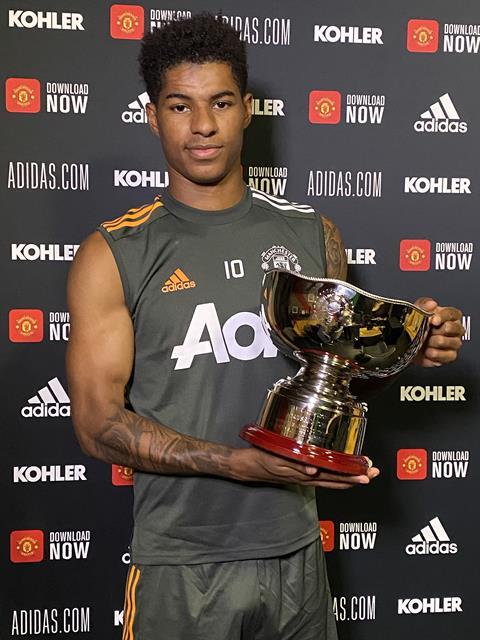 As a diehard Leeds United fan, it pains me to be positive about anything remotely linked to Manchester United, and yet, in this instance there is no way around it: Marcus Rashford is a national treasure.
Marcus Rashford is something of an outlier amongst his peers, consistently going above and beyond in his efforts to bring about positive social change. In the past twelve months, he has relentlessly campaigned on behalf of underprivileged families, with remarkable success. To top it all, he comes across as a kind, humble, thoughtful and driven young man. And now we know this is partly driven by his faith in God.
'Its impossible not to have faith in God'
In a recent interview with The Guardian, Rashford talks about growing up on a council estate in Wythenshawe, Manchester and experiencing poverty first hand. His mum often went without food so her kids could eat. He also speaks clearly about the impact of his mum's Christian faith and the importance of this: "It's not that we practise it all the time, but sometimes the faith we have in God is shown by the people that we are. For me and my family, that's definitely the case. If you could see our lives 15-20 years ago to where we are now, it's impossible not to have faith in God and all he does for us."
It's fascinating to hear Marcus affirm that faith is a driving force for some (or all) of his good acts, and that he has seen God at work in his life as he looks back at the ways he has been blessed. It's a beautiful picture of being blessed to be a blessing, and one we can all learn from. Thankfulness breeds humility, humility breeds compassion, and compassion breeds action.
But there is something missing here: clarity. Clarity about Jesus being more than a blessing vending machine but Lord of all. Clarity about God being more than a prompt for positive action but the exclusive source of true, eternal life. Clarity about the Holy Spirit being the power to truly go above and beyond to serve the least, the last and the lost and reveal God's righteousness, love and hope no matter the personal cost. In other words, clarity about the gospel.
Our true goal is to reveal the King and his kingdom
Hear me right, I don't know Marcus personally or what his walk with God is like and so I wouldn't expect this kind of clarity from him necessarily. But if we want to affirm him as a positive example of faith leading to works, we should definitely be aware of this distinction as we do.
Faith and works
On the estate where Marcus Rashford grew up, the Message Trust launched a community grocery during the first lockdown. We now have eight across the UK. Using surplus food from local supermarkets, our groceries make the cost of the weekly shop more affordable for local people struggling with food poverty. Alongside food, the community grocery also provides support and training – such as debt management and cooking lessons - and crucially, the opportunity to investigate Christianity, through things like Alpha. Our grocery staff are always talking about Jesus, always quick to offer to pray for people, always ready to explain the good news and offer an invitation into relationship with God. There's no pressure or pushiness, but there is presence - presence of loving action and explanation of the hope of the gospel. We have seen hundreds of our grocery members give their lives to Jesus as a result.
William Booth famously said: "You cannot warm the hearts of people with God's love if they have an empty stomach and cold feet." We need to practically show God's love, but these actions are supposed to bring clarity to the truth of the gospel message we then communicate. To offer thirsty people a cup of water without explaining where the source of water can be found is wrong. As we love people with acts of kindness, meet practical need and stand against injustice, we must also consistently and clearly communicate the source of our hope and power. We must explain the way by which God's love can conquer the greatest problem we all have - not physical poverty or a circumstantial challenge, but spiritual death (Romans 10:14-15).
A national treasure
I think there are a lot of people who view the church like I view Manchester United, unwilling to ever concede they could have done something positive. But when confronted with the impressive young man that is Marcus Rashford, and all the wonderful things he has done over the past year, I can't help but applaud and affirm his status as a national treasure.
To offer thirsty people a cup of water without explaining where the source of water can be found is wrong
Similarly, there is an opportunity for the Church to change the minds of some critics with positive social action and good deeds. But the truth is, this is not our ultimate goal. Our true goal is to reveal the King and his kingdom.
A God-empowered transformation
What would it take for us to get kingdom treasure status? To go beyond the 'God-inspired' acts of Marcus Rashford to be a God-empowered church that brings the ultimate hope to the ultimate need of the UK: salvation. The answer is to be clear about who we are and the truth of the gospel we believe in, to allow the gospel to work in our lives.
To transform us into the people God created us to be.
To send us into the world to serve with compassion and humility.
To guard us against discouragement and persecution.
To be the distinctive source of true hope for true life.
To be clear in what we present with our lives and our lips.
By the power of the gospel, the Church is to be more than a well thought of institution, more than a doer of good deeds, more than a 'national treasure'. By the power of the gospel, the Church is to be a kingdom treasure as we reveal the everlasting hope of Jesus in word and deed to all.

Ben Jack is the global head of Advance (advancegroups.org) a partnership between the Message Trust and the Luis Palau Association which seeks to equip, encourage and empower the church for evangelism and stir the gift of the evangelist. Ben is the author of The Simple Gospel and If Jesus Is The Answer… What Is The Question? and lives in Manchester, England with his wife Naomi and their pug Toshi.
View full Profile