Since moving to the Premiership in January, Dutch international Cody Gakpo has been making an impression both on and off the pitch. Tim Bechervaise takes a look at the faith of the latest Christian footballer in the Liverpool dressing room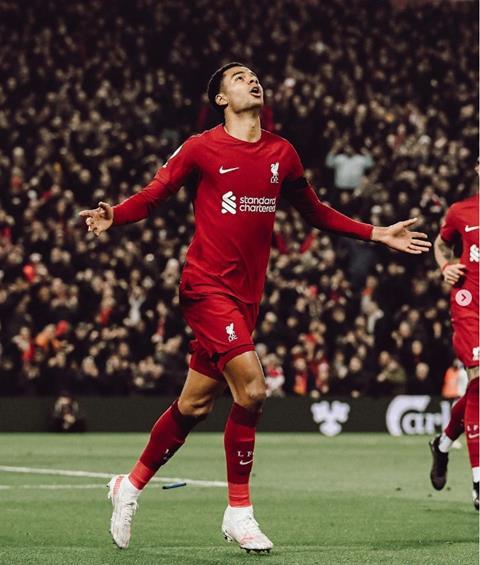 How would you expect a high-profile Premier League footballer to spend a 13-hour flight from the UK to Singapore, where their club is playing in a pre-season tour? A box-set or a few movies? Chatting with teammates? Listening to a podcast or flicking through a magazine?
Whatever it is, I'd imagine that reading the Bible would not be not high among your guesses. But that's exactly what one Liverpool player did earlier this summer.
The player is Cody Gakpo and the in-flight activity, highlighted in an interview with The Daily Mail, is perhaps what inspired him to write the words of Proverbs 16:9 – "In their hearts humans plan their course, but the Lord establishes their steps" – in an Instagram post to his 1.4 million followers during the tour.
For Gakpo's growing fanbase, the post wasn't unusual; pictures of him accompanied by verses from the Bible are a regular feature of his feed.
Every day with the Bible
The 24-year-old Dutch international is new to the Premier League, joining Liverpool from PSV Eindhoven in January. After a tricky start, he's settled in well, already scoring seven goals.
Gakpo was raised in a Christian home by his parents, who met in Togo (his mother is Dutch, his father Togolese). While the pressures and temptations of footballing stardom can easily push people away from their faith upbringing, the opposite can be said of Gakpo, who has arguably reached the pinnacle of his career in moving to Liverpool.
"Cody and his insta captions turning me Christian". Some call him 'Pastor Gakpo'.
"Not only in my career, religion helps my whole life," said Gakpo. "It's a lifestyle for me. I take the Bible with me everywhere and every day, in the UK or wherever else.
"If I can't go to church, I call the pastor," he told Dutch newspaper NRC in an interview. "Faith gives me peace. And strength when I need it. I often read the Bible before I go to sleep. It is a kind of love letter that tells us how we should treat each other."
Dutch devotionals
Gakpo's faith particularly came to prominence during last year's World Cup in Qatar, when he and his teammate, Memphis Depay, led devotionals with members of the squad. Gakpo took the Bible study and Depay led prayers. "I often take the floor because I am the one who has studied the faith the longest," he told NCR.
It had a big impact on some of the players. "Cody Gakpo is a very religious person," said Dutch teammate Denzel Dumfries. "In the last few days, we have prayed a lot with him. He has shared his faith with us – how he finds himself in it. The [worship] sessions were very special; that gave me a lot of strength and I'm very grateful."
Singapore wasn't the only place Gakpo travelled this summer. He also went to Togo with his father as part of his family's involvement in a charity that provides support for impoverished communities.
"I've always wanted to go but normally my dad was working when I had a vacation from football so it was hard," Gakpo told The Athletic. "I had to go with my dad because he speaks the language. As a family, we do some charity work there. It is important to help and give back as much as you can. I try to help as many people as I can."
A faith-filled environment
As for the Liverpool dressing room, it's certainly getting used to people being open about their Christian faith. In 2020, goalkeeper Allison famously baptised his then-teammate Roberto Firmino. Manager Jurgen Klopp has often talked about how much his faith means to him: "To be a believer, but not to want to talk about it – I do not know how it would work!" he once said.
It's interesting to note some of the responses to Gakpo's faith. Aside from the odd exception (during the World Cup, a Dutch pundit criticised him and Depay for their public faith in the dressing room, saying "it's a bit sectarian"), it's looks to be broadly positive. Under one post on Instagram, whether said in jest or sincerity, someone wrote: "Cody and his insta captions turning me Christian". Some call him 'Pastor Gakpo'.
I take the Bible with me everywhere and every day, in the UK or wherever else
Given the reach that footballers like Gakpo have, it cannot be underestimated how significant their willingness to so openly share their faith is. We may never know the impact it has upon people, both in the dressing room and among fans – especially as speaking the gospel is "not simply with words but also with power" (1 Thessalonians 1:5).
And given the increasing number of high-profile sportspeople talking about what Jesus means to them, it is incredible to consider what God might be up to through it all. Whether or not we like football, or any sport, surely this is something we can all get excited about.