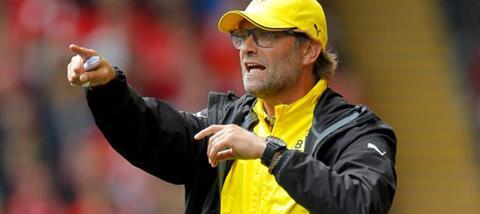 He is a popular figure in Germany because of his outspoken nature and the success he brought to former club Borussia Dortmund, where he won two league titles and got to the final of the European Champions League.
Car brand Opel has also credited him with turning around its fortunes in the country, saying his role as ambassador helped boost sales of its Insignia model by 35% in 2014.
He has even had pop songs written about him with eccentric media personality Matze Knop releasing a tribute titled 'I Wanna Be Like Jurgen Klopp'.
But what you might not know about him is that he is a committed Christian and is not afraid of making his faith known.
Prior to managing Borussia Dortmund, Klopp was in charge of another German club, Mainz, and after a defeat was known to have been asked by reporters if the 'football god' was against Mainz.
In an article about his faith, he wrote: 'In order to answer this question once and for all: although there is no football God, I believe that there is a God who loves us humans, just as we are, with all our quirks, and that's why I think he also loves football! But we have to score our own goals.'
But his piece for fussball-gott.com (soccer-god.com) gets deeper.
'All of these really likeable guys who I meet week in week out at matches or in some cases even in training, have one thing in common: they have noticed at some stage in their careers that there must be more to life than championship and relegation battles.
'They relate how a relationship with God has changed their perspective.'
In an age in which each successful new manager is praised for his novel 'football philosophy', Klopp is adamant that his faith is more important to him than the game.
In an interview with fr-online.de, he said: 'To be a believer, but not to want to talk about it - I do not know how it would work! If anyone asks me about my faith, I give information. Not because I have claim to be any sort of missionary. But when I look at me and my life - and I take time for that every day - then I feel I am in sensationally good hands.
'And I find it a pity if other people lack this sense of security - although they don't know it, of course, because otherwise they would probably look for it.'
He also relates how he had to grapple with important lifestyle questions even at a young age: 'At about 13, 14 years old, the question arose: Can I actually kick on Sunday morning, even though I was supposed to go to church?
'It can't be that I've got such a love and passion for the sport, only for me to be prevented from training for the sake of one hour of church on Sunday - especially since there is plenty of time in the rest of the week for faith.
'Since then I've realised that the matter is clear for me.'
From today thousands of Liverpool supporters will be putting their faith in Jurgen Klopp.
Klopp, it appears, does not put his faith in himself.
Alex Dibble is a freelance journalist and lifelong Liverpool fan
To receive a free copy of Premier Christianity magazine click here