The Ecuador team are not the only players praising Jesus in Qatar. Tim Bechervaise highlights the world's top footballers who have made their Christian beliefs public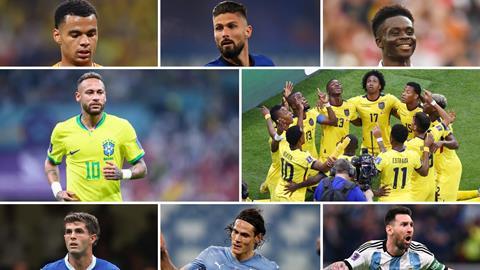 There is a huge amount not to like about this World Cup – and for very good reason. But with the tournament now underway, it has been nice to focus a bit more on the football and, with it, the small and unexpected moments of joy, including some lovely public declarations of faith.
Many have involved the Ecuador team. A video was shared showing some of their players praying in a hotel room:
While before matches and when they scored, players joined together to praise God:
But they're not the only footballers praying and praising during the tournament. Here are seven, including one or two that may surprise you…
1. Coady Gakpo, Netherlands
One of the standout performers in Qatar so far is the Netherlands' Cody Gakpo. During the group stages he scored three goals to help propel his country into a last 16 tie against the USA.
After the match against Senegal, in which he scored, he captioned an Instagram post with the words of Psalm 121:1: "I lift up my eyes to the mountains – where does my help come from? My help comes from the Lord, the Maker of heaven and earth."
A quick sift through his other posts show that references to God and the Bible are not unusual for the Dutch striker.
2. Olivier Giroud, France
The former Arsenal and Chelsea striker scored twice in France's 4-1 win against Australia. Giroud has been consistently open about his Christian faith. In 2019, he guest edited French Christian magazine Jesus saying: "I feel I have to use my media profile to talk about my commitment to Jesus Christ."
Last year, he told The Times, "One of the most important things when you are Christian is to forgive."
Two years ago, wearing a t-shirt for Christian charity, Open Doors, he appeared at an online event to help raises awareness of Christian persecution.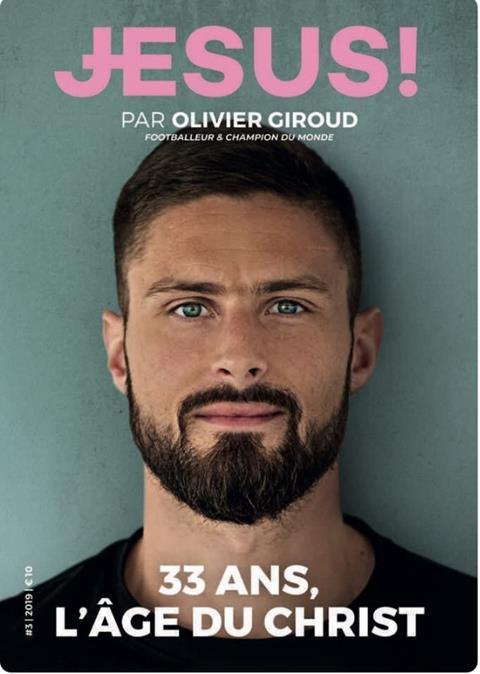 3. Bukayo Saka, England
After scoring twice in England's 6-2 win against Iran, Bukayo Saka posted a picture of him pointing to the sky on Instagram, alongside the caption: "Faith. Never lose it." His bio states: "God's Child."
Like his teammates Marcus Rashford and Raheem Sterling, Saka does not shy away from his Christian upbringing. The Arsenal forward went to Edward Betham Church of England primary school. In 2020, he wrote a letter to the school, saying: "I grew up in a Christian family who believe strongly in God. This always made me curious to get to know God more and I have done so by reading my Bible a lot and going to church a lot over the years."
4. Neymar, Brazil
He's one of the most famous footballers on the planet, but an injury in Brazil's opening game has sadly curtailed Neymar's impact on the World Cup so far. The Paris St Germain striker has not given up hope of making his mark – and it's rooted in his faith.
"I am the SON OF THE GOD OF THE IMPOSSIBLE and my FAITH is endless," he wrote on Instagram. He's always been public about his Christian faith, once saying: "Life only makes sense when our highest ideal is to serve Christ."
But if you're wondering why he doesn't talk more about his faith, it could be because he's reportedly paid half a million euros to avoid talking about religion.
5. Christian Pulisic, USA
You could say the clue is in his name. The striker, who plays for Chelsea, is the USA's star man, scoring the goal that clinched their place in the last 16 of the tournament.
He wore a gold crucifix during an interview with GQ last year, prompting a question about whether faith is a big part of his life. "Oh, absolutely," he replied. "Something that I've grown a lot closer with this past year is my belief in God, especially being alone over here. I feel like I always have someone who's with me. I don't know how I would do any of this without that feeling that He's watching over me and there's a reason why I'm here."
He regularly captions his instagram posts with Bible references.
6. Edinson Cavani, Uruguay
The former Man Utd striker, known affectionately as El Matador, is regarded as one of the most accomplished strikers of the modern era. What's perhaps less known is his strong faith.
In an interview with Corriere della Sera, he said: "I read the Bible every day, study it, and share with my wife the blessings of faith. I understand that there is a time for everything: for the sacrifice, the rewards and goals…Faith really helped me realise that the temptations that you have on hand will give you joy, enjoyment, whatever, but only for a short while. And after that it is all gloom."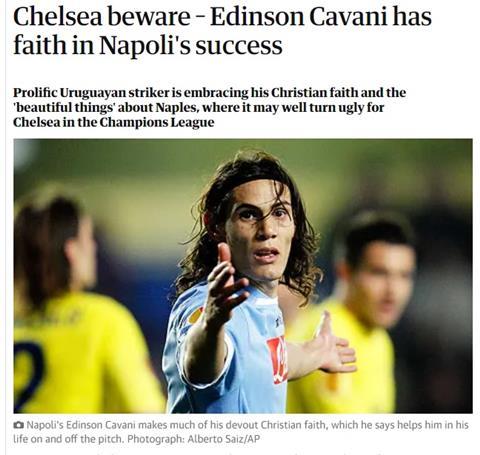 7. Lionel Messi, Argentina
To many people, Lionel Messi is the GOAT – the Greatest Of All Time. In fact, his extraordinary achievements in football have made him a 'god' to many, which Messi has said he doesn't like. This may well point to his Catholic faith and upbringing.
While he speaks little about faith, he's never sought to hide it. He has a tattoo of Jesus on his upper right arm, and when asked about Argentina winning the World Cup, he said: "I trust that God knows the right timing, He will decide my fate."