Neymar is one of the most well-known footballers in the world, and famously public about his Christian faith. After it was reported his club offered him $500,000 a month in return for keeping quiet about Jesus, the Evangelical Alliance's Phil Knox, asks: "what would be your price?"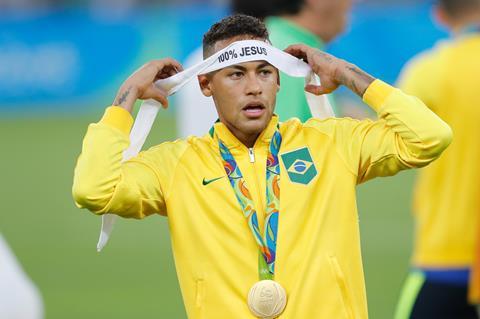 It sounds like an icebreaker question at the start of your midweek small group:
Would you rather have half a million pounds a month or be able to talk about Jesus at work?
The scenario seems pretty extreme but, incredibly enough, this question is based on a real-life example. It has been reported that Brazilian footballer Neymar has a clause in his contract whereby he receives almost €500,000 per month if he avoids "any political or religious propaganda that could damage the image and unity of the club".
The Paris Saint Germain (PSG) player is a Christian and has made several public expressions of faith, but it seems, contractually, he is obliged not to make any more. The motivations behind this clause are fascinating to explore, both on the part of the club and the player, and it raises some interesting questions for all followers of Jesus.
A source of encouragement
Perhaps Neymar thinks that public declarations don't make much of an impact. I would love to let him know that they do. In a world where it can feel increasingly unpopular to follow Jesus, public figures expressing how much their faith impacts their life can be a source of great encouragement.
I have been known to punch the air in agreement with the Queen on Christmas day as she preaches Christ to millions, and holler in agreement with Justin Bieber as he affirms, "I doubt I'd be alive if not for Jesus." I revel in retweeting the regular scriptural insights of The A-Team's Mr. T. When celebrities step out in faith declaration, it reminds Christians of their own place in the cloud of witnesses and strengthens plausibility structures for those searching for answers or exploring Christianity.
Strength in diversity
I also believe the rationale of the club is also deeply flawed. Whilst I can understand bonus payments to players for punctuality and making themselves available to fans, the idea that suppressing religious expression leads to greater "unity of the club" is extremely short-sighted. Strength is found in diversity, not in forcing people into monochrome uniformity.
PSG should look at the unity achieved by Liverpool, for example, who won their first Premier League title in 30 years in 2020. A key component of their success was the extraordinary unity in the squad, which included star players of different religious backgrounds, many of whom have been open and expressive about their individual beliefs.
But what would Jesus say to Neymar? Is he a modern-day rich young ruler who ultimately walks away sad because of his great wealth? "It is easier for Accrington Stanley (who are they?!) to score against Man City than for someone who is rich to enter the Kingdom of God." Many of us will hear this story and ask: "What good will it be for someone to gain the whole world, yet forfeit their soul?" (Matthew 26:16).
With great power comes great responsibility
But is it much easier to take the €500,000 a month out of our neighbour's eye than it is to take our reluctance to share faith out of our own. Whilst we are not often offered vast sums of money to stay quiet, we often do – and for many different reasons. In nearly 20 years of training people in evangelism, my experience is that all of us could be more effective.
Paul urges us, in Colossians 4 to make the most of every opportunity. When it comes to sharing my faith with my friends, as well as having the incredible joy of seeing some become Christians, I have frequently choked under pressure and missed many an open goal.
I'm not suggesting that we should be preaching daily to our friends, or have to wear a bandana like the one Neymar wore at the 2016 Champions League Final with the words '100% Jesus' on the train to work. But we should take our mandate to always be prepared (1 Peter 3:15) and play our part in making disciples seriously. This responsibility and privilege really matters. We know that, for the majority of people who become Christians, the most significant influence is a Jesus-following friend.
For me, I'd like to think that there was no amount of money that you could pay me to keep quiet about Jesus. It is the greatest joy to live for him and talk about him. As an evangelist, unlike Neymar, I would lose my job if I did not talk about Jesus! But this story is a helpful reminder of the grain we all have to go against.
There will always be reasons not to speak up and tell the story of the difference God makes, whether that is our own fear, threats of violence or prison, rejection from friends or the offer of €500,000 a month. At a time when people are spiritually hungry, let's take our chances to make Jesus known in the board rooms, living rooms and football dressing rooms in which we find ourselves.

Phil Knox is evangelism and missiology senior specialist at the Evangelical Alliance. He is the author of Story Bearer: How to share your faith with your friends and The Best of Friends: Choose wisely, care well (both IVP)
View full Profile