When Alisson scored Liverpool's winning goal at the weekend, he gave God all the glory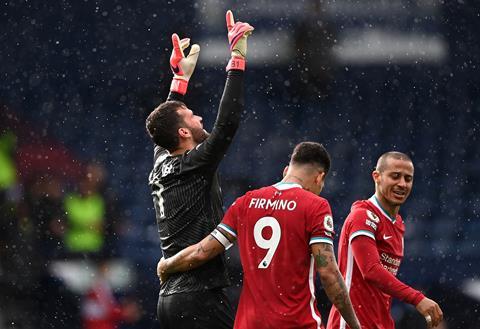 I was in another room when I heard unusual sounds emanating from the television in my bedroom showing the football match between West Bromwich Albion and Liverpool. I've watched enough football matches to know how commentators tend to react to goals, but this time their reaction was different. It was one of utter astonishment. What had happened?
I rushed in to find Liverpool's Brazilian goalkeeper, Alisson Becker, swamped in a sea of red. Quickly rewinding back, I found out why. The game was in its dying embers and the score was 1-1, doing little for Liverpool's aim of qualifying for next year's Champions League. They needed the win, so Alisson did what many goalkeepers do when all else has failed in search of a precious goal - he ventured into the opposition penalty box to be an extra man for a set-piece. And he scored!
To highlight how unusual this is, in the history of the English Premier League - a span covering nearly 30 years - of the nearly 30,000 goals that have been scored, six have been by a goalkeeper. And Alisson is the first to have scored with a header.
God put his hand on my head today
Alisson has never been shy in expressing his Christian faith, and in an emotional post-match interview, the goalkeeper - whose father tragically died in a drowning accident in February - again touched upon this: "God put his hand on my head today," he said to Sky Sports, before thanking people from the footballing world who provided support following his father's death: "This is the way God loves us, through people."
It was striking how much the goal meant, not only to Alisson but also his teammates. Their disbelief at the goal was equalled only by their joy for him, which is a testament to how much he means to them both on and off the football field. His manager, Jurgen Klopp - who has also spoken openly about his own Christian faith - touched upon this in his own post-match interview: "The way his teammates [celebrated] showed today how much they care for him," Klopp said. "He's a wonderful, wonderful person. Funny, smart, thoughtful, intense in moments. He's just a great guy. A special moment like that couldn't have happened to a better person."
Baptisms, Hillsong and social media
One teammate Alisson is especially close to is Brazilian compatriot Roberto Firmino, who last year shared a video of him being baptised by Alisson with his 13 million Instagram followers. At the same ceremony, held at the goalkeeper's home, Alisson and his wife also baptised Monique Salun, the wife of Manchester United midfielder Fred - arguably a bold move given the bitter rivalry between the two clubs
Afterwards, the goalkeeper shared a photo of the baptisms and wrote: "What God did for us on the night of 14/01/2020 we will never forget!! I'm still speechless to describe Jesus' love! Very happy to have participated in a moment like this, the baptism of people I love so much! Thank you so much Jesus, I love you!!!"
In recent years, the goalkeeper has enjoyed plenty of success on the football field, and it's not unusual for his celebrations to be accompanied by expressions of his faith. When Liverpool won the Champions League in 2019, he wore a t-shirt with a cross and a heart drawn on it.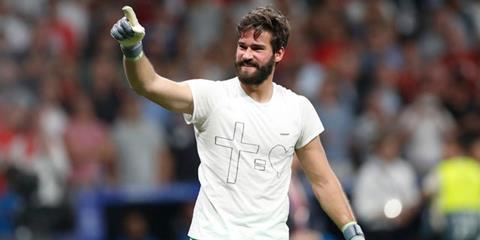 The logo is associated with Hillsong church, which it is believed that Alisson attends. Later that summer, on winning the Copa America with Brazil, he posted a picture on Instagram of him holding the trophy with the caption: "Thanks, God!" Meanwhile, his Instagram bio reads "Deus é amor!" meaning "God is love!", while his Twitter one says: "Belong to Jesus".
Blessing and honour
Opposition fans may wince at the sight of players thanking God when their team wins. Those of a West Bromwich Albion persuasion (or Chelsea and Leicester, given how the final result affects them) would possibly not be quick to celebrate or agree with the idea that God touched Alisson's head to score the goal.
But the nature of football is that teams cannot always win. At different times, teams and players take it in turn to enter the spotlight. This weekend it was Alisson's turn. And perhaps, in the blessing this was to Alisson, there was also reward: "Those who honour me I will honour," God said in 1 Samuel 2:30. This verse was given to Eric Liddell on a handwritten note before he won the 400m race at the 1924 Olympics – after refusing to run in the qualifying heats for the 100m race because they were on a Sunday.
In the high-profile world of football, Alisson has faithfully honoured God. At the weekend, God honoured Alisson. As it says in Romans 12:15, that's something we can all celebrate with him, regardless of our football allegiances.

Tim Bechervaise lives in Hatfield with his wife, Laura. He is a copywriter for Open Doors UK & Ireland, and freelance writer. Coffee, street photography and Tottenham Hotspur count among his other interests
View full Profile