The Queen's faith is well known and well documented. But Prince Philip also exemplified a life of Christian service, says Catherine Butcher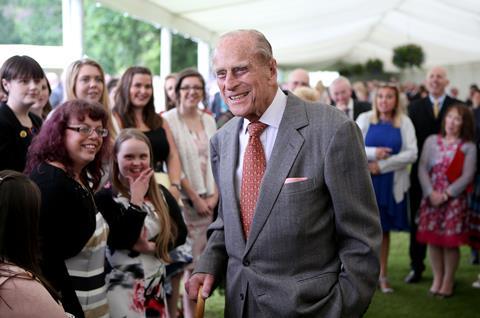 The man the Queen described as "my strength and stay" was a familiar sight walking one pace behind his wife on royal occasions. In the quaint language of the Coronation oath he made to her, he was her "liege man of life and limb". His loyalty and service to Queen and country stand out as tributes pour in from around the world.
The Archbishop of Canterbury, Justin Welby, who led tributes to the Duke from church leaders, gave thanks to God "for his extraordinary life of dedicated service". He added: "Prince Philip continually demonstrated his unfailing support and unstinting loyalty to Her Majesty The Queen for 73 years. He consistently put the interests of others ahead of his own and, in so doing, provided an outstanding example of Christian service."
Giving thanks for the marriage of the Queen and Prince Philip, the Archbishop added: "Theirs was a marriage grounded in friendship and mutual respect and sustained by shared faith in Christ."
Until he retired from public life in 2017, Prince Philip was always at the Queen's side at events and when she attended church services. The Queen has talked publicly about her Christian faith, which is well documented; Prince Philip's faith is less well known. When I visited Sandringham on a research trip before working on the book The Servant Queen and the King She Serves, I asked staff at the church about the Prince. They said he was a regular worshipper – even when the cameras were not on him.
I think Prince Philip had a real…intelligent, thoughtful, questioning faith
John Pritchard, former Bishop of Oxford and Bishop of Jarrow, who preached at Sandringham has also said: "I think Prince Philip had a real faith but an intelligent, thoughtful, questioning faith as well. He loved, as it were, taking us on or getting into some proper debate."
Fans of the Netflix series The Crown will have seen a fictional Prince Philip navigating a personal crisis with the help of a clergyman. In real life, the Duke of Edinburgh and the then Dean of Windsor, Robin Woods, founded St George's House, in the grounds of Windsor Castle, to give people a setting for debate, discussion and dialogue. It describes itself as "a place where people from right across society who are in a position to make a difference might gather together to grapple with issues pertinent to our contemporary world".
Prayer for the nation plays a significant part in the life of St George's House and "gives the House its impetus and its wider theological context." St George's House continues as a lasting legacy of the Prince's own values and personal faith.
His enquiring mind and love of practical action also led to the founding of the Duke of Edinburgh's Award scheme, equipping and empowering young people from all communities around the world to build the skills, confidence and resilience they need to make the most of life. I have my own special memory of meeting the Duke when my daughter received her gold Duke of Edinburgh award. He was not as a tall as I had expected, but his loud voice and commanding presence preceded him as he walked into the room.
Although his distinguished career in the Royal Navy was curtailed when the Queen acceded to the throne, he threw his energy into several campaigns. He became the first president of the World Wide Fund for Nature and had a keen interest in industry and modern technology, persuading The Queen to allow the Coronation to be televised, and allowing cameras unprecedented access to the film the Royal family.
Born Philippos Schleswig-Holstein-Sonderburg-Glücksburg on the Greek island of Corfu on 10 June 1921, he was the fifth child and only son of Prince Andrew of Greece and Denmark and the Princess Alice of Battenberg. He took the name Mountbatten from his uncle, the 1st Earl Mountbatten of Burma, and, like Queen Elizabeth, he was also a direct descendant of Queen Victoria.
Faith was an important aspect of his mother's life. Although he was separated from her when he was seven years old, she spent the last two years of her life living in Buckingham Palace. Although she never took vows, she dressed as a nun in her later years, and spent her time caring for others. She was remembered particularly fondly for sheltering a Jewish family during the Nazi occupation of Greece.
When visiting her grave in 1994 Prince Philip said: "I suspect that it never occurred to her that her action was in any way special. She was a person with deep religious faith and she would have considered it to be a totally human action to fellow human beings in distress."
His own family life as a child was almost non-existent and his parents led separate lives, though they never formally divorced. Understandably he was greatly saddened by the ending of the marriages of three of his four children - Princess Anne, Prince Andrew, and Prince Charles, but his own lasting marriage to the Queen has been an inspiration to many.
Together with people around the world, as we mourn his death, we give thanks for his life of service, and our thoughts and prayers are with HM The Queen and the wider Royal family.

Catherine Butcher is a freelance writer and editor, formerly communications director for Hope Together and author of 'Crowned King' and 'Our Faithful Queen', and co-author with Mark Greene of 'The Servant Queen and the King She Serves'.
View full Profile