Use of "Thee's" and "Thou's" in our worship services make Christians seem archaic and irrelevant, says Catherine Butcher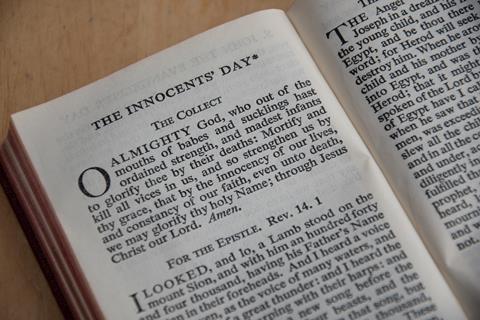 How much would it cost to have a prime time slot on all the major television channels, watched by tens of millions of people worldwide?
In a debate on the £31,256,351 Archbishops' Council budget for 2024, my plea to the Church of England's General Synod in my Maiden Speech, was designed to be an easy, inexpensive win for the Church of England's objective to double the number of children and young active disciples in the Church by 2030.
My suggestion was as follows: "When we have a worldwide audience for State occasions like the Coronation, can we use contemporary language?"
I took a visual aid to the podium – a feather. It is no surprise that I didn't use it to write my speech. I use more modern methods and leave quills to Shakespeare.
I know that the preference of our late Queen was, and our King is, for the rich language of the Book of Common Prayer (BCP). Many at General Synod share that preference. But our State services are watched by millions who don't share that love and understanding of 16th century language.
The Talking Jesus research found that 80 per cent of people in our churches have graduate level education, so they can probably appreciate Shakespearean language. But what about the vast majority of people in our country and throughout the Commonwealth who are not regular worshippers but who watch our worship on State occasions? What about the children and young people we want to involve? Do they understand what we're saying?
Change is unpopular, but it's necessary.
Coronations were once in Latin. Then they were changed to the language of the day. Hundreds of years later, it is time to change again, for the sake of the people outside our churches.
By the next Coronation (if the Church is still hosting Coronations) my plea is that we use contemporary language which communicates with people of all ages and backgrounds. Let's not squander our gospel opportunities by using "Thee's" and "Thou's" that make us seem archaic and irrelevant.
Of course we can continue to use the Book of Common Prayer in our local church services. As a national Church, we are committed to providing a 'mixed ecology' of worship styles. But when we have a worldwide audience, let's make sure that we can be understood as we communicate the wonderful good news about the resurrection life Jesus offers to all.
let's make sure that we can be understood as we communicate the good news
For those at General Synod who told me about all the young people who come to their churches and enjoy BCP language because of its numinous beauty, I ask – is it language that helps them to have a lively, relevant relationship with Jesus, and to share their Christian faith with their contemporaries?
For those who said that the contemporary liturgies don't have the poetic beauty of the BCP language – then let's invite poets to contribute to our work on liturgy.
The Archbishops of Canterbury and York have stated our aim must be to become a "simpler, humbler, bolder Church". Let's start by using simpler words, which will make us sound humbler and enable us to be bolder in the proclamation of the gospel.

Catherine Butcher is a freelance writer and editor, formerly communications director for Hope Together and author of 'Crowned King' and 'Our Faithful Queen', and co-author with Mark Greene of 'The Servant Queen and the King She Serves'.
View full Profile