After receiving their gold medals at Tokyo 2020, the Fijian Rugby team sang, "We have overcome, by the blood of the lamb". Paul Kerensa reports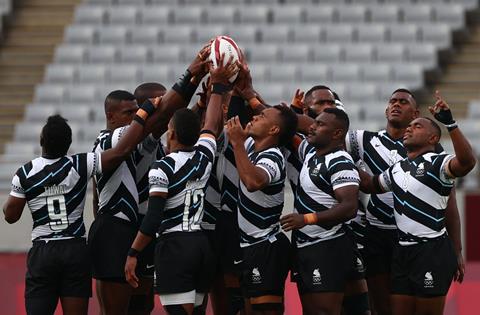 What comes to mind when you think of Fiji?
I think of a South Pacific island (although Google tells me it's an archipelago of many), the bliss of lapping waves, and perhaps a volcano or two. According to the Global Barometer of Happiness, Fijians are the happiest people on the planet.
But now I know them for bringing their faith to the sport field.
At the Tokyo Olympics, Fiji's men's rugby sevens team celebrated an emotional victory as they secured their second ever gold medal, beating New Zealand 27-12.
Before and after the game, they brought something undeniably moving to the field: a prayer and a gospel song.
After receiving their gold medals, they raised their fingers and voices to God, singing a traditional hymn: 'E Da Sa Qaqa'. The lyrics translate into English: "We have overcome, we have overcome, by the blood of the lamb in the Word of the Lord, we have overcome."
They also sang this after their first ever gold medal at the 2016 Rio games, and in fact they pray and sing together before and after each game, whether in victory or defeat.
Stuck in isolation
The run-up to the Tokyo games has certainly been different, for all of us, but the Fijian team's experiences seem to epitomise the isolation and sacrifice made by many this year. With this story, these Olympic legends could yet become Hollywood legends.
On Easter Monday, the Fiji team began what they thought would be a five-day training camp. The next day, the country went into lockdown, and five days became five months. No warning, no goodbyes. Their hostel became their home. The players assembled a makeshift gym and trained hard. They leaned on each other and on God. There were attempts to abscond home and reminders of their greater purpose together. Footage of the players went viral as they sang in gratitude on the balconies of their Australian hotel. Even their flight to Tokyo wasn't easy, aboard a freight plane next to crates of frozen seafood.
The turbulent experience has bonded them, and it's clearly paid off in their magnificent result. But they give the glory to God. Their victory song of praise echoed around an empty Tokyo Stadium, adding a sense that they weren't singing for the fans, nor for each other, but for their immortal and invisible Team-mate, Captain and Coach: God.
We always start with our prayers and songs, and we always end with our prayers and songs
Meanwhile their mortal and visible captain Jerry Tuwai explained: "We always start with our prayers and songs, and we always end with our prayers and songs. That song says that our God is a loving God, and that while we always tend to go stray from what he expects from us, he still loves us, and gives us good things."
With that, he removed his gold medal and placed it around the neck of team coach Gareth Baber. Baber, not a Fijian national but a Welsh ex-player who's helped them become Olympic legends, then paid tribute to his extraordinary team.
Collective faith
We occasionally see faith expressed by individuals at this level of sporting achievement, whether Usain Bolt pointing heavenwards or US gymnast Grace McCallum talking about prayers helping her practice. Footballers may point skyward in thanks for their goals – but it's rare to see faith expressed so movingly as a team.
I don't know if every player in that Fijian squad is a Christian. Perhaps for some of them, that song and prayer is just ingrained in the culture. But it's a welcome reminder for me, not only that Christians are there in all walks of life, but also that public declarations of faith are to be celebrated, at all levels. They are not to be ashamed of or embarrassed about, and they're not confined to church. The global reach of this act of worship was immense.
It's appropriate now many of us are being encouraged back into church after a season of isolation. We may have 'attended' church alone this year, via livestreams beamed into our homes, in the biggest shake-up of church life for generations. Now we are being urged back, but it's an unsettling time as we try to return to a new normal.
I believe there's an inherent urge within us to gather and share together, from team victories to that joyful expression of faith in song. But many of us won't have returned in-person to church yet, and some of us won't for some time.
We have to be creative with our worship, and this team remind me that a rugby field can be a church too. I've attended church in a field this summer – our sung worship wasn't quite so tuneful or gutsy as the Fijian team's, but then again we hadn't just won gold medals.
Their habit of prayer and song is inspiring, at the start and end, whether in defeat or victory. Their attitude and teamwork is to be admired.
Like Fiji itself, while we may feel like an isolated island, we're actually an archipelago, a collection of unique precious individuals. We combine to make something far greater, with the ability to be victorious and world-changing.
I'm no rugby player, but I know that you can't get a conversion without a try. I'm pretty sure that can be applied to life as a Christian too.
So I'll keep trying, to work together, to try praise God whatever the result in my life, whether it's a gold medal day or a wooden spoon moment. If I can match the Fijian team's gusto as I worship, well… sorry neighbours.
I can see why the Fijians are the happiest on Earth with that attitude (although the lapping waves may help). So I'm sure they've got more gold to come. Ahead there are certainly more victories than defeats, and that's worth celebrating.

Paul Kerensa is a writer, comedian and broadcaster. His podcast 'The British Broadcasting Century' tells the origin story of the BBC. He is the author of 'So a Comedian Walks into a Church' (Darton Longman and Todd) paulkerensa.com