Simone Biles' Christian faith has seen her through the highs of sporting success and the lows of the Larry Nassar sexual abuse scandal. And they'll see her through this too, says Lauren Windle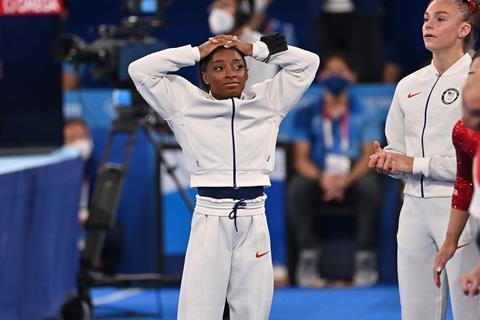 Yet another young female athlete has pulled out of a major competition in order to protect her mental health.
The 24 year-old American gymnast Simone Biles chose to withdraw from two Olympic competitions due to high stress. While Simone has been applauded by many for the decision, others have accused her of being "weak" and "selfish".
The athlete is already the most decorated American gymnast of all time, with a combined total of 30 Olympic and world championship medals, but despite the immense success, things haven't come easy for her.
Born in 1997 in Columbus, Ohio, Biles was put into foster care when her mother was unable to look after her and her three siblings. Speaking to CBN, Biles said: "My biological mum was suffering with drugs and alcohol and so we were taken into foster care, and we were in foster care for a little bit until our grandparents decided to take us in. That's when our life reformed."
On finding out that his grandchildren were in care, Simone's grandfather adopted her at the age of three and she was raised by him and his wife in a Catholic home. Her adoptive mother, Nellie, believed that God had called her to take in the young girl: "It was meant to be, without a shadow of a doubt, nothing was supposed to be different and it's the best decision we've ever made," she said.
A god-given talent
As her talent shone through, Biles increasingly made gymnastics and training a feature in her life, leaving mainstream school in favour of home schooling in order to increase her training hours from 20 to 32 hours per week. Biles has always spoken openly about her faith, previously describing her gymnastic ability is a God-given skill that she believes she's called to steward.
Don't waste God's gift that He gave you. Because it's a once in a lifetime opportunity
The Olympian said: "I think God gives every individual something special and mine was talent. So I never take it for granted. My dad always told me: don't waste God's gift that he gave you. Because it's a once in a lifetime opportunity. One day I'll be too old to do gymnastics. For now I have to use it to the best of my ability."
Biles also uses her platform to speak about her faith and encourage others to be open about their own beliefs. Speaking to the Houston Chronicle in 2016, Biles said: "Kids today talk about faith, and I think it's OK for me to share my faith so kids can see how it helps you through the whole process."
In their faith-filled household, the athlete was always encouraged to pray and invest in her personal relationship with Jesus. Her mother Nellie said: "I am a very prayerful person so I encourage my children to do the same thing too, to pray. I know it doesn't matter what situation you are ever in, you just put it in the hands of the Lord and he's going to walk you through it."
In good times and bad
And it's not just in moments of success that Biles has turned to prayer, the inspirational athlete has also said that she works through failure and hardship with the help of God.
Previously, she has said: "I didn't make national team so I was super upset about that. But I knew that it was God's way of telling me that I needed to go home, train harder, so that next year I could make it happen so I believe that some obstacles that we've had always work out for the better because God knows that without those you wouldn't be as strong as you are."
The pain of not making the national team was nothing compared to the abuse that Biles suffered at the hands of convicted paedophile, Larry Nassar, the former osteopathic physician for the US women's gymnastics team. Following Rachel Denhollander's public testimony, Biles was one of more than 150 women to come forward, although according to Insider, she is the only survivor to speak out while still competing in gymnastics. In an exceptionally brave move, she spoke about her abuse in 2018 and restated her intentions to continue competing despite the experience.
Earlier this year, she told Glamour: "I'm still here, so it's not going to disappear – we have power behind it. I try not to think about it because I can't afford to – if I let them rule me, then they're winning."
A spiritual strength
While Biles hasn't specifically said that her recovery from this ordeal has contributed to her pulling out of the Olympic competitions, she has eluded to it by retweeting a post from Andrea Orris, a fitness trainer and former Olympian gymnast. The tweet said: "It makes me so frustrated to see comments about Simone not being mentally tough enough or quitting on her team. We are talking about the same girl who was molested by her team doctor throughout her entire childhood and teen years. That girl has endured more trauma by the age of 24 than most people will ever go through in a lifetime."
Aside from taking the practical, and understandable, step of withdrawing to protect her mental health, Biles will undoubtedly draw on her faith to support her at this time.
She said: "I was taught that you can go to him [God] for anything and he's the one that directs your life. [My mum] would always tell you if you don't know, leave it up to God. Pray to him about it."
As Biles steps out to shine a light on the value of wellbeing over achievement, many will not see a woman crippled by weakness, but someone carrying a strength so vast, it can only have come from God.

Lauren Windle a journalist, author and presenter who focuses on faith, recovery and love. Her debut non-fiction book Notes On Love: Being Single and Dating in a Marriage Obsessed Church (SPCK) is out now.
View full Profile