The Korean megachurch pastor worked hard to build a record-breaking congregation in a largely Confucian country. But his life was not without controversy, reports Lauren Windle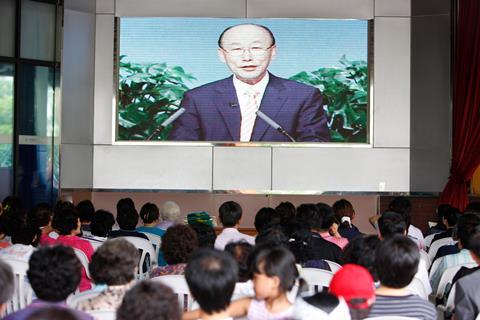 Pastor Yonggi Cho, leader of the world's biggest church, passed away on Tuesday, aged 85, due to complications following a stroke. In a statement released on his Facebook page, a spokesperson said: "You are forever in our hearts, we thank God for your life which was lived in total submission to God." The statement continued to encourage readers to support his family in prayer.
Pastor Yonggi Cho founded a church that boasted a congregation of 700,000 but his life was not without controversy. At the time of his death, he was under a suspended sentence for embezzlement.
Early life
David Yonggi Cho (also known as Paul Yungi Cho) was born on Valentine's Day in 1936 in Ulsan, South Korea. As a youngster, Cho learned English by hanging around a nearby American army base and picked up the language quickly enough to act as a translator for both army professionals and his own school principle.
Along with his mother-in-law, Cho founded his church with just five members in 1958. The original building used by the group was a tent patched together from pieces of old US army tents. Cho worked hard to build the size of the congregation against steep odds in a largely Confucian country.
World record breaking
Despite hurdles, Cho's Seoul church, Yoido Full Gospel Church, grew in attendance exponentially. In 1993, the Guinness Book of Records recognised the place of worship as the largest protestant church in the world, with 700,000 members. The achievement was largely attributed to Cho's hard work.
He oversaw a team of 400 pastors and 500 missionaries who worked for the Korean megachurch. Cho also championed the 'cell group' model as key for discipleship and fostering deep connections between members.
In a statement following Cho's death, the church said: "He conveyed the gospel of hope to the Korean people who fell into despair after the Korean War. He was instrumental in growing the Korean church, particularly developing Yoido Full Gospel Church as the world's largest church."
Sadly though, a shadow was cast over these huge achievements due to a number of scandals.
Controversy
In 2014, Cho was found guilty of embezzling funds from the church and tax evasion. He avoided prison but was given a three year suspended sentence. He had instructed the leadership to buy shares in a company that was owned by his own son. The church reportedly lost 13 billion won – around £8 million.
When speaking about the events, Cho said the conviction was the hardest day of his life, but claimed that his conscience was clear before God. He was allowed to continue working at the church on a part-time basis.
In 1993, the Guinness Book of Records recognised Yoido Full Gospel Church as the largest protestant church in the world, with 700,000 members
Cho's family also faced accusations that they were dominating key roles in the church and, in 2013, one of Cho's sons was caught up in a paternity scandal with a female politician.
Cho is quoted on the church's website as saying: "All I did was offer my life just like the boy who gave the five loaves and two fish. I simply held on to the dreams that the Lord gave me."
Cho is survived by three sons. Yoido Full Gospel Church is now open for mourners and is planning to host a funeral on Sunday.

Lauren Windle a journalist, author and presenter who focuses on faith, recovery and love. Her debut non-fiction book Notes On Love: Being Single and Dating in a Marriage Obsessed Church (SPCK) is out now.
View full Profile