After years of toxic behaviour, the relationship between Catherine Disher and her dad was strained. But in the moments leading up to his death, she witnessed God working in his life. What happened next astonished her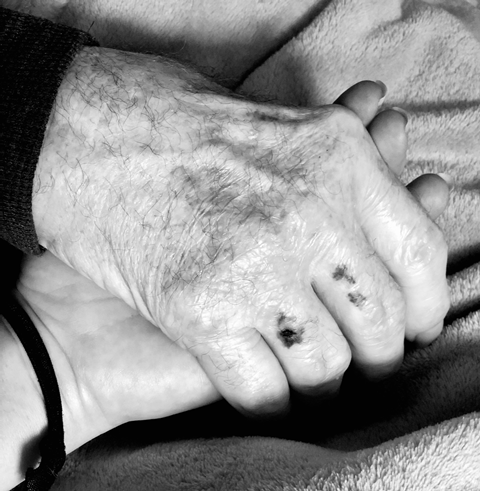 I hold my dad's hands. In the past, these hands worked hard to provide for us; just as, in the early years, they also worked hard to form fists that struck our possessions and, on occasion, my mother, or us. The contradictions and ironies entangled with these deeply raw moments grow with each nonsensical word that passes his lips. Delirium has set in.
For most of his years on earth, Dad fought against life. He wanted to die. He attempted it several times, almost succeeding on a couple of occasions. He actually did die once, on an operating table, but was brought back to life.
Dad spoke about death multiple times a day, threatened it, flirted with it, dined with it, yet now that it has come to take him, he digs his heels in and, through the fever and intense but sparse conscious moments, he stubbornly fights to slow the process of his last hours on earth.
What must it be like to arrive at the last days of your life only to realise that you have never truly lived? To realise that fear was never your friend, that death was never your door; that the enemy sold you a bevy of lies and that you allowed yourself to be bound up by deception instead of open to the truth?
Final moments
I blink and refocus. There is a sound coming from Dad's throat and I see that he has become conscious again for a moment. He is looking into my eyes and trying to say something. But he can't speak. I stroke his forehead and hold eye contact: "I love you," I say. And then I cry, because for the first time in my life, I know my words are received by him. They fall somewhere. He nods, and then slowly drifts into unconsciousness again.
I am absolutely amazed.
Moments of grief rise and fall. Right now, I can't stop the tears but, at other moments I remember what has, and what could have been. I know I won't be stuck here forever, so I let these memories from my childhood splash across the walls of dad's sterile room.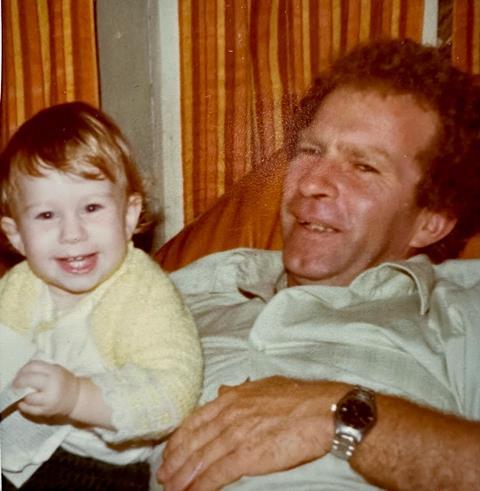 I see Dad coaching me in Little Athletics. Dad pulling funny faces in family photos. Dad playing guitar and singing. Dad hunting. Dad yelling and throwing something across the room. Dad attempting suicide outside my bedroom window. And, just as the overwhelm kicks in, Father God lifts me into his arms in an embrace.
"I can't reflect and I can't watch Dad go through this," I whimper. "It's too much. It's confusing and cruel."
"Shhh, little one, I'm right here. You don't have to watch if you don't want to, but if you feel like you want to walk these last hours with your dad, you're not alone," he says.
Due to the trauma inflicted on my world by my Dad, I have had a lot of fight and flight issues in the past, but my heavenly Father has had such a different impact on my life. I feel peace begin to calm my mind and comfort my heart. "Don't be afraid, little one. I am here."
There is always forgiveness
My brothers left the room a few hours ago and I've been on my own with Dad since then. His breathing has grown more laboured now, and he is so very hot to the touch. A fever is ravaging his body. His lips are dry and his skin is stretched taught.
"How about we put some different music on, little one?" I hear Father God say. "What about the tracks you play at night-time to help you sleep?"
"OK," I say. I feel calm at the suggestion, so I change the music and lean back into God's presence. Tangible peace fills the room and I begin coming into agreement with that peace for my Dad.
Suddenly, his breathing changes. It is sharper, more ragged than before. I phone my brothers: "Come now!" And then I run back to Dad's side just as his back begins to arch a little.
I choose to lay to rest the darker moments
His eyes are open and he turns his head towards me. I cup his face with my hands. "I love you, Dad. There is forgiveness – always forgiveness, OK?" He blinks to say he has received what I have said. Then I hear myself saying: "Thank you for being our dad." He blinks again. Then his head moves and his eyes focus on the corner of the room. He won't look at me any more. Can't look at me. He breathes one breath. Then another. And then he exhales.
He is gone.
I can't take my hands away from his face. Not just yet. I know he is no longer in this body, but my goodbye is still happening because this goodbye has been easier than any of the other goodbyes I have been forced to offer him in the past. It is is true and sure and right and the transaction of it has taken place in peace for the first time ever.
Footsteps sound outside the room and my brothers rush through the door. They are, unfortunately, too late, but I tell them what happened. They thank me for saying what I said, and one of my brothers wipes away a tear. The other wraps me in a hug.
Resting in peace
My earthly dad was a big personality in more ways than one, and I will miss him - regardless of what transpired in the past. I will miss his voice, his stories and his slightly weird adventures. I am thankful for the brighter times, the times of learning, and the times that he stepped in to help in his own limited way. I honour these things in my Dad and I choose to lay to rest the darker moments.
His acceptance of forgiveness and love, as well as his seeking our forgiveness and love in the weeks leading up to his death, have made what was wrong, right.
Where unforgiveness and self-hatred were once lords of his life, I got to see and hear about the transactions that told a new story - of the Prince of Peace beginning to reside in his heart. So now, in this moment, not only do the hurts of yesterday seem smaller, but the tomorrows of peace and hope seem far greater.
RIP, Dad.

Catherine lives in a beautiful country town in Queensland, Australia. She spends a lot of time reflecting, writing about life, observing creation, and interacting with people. If you'd like to read more of Catherine's written work, you can visit her blog 'Because Souls Are Like Gardens'
View full Profile