The reality TV show bills itself as a "bold social experiment" where total strangers are matched by experts and meet for the first time on their wedding day. But it also reveals our deepest longings - to be known and loved. Robin Ham explains why only Jesus can meet this need and how, in him, we can know perfect love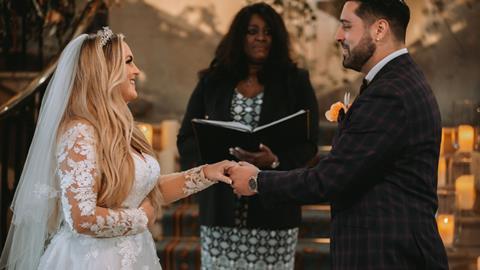 Viewing figures are high for the sixth series of E4's Married at First Sight and, with a contestant being removed from the show, media coverage has gone into overdrive. But what does the show's popularity tell us about society's thoughts and feelings on love?
Here are a handful of reflections:
1. Popularity reveals our deepest longings
Married at First Sight is certainly high drama TV, especially after this week's post-honeymoon episodes. Of course it's been designed to entertain – humans seem to derive a strange pleasure from spectating on other people's lives and misfortunes – but, for me, it's popularity reveals two human longings: to be truly loved, and to be truly known.
So often we feel we have to trade those off against each other. To be loved, we've got to change who we are - put a filter on ourselves – or else we may face rejection if we are known, warts and all, just as we are.
But I wonder if the popularity of the show also points to marriage being seen as a place where, just maybe, we can be both truly loved and truly known.
2. We need to know what love is
The current series is slightly vague about whether the TV marriages are actually legal, which is, in itself, revealing. There's also a whole range of motives for going on the show and personalities featured, but some do seem genuinely sincere. One bravely confessed: "This is my last chance."
Human marriages aren't meant to bear the weight of all our expectations
As a Christian minister, I love it when people see something in marriage that is attractive. Often, it is a longing for security and faithfulness that comes from a lifelong union. The words of the Foreigner song, "I wanna know what love is / I want you to show me" ask a real, important question that burns in the hearts of many people.
And as a Christian, I know that love is not defined by a Hallmark card. It is not just sentimental feeling or an all-consuming Love Island-style animal attraction. Love is defined at the cross of Jesus Christ, where we see that perfect love is all about giving.
We care about marriage because Jesus' love for his people is described as such. Jesus says "I will take you, warts and all." At the cross, he says, "All that I have I give to you. And all that you have – the good, the bad and the ugly – I take it upon myself."
3. Marriage is a commitment without full knowledge
Part of my role as a minister is to help couples prepare for marriage, not just for a wedding day. Increasingly, there has been an immense pressure to make it all about The Wedding. Interestingly, the restrictions of lockdown weddings have actually been really refreshing for a lot of couples. I've heard people say: "'I'm so glad we don't have to worry about all the other stuff."
As one person makes those big promises to another person, of course we want people to do that wisely. It's important that marriage is an informed choice, because it's a big deal. It's a decision to commit to loving someone for the rest of your and their life.
Jesus says: "My life for yours." Now that's a marriage made in heaven
But that said, let's not pretend a couple can know each other completely before their wedding day. And likewise, no one knows what the future will bring. Even with much love, a strong understanding and awareness of each other, and the best intentions in the world, no one really knows what "in sickness and in health" or "for richer, for poorer" will actually mean for them. That's the point. Come what may, you are committing to love throughout.
4. The best marriages have three people in them
As someone who has been married for eleven years, I can tell you that the 'L plates' are still well and truly on. Marriage is full of joys, but it can be hard too – because we're messy people.
That's why Christians say marriage is like a strand of three cords (Ecclesiastes 4:12). It's not just about the couple. We need the support of family, friends and communities, but most importantly, we need God.
I am glad there is a third person in my marriage. A living knowledge of God – who he is, what he's done for us, his transforming presence and grace – brings with it those daily rhythms of saying sorry, of putting ego and selfishness to one side, of learning to forgive and bear with one another. True self-care involves seeing that we are made and designed by a Creator God. It's mad to think we can do life in God's world – whether we're married or not – without him.
Doing marriage with God brings the strength, character and internal resources to grow a healthy marriage.
5. A healthy view of marriage doesn't denigrate singleness
A number of people have pointed out to me that Married at First Sight could be seen to be promoting a very negative view of singleness.
I love marriage and I love officiating at wedding services. But marriage isn't everything. And anyone who makes it such is surely destined for frustration and disappointment, damaging themselves and their spouse in the process. No human person can bear such a burden.
And there's another marriage we need to factor in. The Bible speaks of an eternal wedding between Jesus Christ and all those who have said "I do" to him. That is the relationship we were made for. Human marriages aren't meant to bear the weight of all our expectation, hopes and purposes for life. We need something bigger than that.
The wonder of the good news at the heart of Christianity is that Jesus says: "My life for yours. I love you regardless of your faults and flaws." Whether we're single or married; whether we'd hope to be married or have been married; whether we've had experiences of being let down or can't bear the thought of opening ourselves up to another person, Jesus says: "My life for yours." Now that's a marriage made in heaven.

Rev Robin Ham is the minister at St Paul's Barrow and joint leader of Barrow Mission Community in Cumbria. He blogs at That Happy Certainty, where he writes and collates on Christianity, culture, and ministry.
View full Profile