It has been 70 years since The Queen said "yes" to a life of service. That same year, an unknown Dutchman did the same. Both Elizabeth II and Brother Andrew have a lot to teach us says Eddie Lyle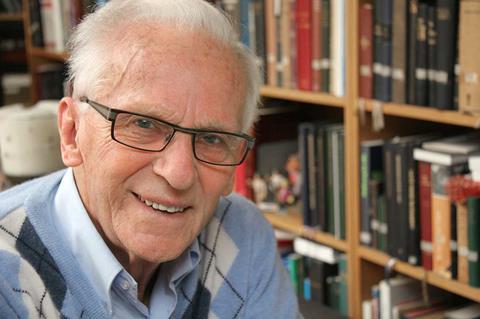 I was born in 1953, so I didn't see 24-year-old Queen Elizabeth II make her solemn pledge to serve God, in whom she has always devoutly believed, the Church and the nation. Taking the throne, much sooner than she would have wished or expected, in 1952, she made a promise: "I declare before you all that my whole life, whether it be long or short, shall be devoted to your service and the service of our great imperial family to which we all belong." It was one that she would ask for supernatural help in fulfilling: "The things which I have here before promised, I will perform and keep, so help me God."
Even the most committed republicans will admit their (often begrudging) respect for Her Majesty. While other rich and famous people have been lambasted for their sense of entitlement, Queen Elizabeth has never forgotten her promise to both God and nation, to be a servant not just a reigning monarch.
There is power in a promise like this; a sincere promise that, with God's help, we truly intend to work hard to keep.
The step of yes
That same year, a young Dutchman, Andrew Van Der Bilj, also made a solemn pledge: "Whenever, wherever, however you want me, I'll go," he said. "And I'll begin this very minute." Van Der Bijl, better known as Brother Andrew, described this pledge to God as "the step of yes".
Christians regularly speak of people being servant-hearted but a true heart of service is a rare and precious flower
It began a lifelong adventure of service to the persecuted Church around the world. Following a visit to then-Communist Poland, he began smuggling Bibles and other Christian resources through the Iron Curtain and into the Soviet Union. His adventures were later made famous in his book, God's Smuggler. In it, he writes: "Lord, in my luggage I have Scripture I want to take to Your children. When You were on earth, You made blind eyes see. Now, I pray, make seeing eyes blind. Do not let the guards see those things You do not want them to see."
Built on service
Today, I work for the international charity Open Doors, supporting and speaking up for persecuted Christians around the world. It is a charity based on Brother Andrew's incredible work and, ultimately, upon his pledge to serve God, whenever and wherever.
How big has the impact been from that one moment of surrender? A few days ago, I was visiting Christians in Poland. Everywhere I went I saw his influence on the Church. Pastors there still talk about his influence.
Then there is the famous "Night of the Pearl" in 1981, when Open Doors workers smuggled a mind-boggling 1 million Bibles onto a beach in south-eastern China in the dead of night. The operation came at a moment when underground churches were quietly emerging across China. Often, churches had barely a Bible between them. This sudden bounty fed fledgling Christian communities at a crucial juncture. Now there are an estimated 100 million believers in China, more in number than actual members of the Chinese Communist Party – much to the disdain of the powers that be.
All of this remarkable work can be traced back to that one "yes".
A precious gift
I have the privilege of friendship with Brother Andrew. Like the Queen, he is now well into his 90s. When I last visited him, at his home in The Netherlands, I was curious about the photos on his desk. There were pictures of men, women and children from his local village. He had promised to pray for each one, he told me, and was doing just that, lifting them up in prayer, alongside the most pressing issues facing the persecuted Church around the world.
There is power in a sincere promise that, with God's help, we truly intend to keep
As he prepared to speak at a church gathering here in the UK, we knelt together as he prayed: "Here I am Lord, use me. Give me words and strength to speak for your people". There was no sense of This meeting is just a small one, or I've got this in his prayers. He had pledged to go anywhere and serve anyone. His "step of yes", like Her Majesty, Queen Elizabeth's, has echoed through the decades and still roots him in an ethic of servanthood.
Christians regularly speak of people being servant-hearted but, in my experience, a true heart of service is a rare and precious flower. It doesn't just reach full bloom with the one-time pledge of committment, but in a lifetime of everyday, little choices to be obedient. When God prompts you, be ready to say a life-changing, world-altering, "yes" to his call.
Receive a free copy of Brother Andrew's story, God's Smuggler.

Eddie Lyle is CEO of Open Doors in the UK & Ireland and is an advocate for persecuted christians worldwide. He is also President & Founder of Medic Assist International - a ministry which builds capacity into indigenous healthcare for the persecuted.
View full Profile