It was the D-Day of Bible smuggling: a million Bibles secretly unloaded onto Chinese shores in one night. Forty years on, some of the key players recount the remarkable and often miraculous operation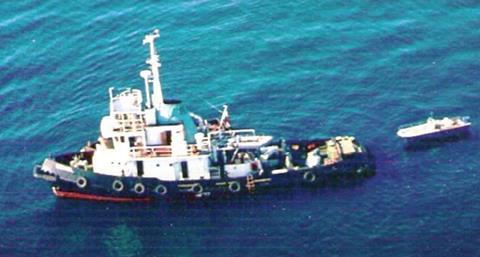 "Project Pearl" has all of the ingredients of a blockbuster movie: lots of fearless derring-do, a secret plan and plenty of edge-of-seat plot twists.
However, this was no Hollywood tale; it was a very real event. Indeed, Project Pearl's importance in the recent history of Christianity in China is hard to overstate: "It was what really fuelled the revival and the growth of the house church movement," says Paul Estabrook, one of the men who planned and carried out the clandestine operation.
Project Pearl took place under the cover of darkness on the night of 18th June 1981. A giant bargeconstructed especially for the project, drew up to beach near the city of Shantou. Within two hours, the twenty strong crew, working for the charity Open Doors, had unloaded a million Bibles, weighing 139 tons, to a waiting army of local Christian volunteers.
If the authorities caught wind of the operation, the crew faced imprisonment, as did the volunteers that spirited away the precious shrink-wrapped boxes.
The great Bible famine
It was a clandestine operation that shaped the whole future of Christianity in China. The Church had been growing apace after its violent suppression during Chairman Mao's bloody Cultural Revolution, which had effectively ended with his death in 1976.
Four years later, in 1980, Bibles were in short supply and owning one was still an offence. But China's burgeoning Christian population were hungry for them. The best that most of them could hope for was to copy a few verses down longhand and commit them to memory.
The plea for more Bibles originally came from a remarkable Chinese woman called Mama Kwang. After her husband was imprisoned for his faith, she had taken charge of his network of house churches.
Mama Kwang had already persuaded Open Doors to smuggle 30,000 New Testaments into China by land, carried inside suitcases. Paul Estabrook was one of the smugglers: "The official name was 'Project Rainbow' but we called it 'Project Hernia', those cases were so heavy."
However, it soon became clear that 30,000 New Testaments were nowhere near enough; house churches were mushrooming across China. "We need one million, and we want full Bibles," Mama Kwang told them.
Doug Sutphen, Open Doors' Asia Director at the time, was, according to Paul Estabrook, "a man who loved to trust God for big things," and took up the challenge.
The multi-million-dollar secret
The logistics of Project Pearl were staggering. The first thing needed was funds for the operation. That was easier said than done, says Open Doors employee Terry Madison: "It was my job to write all the material to raise the millions of dollars that we needed. However, we couldn't say what we were doing, as it was a secret operation. To their credit, our supporters still sent in gifts to make it happen."
The Bibles were printed in San Francisco and exported to Hong Kong in readiness for the operation. A giant barge was specially designed to sink, submarine-like, until the watertight one-ton packages of Bibles could be hauled into the sea and floated onto the beach.
To tow the barge to shore, however, two suitably sized tugboats were needed – something that seemed almost impossible to find. With the big day fast approaching, it became a critical need. What happened next was one of a series of incidents that the Project Pearl team now look back upon as nothing less than miraculous. Estabrook recalls that they "looked for these tugboats everywhere. And we couldn't find one that was powerful enough."
The answer came when Sutphen was on a speaking tour in New Zealand. "The board there had some guys that really loved to pray," recalls Estabrook. "They asked: 'What do you need for Project Pearl?' Doug explained and they embarked on a night of prayer to locate the tugboats.
"After a couple of hours, one of the men said: 'Wait, the Lord just showed me a vision.' And he described a grain elevator with pastel stripes. And there were trees down below and up on blocks on the edge of the beach was this tugboat. Doug says, 'Oh, wonderful. Where did God show you it was?' And he said, 'That's the only thing he didn't tell me.'"
We could be imprisoned, die or be lost at sea.
The following day, with precious time ticking away, Sutphen's plane was forced to make an unscheduled stop at Singapore Airport. "They got off the aeroplane in Singapore and got a taxi and told the driver: 'Take us down to the river,'" said Estabrook. "And as they're driving, Doug looks over and he sees this tall building that looks like a grain elevator with pastel stripes on it. And there's trees down below and up on blocks were two tugboats."
The boats had originally been commissioned by a firm in Indonesia that had gone bankrupt and were for sale.
It was a welcome reminder of God's provision for the team as the evening of the operation drew near and the gravity of what they were about to do sank in: "As we got closer and closer, we realised this was really serious," remembers Madison, who accepted a last-minute role on board as the ship's cook. "We could be imprisoned, die or be lost at sea. There was one point we were all given a chance to say: 'This has been wonderful, but I'm not going to make the trip.' None of us did that. None of us were in doubt about the fact that we were supposed to be there."
The Night of the Pearl
Madison and Estabrook were both on the tugs when Operation Pearl set off, towing Gabriela the giant 'Bible-barge'. "We had planned drop all of these 232 one-ton blocks on Pearl Beach in just one hour," says Paul.
There was a sizeable Christian population in the nearby city, and the crew were promised that a team of locals would appear on the night to haul the Bibles onto dry land and spirit them away. "There were hundreds, possibly even thousands of Christians waiting on the beach for us," says Madison. "The men would come out into the water, some of them right up to their neck, and pull those blocks up onto the beach. They then cut the packages open and passed the individual boxes, daisy chain style, up the beach. It took us two hours."
Despite taking twice as long as planned and making plenty of noise doing it, they almost managed to complete the whole operation before the authorities caught wind of anything untoward. For hours, the night watch in a nearby government lookout tower remained oblivious.
"On the night of Project Pearl, they got drunk," recalls local believer Bao*. "And that's why they didn't see what was happening. The night watch fell asleep after drinking. Later, at around 3am or 4am, they woke up and discovered the operation. But the work was almost finished. They immediately called the navy to come over but it was too late."

One of the local believers Xiao Chen* recalls: "After a couple of hours, the soldiers rushed to the beach with torches. I didn't know what was happening. My elder brother told me to run! I ran as fast as I could.
"God saved us! Most brothers and sisters had left the beach before the soldiers came to them. Boxes were still dropping into the sea as the ship was leaving."
Xiao didn't even know what he was unloading until much later: "Eventually, I learned those boxes were full of Bibles. A Bible was a miracle to us!"
The authorities managed to burn a handful of Bibles. A few more Bibles went astray, showing up in some unlikely places including a pit latrine and a fish market, where Christians discovered one of the traders wrapping his catch in pages of scripture. Over the following weeks, months and years, the Bibles made their way across China and were passed on from church to church.
"What we didn't know at the time was that, in the 1980s, the house church movement would be exploding right across the country," Paul says. "They desperately needed Bibles. Chinese Christians have since told me that those million Bibles really fuelled the revival in China.
"I have one Bible that was used for 15 years by one young man who became an itinerant evangelist. He ended up with a network of 400,000 believers using a single Project Pearl Bible. I still have it, it's my greatest treasure."
*Names have been altered for reasons of security.

Ben Cohen is the head of media and PR at Open Doors UK and Ireland, a charity that speaks up for and supports Christians around the world who are persecuted for their faith. When he's not gazing at a screen he is frantically unpacking his life's artefacts or looking at the world slightly askance.
View full Profile