When US and UK troops withdrew from Afghanistan in 2021, the Taliban promised that foreign terrorists would never again find a home in the country. Now a new UN report says al-Qaeda is alive and well in Afghanistan once more. Here's what it means for Christians there and around the world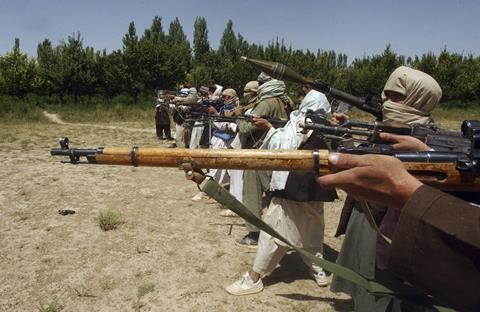 Everyone remembers where they were when they heard the terrible news about the 9/11 terror attacks. I was about to pick up my boss who had just flown into the UK. We had both worked in Afghanistan for Christian development organisations. That afternoon, we walked around my garden discussing what the future meant if, as seemed likely, the awful events unfolding on our TV screen had been carried out by al-Qaeda, who were then hosted by the Taliban in Afghanistan.
What happened next is history. The Western military intervention was designed to prevent any such attacks ever being carried out from Afghanistan again. The central part of the 2020 US deal with the Taliban, agreed by President Trump and implemented by President Biden, was that the US would withdraw its forces in exchange for the Taliban guaranteeing that foreign terrorist organisations, such as al-Qaeda, would never be allowed on Afghan soil again.
Broken promises
The naivety of that deal was revealed in stark terms by a recent UN Security Council report which revealed that around 30 senior members of al-Qaeda are now based in Afghanistan, plus around 400 jihadists and their families – in total, approximately 2,000 people.
Last August, a US drone strike in Kabul killed Ayman al-Zawahiri, Osama bin Laden's successor and then-leader of al-Qaeda. The intelligence contained in the UN report suggests he wasn't just visiting there, but that it may be becoming a base for al-Qaeda's global operations.
There are multiple examples of where Christians have been separated out from Muslims and then killed– simply because of their beliefs
At least two Taliban provincial governors now have links to al-Qaeda, as does the deputy director of the intelligence directorate. Al-Qaeda training manuals are being used in the Taliban equivalent of the Ministry of Defence.
Even more significantly, al-Qaeda have also re-established camps where suicide bombers are already being trained - and the ideology being taught there is even more extreme than that of the Taliban.
Worldwide impact
So, how does this affect Christians?
Firstly, there are still thousands of Christians trapped in Afghanistan, living in fear of their lives. The Taliban regard all Afghan Christians as apostates from Islam – for which the shari'a penalty is death by execution within three days.
In the first few months after the Taliban seized power in August 2021, the Taliban were trying to persuade Western countries to lift sanctions, publicly claiming that their rule this time would be very different from when they were previously in power. That's probably why there were occasional media reports of Christians 'merely' being arrested and held in custody. But with the ideological advice that, according to the UN report, al-Qaeda is now providing to the Taliban, Afghan Christians are more likely to be simply killed on the spot, without even waiting for the three days prescribed by shari'a.
While the Taliban are, essentially, a local jihadist organisation, al-Qaeda actively aspires to be a global one
Secondly, there is a very specific threat to Christians in neighbouring Pakistan. According to the UN report, suicide bombers from the Pakistan Taliban are already being trained in the al-Qaeda camps in eastern Afghanistan. This grouping of jihadist organisations has repeatedly attacked Christians in Pakistan, being responsible for the 2013 suicide bombing of All Saints Church in Peshawar which killed 127 and left another 250 injured. They also bombed the Gulshan-i-Iqbal Park in Lahore in 2016 which killed 78 and injured 350 others, many of them Christian families celebrating Easter Sunday.
Thirdly, there is a threat to Christians around the world. While the Taliban are, essentially, a local jihadist organisation, al-Qaeda actively aspires to be a global one. If anyone wants to know why the return of al-Qaeda represents a threat to Christian communities around the world, look no further than it's associate, al-Shabaab, in East Africa. They have repeatedly targeted not just those who convert from Islam, but, in an attempt to 'cleanse' areas of non-Muslims, whole Christian communities. The worst such incident was the 2015 attack on Kenya's Garissa University, where al-Shabaab jihadists went room to room, identifying Christians and killing them. There are multiple examples of where Christians have been separated out from Muslims and then killed– simply because of their beliefs.
So, al Qaeda's return to Afghanistan represents a serious threat to Christian communities around the world. And while they continue to strike a range of targets, Western governments need to understand that jihadist attacks on Christians in places like Pakistan, Nigeria and Afghanistan - which are becoming increasingly frequent - are somewhat like the canary in the mineshaft.

Dr Martin Parsons is CEO of the Lindisfarne Centre for the Study of Christian Persecution. He is an expert witness on the global persecution of Christians and was previously an aid worker during the time of Taliban rule in Afghanistan
View full Profile