As the Taliban tighten their grip on Afghanistan, Release International warns that their swift advance will embolden extremists and attacks on Christians will rise as a result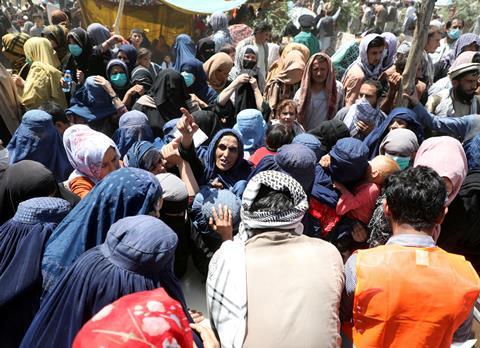 In a drive by militants to create an Islamic emirate, Afghanistan's major cities have fallen like dominoes before the Taliban.
The resurgence of the Taliban will fan the flames of Islamist extremism. Pakistan especially may be impacted by the new mood of militancy – which can only be bad news for the region's Christians. We need to pay for them.
Great fear
One church leader in Afghanistan told Release International that Christians were living in great fear. Some who worked for the government now face reprisals and anyone identified as a Christian could be killed. They even risk betrayal from their own family members.
A contact of one Release International partner describes the situation as "dire." Says 'Micah': "Our brothers and sisters in Christ are telling us how afraid they are. In the areas that the Taliban now control girls are not allowed to go to school and women are not allowed to leave their homes without a male companion."
The Church in Afghanistan was already facing sharp persecution, even before the latest Taliban advances. Churches must operate underground and remain invisible in a country where Muslims who change their faith are breaking the law and considered to have betrayed their communities.
To be exposed as a Christian risks being charged with apostasy, which is punishable by death or imprisonment. There have also been honour killings of Christians by their families.
Violent attacks
In the past, foreign Christian workers in Afghanistan have been murdered and many have long since left the country. Many secret believers are now also fleeing the Taliban, whose version of Islam is even more violent and extreme. But many Christians are poor and cannot afford to leave.
One of the communities worst affected is the Shia Hazara minority, which has been especially responsive to the Christian message.
In May 2021, the Taliban bombed the Sayed Ul-Shuhada High School in Kabul, killing at least 85 people, mainly schoolgirls. The previous year, the Taliban staged a shooting at a maternity clinic, killing women, children and babies.
To be exposed as a Christian risks being charged with apostasy, which is punishable by death or imprisonment
The Taliban are pledged to prevent what they see as the Westernisation of women. It was the Pakistan Taliban who shot 15 year-old Malala Yousafzai for going to school and telling the world about it in a blog.
Across the border
Thousands of Afghans, including Christians, are seeking refuge in neighbouring Pakistan. But the Taliban are growing in influence there, too.
Some observers say Pakistan has provided a safe haven for the Taliban and has supplied them with weapons and finance. Before the Afghan president fled, he accused Pakistan of permitting thousands of jihadi fighters to cross its border to support the Taliban.
That tacit support could yet rebound on Pakistan. The surge in the Taliban has given Pakistan's militants a new boldness. Release International partners warn it could lead to the destabilisation of the north-west of the country.
The extremist Tehreek-e-Taliban Pakistan (TTP, or Pakistan Taliban) is calling for the overthrow of the state. Another extreme Islamist faction, Tehreek-e-Labbaik (TLP), also called for the government to be brought down after Christian Asia Bibi was acquitted of blasphemy.
The TLP campaigned for Asia Bibi's death, along with the assassination of the Supreme Court judges who confirmed her innocence. It's widely believed that to appease the TLP, the Pakistan government delayed Asia Bibi's departure from the country.
Despite the international outcry, the government refused to repeal Pakistan's notorious blasphemy laws, which are routinely used to settle scores and target disproportionate numbers of Christians. Many Christian and human rights charities continue to call for those laws to be abolished.
A ray of hope
Despite the imminent danger, Christian charities such as Release International are working to support the Church in Afghanistan and across the region.
Release partners are providing radio broadcasts in the local languages of Dari and Pashtun, calling for prayer. They say: "Into this darkness, our ministry is bringing a daily message of hope, life and comfort."
Radio can be picked up everywhere – including in Pakistan, where many of the Christians are seeking refuge. They are also producing Christian literature and digital discipleship material. Investment in Internet infrastructure and the progress made in educating Afghan women also points to hope for the future.
In places like Afghanistan the Church has had to learn to operate much as the early Church in the Book of Acts – under continual threat of persecution. But today, the Church is better resourced and equipped to handle that challenge than ever before.

Andrew Boyd is the press officer for Release International, an inter-denominational Christian ministry working through local church partners in more than 25 countries, helping persecuted Christians prayerfully, pastorally and practically.