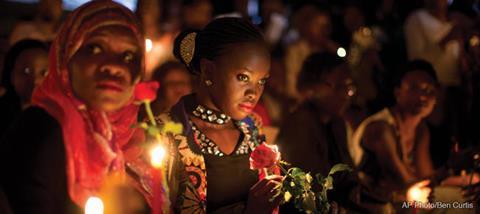 All I could hear were footsteps and gunshots. Nobody was screaming because they thought this would lead the gunmen to know where they were.
'The gunmen were saying, "sisi ni al-Shabaab" (Swahili for "We are al-Shabaab").
'If you were a Christian you were shot on the spot. With each blast of the gun I thought I was going to die.'
These are the words of Collins Wetangula, vice-chair of the student union at Garissa University College in the north-east of Kenya, where shortly before Easter, 147 people were killed in an attack by al-Shabaab militants targeting Christians.
Before shooting, the four gunmen asked the students to state their religion.
Al-Shabaab had previously claimed responsibility for the killing of 67 people in Nairobi's Westgate shopping mall in 2013.
Just weeks after the Garissa University attack, Islamic State (IS) released a film apparently showing the beheading and shooting of two groups of prisoners in Libya, thought to be Ethiopian Christians.
These ongoing Islamist terror attacks are focusing minds on the daily threats to religious freedom experienced by thousands of Christians across the world.
Referring to the Kenyan atrocity in his Easter sermon, Archbishop of Canterbury, Justin Welby challenged listeners: 'These martyrs…point at us and ask: "In your comfort, in your great buildings which call out soundlessly to the reality of the risen Jesus…you who have lived these many decades under governments that welcome opposition, and that are led by those who seek honourably and honestly to serve the people, are you still witnesses?"'
IF YOU WERE A CHRISTIAN YOU WERE SHOT ON THE SPOT
Pope Francis also referred to the killings in Kenya in his Easter address, highlighting the plight of persecuted Christians: 'They are martyrs of today and there are many of them...there are more of them now than in earlier
centuries.'
A DEADLY VACUUM
Naturally, many Western minds associate Africa with scenic safari holidays. But attacks on Christians by Islamists are increasing, with Sub-Saharan Africa the most rapidly growing area of persecution, according to Christian anti-persecution charity Open Doors' 2015 report Freedom of Religion and the Persecution of Christians.
At a parliamentary briefing in January, where the Open Doors report was presented to over 60 MPs and peers, Dr Ronald Boyd-MacMillan, director of strategic trends and research for the organisation, said, 'It's fair to say that Islamic extremism has two hubs in the world today: one in the Middle East that garners all the headlines – the other in Sub-Saharan Africa, where a deadly vacuum is developing.'
Africa is a continent divided. On the one hand it is a centre of growth for global Christianity. Nearly a quarter of the world's Christians live in Sub-Saharan Africa and by 2025 the Christian population will have grown to 663 million, according to the World Council of Churches. Yet Church growth is being matched by a rise in persecution.
In his book The Global War on Christians (Image, 2013), the US Catholic journalist John Allen states, 'Just as Africa leads the pack in terms of Christian growth it has also become one of the primary fronts in the global war on Christians.'
Dr Khataza Gondwe, Christian Solidarity Worldwide's team leader for Africa and the Middle East, highlights the two main Islamist terrorist groups active in the region. 'Boko Haram affects Nigeria, Cameroon, Chad and Niger. Islamist group al-Shabaab in Somalia is seeking to make in-roads in Kenya, Tanzania, Uganda and further afield.'
THE TRIGGERS
What has caused this? Andrew Boyd, press officer at Release International, explains that extremist Islam is a religion of conquest, and such terrorist acts are about creating stronger footholds.
'They believe their mandate is to establish an authentic theocracy. This is why Islamic State has declared a caliphate and Boko Haram has pledged allegiance to it. This is not about Sub-Saharan Africa, particularly, but it is about conquest and dominion. If you read their own writings, their motivation becomes crystal clear. It is about turning footholds into strongholds from which to create more footholds and strongholds,' he says.
NIGERIA
Boyd believes taking Nigeria as a microcosm of the situation in Sub-Saharan Africa can be a useful tool for understanding this aggressive wave of persecution. 'The extremist group Boko Haram has declared its allegiance to Islamic State in Iraq and Syria and now has the stated aim of turning the whole of Nigeria into an Islamic state.'
The notorious kidnapping of 276 Christian schoolgirls in Chibok in Borno State on in 2014 was a well-publicised example of Boko Haram's modus operandi. A report released by Amnesty International on the first anniversary of the kidnapping reveals that tragically, these young women only represent a tiny proportion of those abducted by the terrorist group, who have kidnapped at least 2,000 women and girls since the start of 2014. Many of them have been forced into sexual slavery and trained to fight.
The report also documents Boko Haram's killing of at least 5,500 civilians during its spread across north-east Nigeria, and the regular conscription and systematic execution of boys.
Aisha, 19, told Amnesty of her abduction from a friend's wedding in September last year along with her sister, the bride and the bride's sister. Boko Haram took them to a camp in Gulak, Adamawa state, home to approximately 100 abducted girls, where Aisha was repeatedly raped. She saw more than 50 people, including her sister, killed by the terrorist group; in some cases they had refused to convert or learn how to kill others. A week after being taken captive, Boko Haram forced the bride and the bride's sister to marry their fighters.
'They used to train girls how to shoot guns,' Aisha says. 'I was among the girls trained to shoot. I was also trained how to use bombs and how to attack a village. This training went on for three weeks after we arrived. Then they started sending some of us to operations. I went on one operation to my own village.'
Boyd believes Boko Haram knows it can't take over the whole of Nigeria so is seeking to separate the predominantly Muslim north from the predominantly Christian south. The prize for Boko Haram, he says, would be to take the country's capital, Jos, located in the middle of the country.
'The churches in Jos now resemble fortresses. There are barricades and blockades, and every attempt is made to prevent suicide bombers attacking. If you go into Jos, there's a point at which you move from a Christian area into a Muslim one. The dividing line is bang in the middle of the commercial area. You can feel the tension in the air', Boyd says.
KENYA
According to Open Doors, Kenya experienced the greatest deterioration of religious freedoms between November 2013 and October 2014.
The Gathering Storm, a 12-minute film recently produced by charity Release International, documents how extremist attacks on churches on the Kenyan coast in May 2014 caused UK tour operators to pull holidaymakers out of Mombasa.
'Peter', a church worker based in East Kenya, shares his story in the film. He saw terrorists in two vans open fire indiscriminately on Mpeketoni, a Christian community. 'They killed over 70 men in the four hours, telling people who were not Muslims to leave the area.'
Another attack took place in Hindi. Peter says what happened there 'was a calculated persecution and massacre' with machetes and sharp knives. 'They forced the women and children to watch as they slowly cut the men's necks using the knives. One man was told to recant Christianity. He said he couldn't so they killed him, turned him on his stomach and placed a Bible on his back.'
In November last year, 28 Christians were killed when a bus was ambushed in northern Kenya.
The Barnabas Fund reported on its website: 'On 2 December 2014 36 stone quarry workers in Mandera County were shot or beheaded by around 50 assailants who stormed the camp. Peter Nderitu who hid himself during the attack, heard the militants separate Muslims from non-Muslims. Non-Muslims, most of whom were Christians, were then shot in the head. Four victims were found beheaded.'
TANZANIA AND ZANZIBAR
Dickson Kaganga, a pastor in Zanzibar, thought his time had come when a 200-strong mob smashed their way into his church and set light to property in the building while he hid in his office, reports Release International's April issue of Release. 'I could hear everything they were saying: they wanted to destroy the church and my life. For 20 minutes I was hanging between life and death; if they had found me I wouldn't be here today', Dickson says.
In 2013 religious freedom came progressively under attack in Tanzania, which included the beheading of a pastor. Open Doors says the Association for Islamic Mobilisation and Propagation is 'at the heart of the persecutions'. The group wants to establish an Islamicstate that includes Zanzibar and a significant section of the Tanzanian mainland.
The terrorist activities in Tanzania and Zanzibar continue; on 23rd February 2014 a bomb exploded close to the Evangelical Assemblies of God Zanzibar Church, and a device was detonated outside Christ Church cathedral in Stone Town the following day.
SUDAN
Last year, the near-tragic case of Meriam Ibrahim, a pregnant woman of Muslim heritage who was sentenced to death after being accused of adultery for marrying a Christian, served to bring international attention to the plight of Christians in Sudan.
The country saw a significant increase in persecution against Christians in 2014, largely due to the hardening of the government's Islamic line since the secession of majority Christian South Sudan.
Open Doors reports that violence against Christians in Sudan has 'shifted' from targeting individuals to 'indiscriminate attacks against groups of Christians'. There have been attacks on at least ten Christian properties, and more than 30 Christians have been killed as a result of targeted government bombings.
Baroness Cox, founder of the Humanitarian Aid Relief Trust, has described the 'constant bombardment' of civilians in Sudan as equivalent to 'genocide'.
ERITREA
In Eritrea, Christians are forced to join the military but are forbidden to pray and gather.
Believers who contravene this are regularly imprisoned in cramped shipping containers. In his book, Allen quotes a former inmate who described the containers as 'giant ovens baking people alive'. He writes: 'Because prisoners are given little water, they sometimes end up drinking their own scant sweat and urine to stay alive…There are no toilets inside the containers, just crude buckets overflowing with urine and faeces.'
Eritrean gospel singer Helen Berhane, imprisoned in 2004 after she refused to sign a document pledging to end participating in evangelical activities, describes her experience of detainment in the containers in her book Song of the Nightingale (Authentic, 2009): 'The air is thick with a dirty metallic tang, the ever-present stench of the bucket in the corner and the smell of close-pressed unwashed bodies'.
I AM READY TO DIE FOR MY FAITH
Eritrea's Orthodox Church is under strict control. However, greater pressure is on the non-traditional Protestant communities and converts from Islam.
A local source reported that over the last year, the Eritrean government has 'intensified its crackdown' on Christians, leading to more than 138 arrests of Christians and church leaders. Some of these remain in prison, denied the law's due process.
DJIBOUTI
The small and impoverished country of Djibouti, whose state religion is Islam, has recently seen a serious increase in the level of persecution. Christians and other non-Muslims are subject to control. Pressure from Islamic extremism has been growing to such a great extent that even the government is concerned. Converts from Islam experience the worst persecution, which includes homes and places of worship being attacked and forced marriage to Muslims.
DEMOCRATIC REPUBLIC OF CONGO
The DRC already has a long history of conflict, chiefly over its rich resources. There has been ongoing violence between militia groups that affiliate themselves with both Islam and Christianity. However, between October and November last year there were waves of Islamist killings in the east of the country believed to have been carried out by extremist Ugandan rebel group, Allied Democratic Forces. Made up primarily of Islamists, it is believed the group has links to al-Shabaab.
World Watch Monitor, which reports on the global persecution of Christians, states: 'This incident should be taken as a warning that more faith-related violence and pressure could come to DRC. This will also increase the risk of persecution...'
RESIST AND RESPOND
'Christians must resist without violence the persecution they suffer, and support persecuted communities with love and goodness and generosity,' said archbishop Welby in his Easter sermon.
Boyd-MacMillan has urged parliamentarians to be proactive in their response to the situation: 'Vacuums, villains, lies: this is the unholy trinity that enables persecution to thrive, and it's part of your thankless task to stop vacuums developing.'
THE CHURCHES IN JOS NOW RESEMBLE FORTRESSES
Boyd reminds us of how we must allow this tragic wave of persecution to challenge those of us in more comfortable contexts across the globe. 'There's another side to this which is very important,' he says. 'We must catch the overcoming faith and spirit of people who are just like us, but in a different place. What would we be like if we were there? We would probably be people whose faith is transformed into something rather more dynamic and active than it is here.'
On the ground in Africa, the suffering continues. At the Open Doors parliamentary briefing, Rev Daniel Aweyi, a pastor in north-east Nigeria, spoke about the reality of persecution: 'One of our church members received a knock on his door from Boko Haram. They told his wife: "Sit and watch what we are going to do to your husband".
'They then questioned the man, "Why don't you accept Islam so that you won't suffer anymore?" He replied: "I am ready to die for my faith". They took their AK-47 and shot him. Later his wife discovered all the Christians in the community had been put to death.
'If I open my mouth you will see that some of my teeth are not there,' Aweyi continued. 'That's from an incident in 1994 when we were about to have our Holy Communion. We heard shouting and before we could get out 2000-3000 people had surrounded the church. They pulled down all the walls surrounding the church and set ablaze all the Bibles. Everything was destroyed.'
In all this, Christians in the West are being given an extraordinary example of grace and world-changing forgiveness. Many of the African Christians who have suffered so much have refused to respond with violence, and in many instances willingly forgiven their persecutors.
Sarah Ambetsa, whose husband was shot dead when armed militants opened fire in his church near Mombasa, said: 'From my heart I really forgive them because they are just human beings. I always pray one day God will change their hearts and they become the biggest servants of the Lord'.
'Jesus said "love your enemies"; he didn't say "don't make them",' Boyd-MacMillan told parliamentarians. 'All over the world millions of Christians are standing up and making an enemy of unjust ideologies, cruel dictators and greedy leaders. Without this tidal wave of loving defiance the world would be a far worse place. It's a great story if you can listen to it and learn from it; and it's a thrilling one if you become a part of it. I pray you do.'