Today marks one year since George Floyd was murdered by a police officer in Minneapolis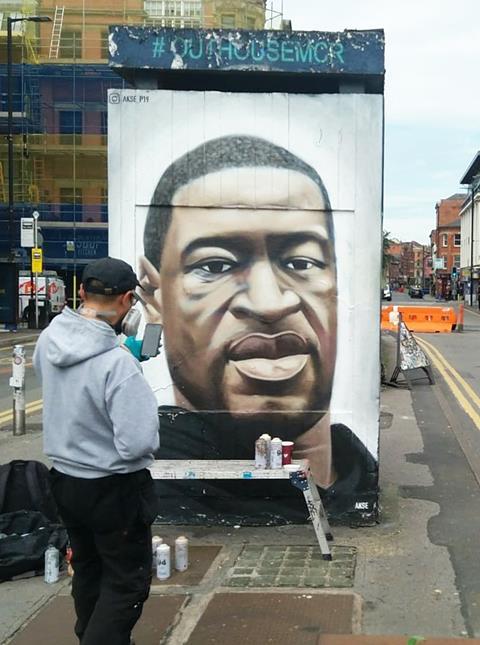 Some might flinch at the description of George Floyd's murder as a lynching – a public execution that happened to him because he was black. But there is no more appropriate word to describe the horror we all witnessed - the final 9 minutes and 29 seconds of a man's life as a police officer knelt on his neck.
In the weeks and months following the tragedy, we saw a reckoning with racial justice the likes of which I had not seen in my lifetime. No institution escaped interrogation in the journey towards anti-racism. This went beyond the tragic, violent death of one man, but showed us all that we were in denial if we thought we lived in a post-racial society.
I started writing my book God Is Not A White Man: And Other Revelations just before the pandemic hit, and before George Floyd's death and the Black Lives Matter protests. I am so thankful to have been writing it during that particular moment in history, for it sent me on a journey of discovery, of learning and unlearning about myself and others, my understanding of who God is and the role of the Church in tackling racial injustice. As we mark a year since George Floyd's murder, here are three things the Church can take forward:
1. Flee from defensiveness
Talking about race is not easy, nor is it comfortable. While much of racism is structural and pervasive, there are also many examples in the Church of interpersonal racism. When this it talked about, it can make people feel judged, ashamed and angry. I have been fascinated to see how in various contexts over the past year, as I've been invited to talk about racism within the Church and how we can tackle it, people have tried to steer the conversation in different directions. They might tell stories instead of how they too have been victims of discrimination, how they felt othered by how brown children constantly asked to touch their hair while they were on mission trips to African countries. The classic lines I hear people use to aid them in their defence include insisting they are 'colour blind', or responding to the statement that black lives matter with 'all lives matter', as if asserting the humanity of black people means white people are therefore forgotten.
Christians should be encouraged to recognise their own responses to being presented with the shameful issues of racism, to ask themselves why they feel they need to respond in this way, and then choose to flee from defensiveness and deflection. When confronted with our sin, our natural response might be to come up with explanations to shift the blame. This is a tale as old as the Garden of Eden.
2. Remember solidarity is key
One of the distinctive markers of 2020's Black Lives Matter protests was the fact that white people – and white church leaders – were part of the crowds, walking alongside their black brothers and sisters. This picture of solidarity is key if we are to avoid going round in circles of self-flagellation and hand-wringing. While increasing diversity in our leadership teams, making space for so-called black theology in our sermons and tackling microaggressions are markers of progress, racial justice will only happen when white Christians move beyond a sense of white guilt and despising their own privilege.
What is needed is a realisation that a world in which black people flourish is a world in which we all flourish. We can learn a thing or two about the Rainbow Coalition in the US in the 1960s, where disparate groups including young southern whites, and Latinos joined with the Black Panther party, gathering around common ground, for the mutual flourishing of all. This is about solidarity, not about charity.
3. Treat diversity as mission, not a chore
We have come a long way when it comes to racial justice in the Church, but often progress seems painfully slow. I sometimes hear whispers of anxiety when hearing church leaders talk about racial justice and diversity – many are keen to do the right thing, and to be seen to be doing the right thing. But sometimes it feels like diversity is a chore. A tick-box exercise; another 'thing' for church leaders to do, rather than being key to the Church's kingdom work.
In Letters from a Birmingham Jail, Martin Luther King Jr talked about a sense of him having been over-optimistic about white church leadership and its capacity for a change, writing: "I suppose I should have realised that few members of the oppressor race can understand the deep groans and passionate yearnings of the oppressed race, and still fewer have the vision to see that injustice must be rooted out by strong, persistent and determined action."
White majority churches should be utterly convinced of the need to take urgent action. We must also recognise this is a gospel issue. Young black people will leave the Church if it is not seen as a place that stands for racial justice; and their friends will leave too, because of the same. If the Church is to be attractive to younger generations, it must rid itself of prejudice. The God we worship is bigger, more welcoming, more just; and calls us to a radical love of one another, as family together – each of us made in God's image.

Chine McDonald is a writer, speaker and broadcaster. She is director of Theos, the religion and society thinktank, and previously headed up public engagement at Christian Aid. She is the former communications director for the Evangelical Alliance. Her latest book is God Is Not a White Man (Hodder & Stoughton). She studied theology and religious studies at the University of Cambridge and is a trustee of Greenbelt Festival and Christians in Media
View full Profile