Ahead of Racial Justice Sunday (13 February), Cole Arthur Riley shares the story behind Black Liturgies, a project designed to integrate the truths of dignity, lament, rage, justice and rest into written prayers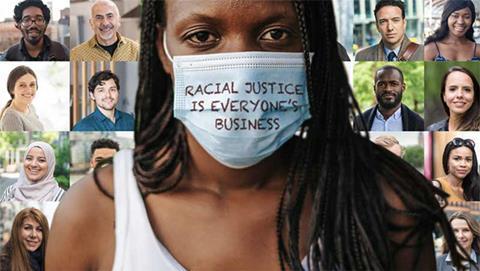 There are seasons when it becomes uniquely difficult to pray words written by a white man.
It was the summer of 2020. I watched Ahmaud Arbery hunted by three white men while on his afternoon jog. I watched officer Derek Chauvin kneel on George Floyd's neck for nine minutes. I read Elijah McClain's last words. I imagined Breonna Taylor, fast asleep, dreaming and then dead. It was one of those seasons.
The Sunday after the protests began, I attended a church service online. It was Pentecost. We sang hymns two octaves too high and listened to a sermon that made a vague appeal for unity, and then I prayed a confession when really, I deserved an apology.
When we got to the prayers of the people, the liturgist read from her notes in a monotone voice. I closed the laptop, knowing for all their effort, those prayers would not be mine. Even if she had found the courage to say their names, any of their names, it would've been from the body of a white woman. She couldn't pray like Floyd was hers because he never was. She couldn't pray what my insides sounded like, only hers - guilt ridden and shocked. To utter a prayer that knew my pain? Thomas Cranmer could not ever.
I needed a prayer that contained more me than them.
The name came before the idea. I'm lying awake at night and I turn to my spouse and say: "What if I create something called Black Liturgies?" He says: "OK," pauses, and then almost as an afterthought: "What will it be?"
A space for shared longing
And so Black Liturgies was born. A space where I connect Black thought, poetry, activism and literature with written prayer and breath practice. A space where Black grief, Black anger and Black joy is allowed to exist in a meaningful way. I chose Instagram as place to initially hold the project. I expected it would be a fairly intimate group - a dozen of us brought together by a shared longing.
When every word isn't for you, when you come upon a phrase that doesn't resonate, liturgy asks us to remain
Three weeks later, I had 5,000 followers. In a year's time, over 100,000. What I couldn't have understood then but apprehend in hindsight is how a number of circumstances worked together to draw people into that space. We were collectively looking for a way to grieve the murder of a number of Black people at the hands of violent white people. We were also in the throes of a political season that alienated many Black people from white-dominated, evangelical Christian spaces. And we were, of course, in the earliest months of this pandemic; many of us, feeling dislocated and lonely, began seeking spiritual community virtually.
And while a large percentage of that number would be Black and Christian, soon a number of white people and people of other spiritualties began the work. We often make the mistake of assuming that the way to engage a diversity of people is in portraying the general and vague. What I learned from Black Liturgies is that humans are drawn to particularity. Black Liturgies is written through and for Blackness. In creating a space of clear and unapologetic particularity, the words were allowed to travel deeper. Perhaps they also become truer.
Holding the tension
But there is a certain tension in the project gaining the presence of what Toni Morrison calls "the white gaze". What does it mean to have this space slowly infiltrated by whiteness? Can my voice endure it? They came wanting to learn, to listen. But as we know, it is very difficult for whiteness to be present without centering itself. And it's very difficult for Blackness to breathe under the weight of the white gaze. But it is a tension, at least in this season, I am willing to exist in. It is, for one, excellent formation for a person who is trying to unlearn habits of shrinking and sacrificing their selfhood in exchange for acceptance from white people. I've had to learn and relearn what courage is required of me; what stability of heart is required in order to resist the temptation of white affirmation. I've had to learn my face as an artist, and become a protector of the art. Dismissing the white gaze is a healing spiritual practice.
I prayed a confession when really, I deserved an apology
And still, there is something mysteriously beautiful, I think, about a white person (or even more beautiful, another person of color), reading Black Liturgies. As James Baldwin said: "The truth which frees black people will also free white people, but this is a truth which white people find very difficult to swallow."
Sacred decentering
I receive many earnest messages from nervous white people asking if it's okay for them to be in the space. If it's okay for them to share my words. Most often, I answer this question with a question: "Can you be present in this space without centering whiteness?" For the rare white person who is aware of their bodies and histories and interior worlds, the space can serve as practice in a sacred decentering. Liturgy is a very subtle form for solidarity. When every word isn't for you, when you come upon a phrase that doesn't immediately resonate, or even make sense to you, liturgy asks us to remain. To remain in the words. To be present to their grief, their rage, their desire. And partake in their particularity without needing the words to be about you. It's a kind of presence I'm not quick to sneer at.
But more than solidarity, Black Liturgies will always remain a space for us. For Black belonging. An emotional, embodied, collective seeking the divine and getting free together. It's been a year and eight months. I wake up, I drink one mug of peppermint tea. I sit up in bed and wait. If a liturgy comes, I'll write it down, haphazardly, and post without much care for editing. Some days, it is beautiful. Some days, it is terrible. But my belonging doesn't depend on this, and by this I am healed. I cannot say if I found what I was lacking in the words of Thomas Cranmer, in the tears of white liturgists. But I'm confident I've at least found more.
More information and resources on Racial Justice Sunday visit the Churches Together website

Cole Arthur Riley is a writer, liturgist and speaker seeking a contemplative life marked by embodiment and emotion. She is the creator and writer of Black Liturgies, a project seeking to integrate concepts of dignity, lament, rage, justice, rest, and liberation with literature and spirituality. She currently serves as spiritual teacher in residence with Cornell University's Office of Spirituality & Meaning Making. Her debut book is called This Here Flesh
View full Profile