If we want to see the transgenerational trauma of slavery and racism properly healed, the call for reparative justice cannot be ignored says Rev Dr Israel Oluwole Olofinjana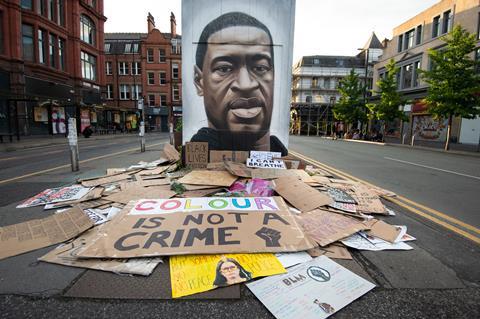 It is now two years since the murder of George Floyd in the United States. As we look back and reflect on the events that provoked a global reaction, I want to highlight three areas of development that are emerging in the UK Church. Progress has been made, but change is still needed in the journey towards racial equality.
Conversations on racial justice
The first thing that has emerged - and continues to develop - are conversations in churches, church networks and Christian organisations around the theme of racial justice. Churches and their leadership teams are intentionally creating spaces to have conversations. I have been invited to help lead several conversations, to talk and preach on racial justice. Some of these conversations are at an entry level: people wanting to grapple with the theology of racial justice or the biblical rationale for it. Others are seeking to develop good practice around integrating people of colour into their churches, governing structures and leadership teams. There are some that are taking a bolder step of beginning to speak up and address racial injustice in their community and society at large. And this is gradually happening within some Christian organisations too, often through working collaboratively with others.
Distractions and excuses
But I am also seeing what could be best described as distractions - or sometimes excuses - not to engage with the concerns of racial justice. Sometimes people argue that the death of George Floyd happened in America, and therefore the UK context is different. Point taken, but how do we explain the dehumanising treatment of Child Q, who was stripped searched at school? I believe the Child Q incident is our George Floyd moment: a wake-up call that we still have a lot of work to do to tackle racial injustice.
The trans-generational trauma of the Black community means it can no longer ignore the pains of the past
Some people get hung up on Black Lives Matter (BLM) and Critical Race Theory (CRT). I recently wrote an article on developing a discipleship model that addresses racial justice concerns. Despite the fact that I did not write anything at all about CRT, one person commented that my article was loaded with it. In 2020, Dr Harvey Kwiyani wrote an essay exploring the death of George Floyd, mission and world Christianity. Again, it was heavily criticised by some Western theologians. Is it possible for us to have healthy conversations about racism and how to address it, without getting distracted by BLM and CRT?
The resurgence of reparative justice
The concept of reparative justice is not new. There have been many conversations about the need for the West to compensate for enslaving Africans. However, there is now an increasing number of people talking about it.
Ten years ago, some Black majority church leaders would not talk about reparative justice - but now they are, or are at least listening to the conversation more. The recent visit by the Royal Family to the Caribbean was met with loud shouts for reparation. This probably would not have been the case ten years ago. So what has changed, and why?
Is it possible to have healthy conversations about racism without getting distracted by critical race theory?
The death of George Floyd opened up a wound that never really healed. The Black community is experiencing trans-generational trauma; it cannot ignore the pains of the past any longer. While I am aware that reparative talks are highly controversial, the Church in the UK would do well to pay attention. We need to listen, and we need divine wisdom to navigate these conversations well.
Two years on from the death of George Floyd, we are having more conversations than ever before around racial justice. That is a good thing. But we still have the challenge of distractions and excuses leading to a lack of engagement. The call for reparative justice can no longer be ignored. Not talking about it is not an option for the UK Church if we ever want to see the transgenerational trauma and pain properly healed.

Rev Dr Israel Oluwole Olofinjana is director of Evangelical Alliance's One People Commission. He is a Baptist minister and founding director of Centre for Missionaries from the Majority World. Israel is an honorary research fellow at The Queen's Foundation for Ecumenical Theological Education and is on the advisory group on Race and Theology at the Society for the Study of Theology (SST). He is a consultant to the executive team of Lausanne Europe and the Christian Aid working group of black majority church leaders exploring the intersection of climate justice and racial justice.
View full Profile