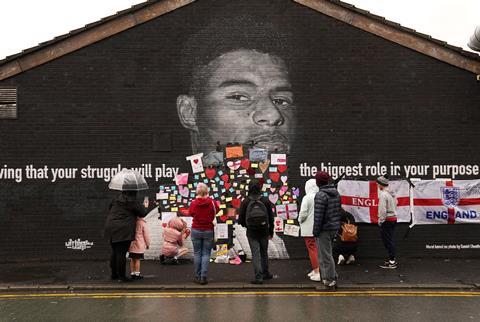 You might not be as obsessed as I am, but my heart is still heavy, if not a little broken, after England's defeat on penalties in the Euro 2020 final on Sunday. But I'm also massively proud. The England men's football team earned their place at the top table and performed with skill and dignity. There's something about the way that Gareth Southgate and his players conduct themselves that makes me pleased that my children look up to them. It wasn't always so for England teams.
Football ought to be a unifier, and mostly, it is. These past four weeks, people of every political persuasion, race and background have flown the St George's flag. Obsessives like me have been joined by millions of the newly-initiated who have now discovered the agony of yet another 'oh so near'.
A multi-ethnic society
We are an increasingly multi-ethnic society and recent research for the thinktank British Future has found that the England team's appeal "cuts across age, gender, politics and ethnic background". 66 per cent of white people in England, and an almost identical 65 percent of ethnic minority respondents, agreed that "the England football team belongs to people of every race and ethnic background in England today." I promise you, that would not have been the case a generation ago. But there is still a vile undercurrent of racism that won't go away. The racist bile that has been directed at Rashford, Sancho and Saka in the last couple of days is despicable.
Jesus scandalised his fellow Jews by tearing through racial and cultural boundaries
There was controversy around the decision of the England team to take the knee before each match. For some, this is seen as a Marxist woke conspiracy - indeed several MPs said they couldn't support the England team because of this gesture - yet Gareth Southgate made clear: it was to show solidarity and support against racism in football. And the racism that followed the penalty shootout only underlined the fact that this is not pointless virtue signalling. It is still, unfortunately, necessary. Like it or not, young people in particular look up to footballers. That those players chose to use their position of influence to show that racism is unacceptable is commendable.
Christians should care deeply about this. The Bible is utterly scathing about racism. The parable of the good Samaritan (Luke 10:25-37) is, in part, about rebuking racist attitudes. In James 3:9-10, we read: "With the tongue we praise our Lord and Father, and with it we curse human beings, who have been made in God's likeness. Out of the same mouth come praise and cursing. My brothers and sisters, this should not be." And Paul says in Galatians 3:28 that, for believers, racial and other distinctions are nothing compared to the fact that we are "all one in Christ Jesus".
Not a side issue
In her fantastic book, Confronting Christianity (Crossway), Rebecca McGlaughlin says: "The Christian movement was multi-cultural and multi-ethnic from the outset," adding "Jesus scandalised his fellow Jews by tearing through racial and cultural boundaries." Being anti-racist must not be seen as some woke, side issue for Christians. If we believe that we are all made in the image of God, we will be heartbroken when people treat any of God's image-bearers like dirt, regardless of their race or ethnicity.
The culture wars are so tedious and they can sometimes flush Christians into taking ludicrous positions. So we need to be on our guard, loving our neighbour and seeking to bear their burden as if it is our own.
Hear more from Tim on his A Mucky Business podcast

Tim Farron is MP for Westmorland and Lonsdale, and former Leader of the Liberal Democrats. He is the author of A Mucky Business: Why Christians should get involved in politics. Tim is also the host of Premier's 'A Mucky Business' podcast, which you can listen to on your chosen podcast provider.
View full Profile