Michael Corcoran was drinking himself to death, but an encounter with a Christian changed the trajectory of his life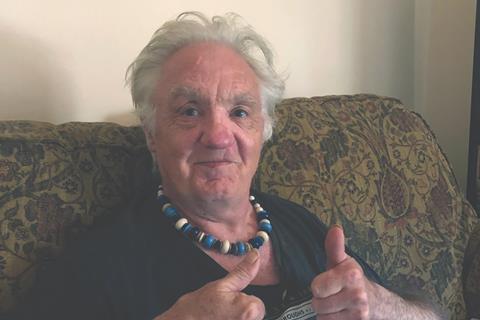 Wobbly Bob. That's what people used to call me. I would drink so much that I would sway from side to side as I walked down the street.
But it wasn't always like this. I grew up in a large Catholic family in Liverpool and had a happy childhood, but when I discovered alcohol in my teens, I started going off the rails. Whenever I had money in my pocket, I spent it drinking with friends. At first it wasn't a problem, but soon I found I couldn't do anything without a drink.
After I split up with my first wife, I had a nervous breakdown and lost my job. My two sons went to live with their grandparents. For a few years I was sober, but then I remarried and returned to alcohol. I had lost hope and was drinking all the time. Eventually I lost my ten-year civil service job and my house as well. I had well and truly hit rock bottom.
A knock at the door
I found a flat share, but my drinking had led to severe social anxiety and I could barely leave the house. I struggled to get out of bed without a drink. Then the couple I was living with were kicked out of their flat. I became homeless overnight. That's when someone suggested speaking to Green Pastures, which is a social enterprise that helps homeless people. Green Pastures organised a flat straight away in Southport and did absolutely everything for me.
One afternoon I heard a knock at the door. I was still in bed – as was quite usual for me back then. A man called Mike introduced himself. He thought my name was Bob – Wobbly Bob – but I explained that it was actually Michael.
Mike had just started at Green Pastures and had come to check on me. We clicked straight away and it was the start of a lifelong friendship. There was just a goodness about him. After he left, I felt a sense of hope that I had not felt in a very long time. I had begun to believe that I was useless and worth nothing, but Mike told me that God was always there for me and that with help from him and "the big fella upstairs", I'd get through this.
Freedom in Christ
Mike was true to his word and pretty soon, he connected me with Mandy, who worked at a local recovery centre. She was a Christian as well, and helped me get back on my feet. Between God, Mandy and Mike, I began to get better.
Mike took me to a church service and the people there were really welcoming. I started thinking that maybe there was something I could do about my problems. Every day, Mike would come to my flat, explain more about God's love and pray for my healing. I could feel something changing inside me. I was becoming more positive and outgoing. I had given up on God completely and then, all of a sudden, this belief arrived and I started to praise him.
After a week in rehab I felt as if I had been born again. Everything changed. I haven't touched alcohol since. I have been sober now for four years and, in that time, the amazing people at Green Pastures have helped me find my sons, whom I had not been in touch with for 17 years. I also rekindled my relationship with my mum. Before she died, one of the last things she said to me was: "I've got my Michael back at last."
I was a dead man walking when I first met Mike, but now I am fit. The doctor tells me that, miraculously, my liver is all clear! And I am back in touch with my family. I've just returned from a holiday to Budapest – something that I would not have been able to do before.
I put it all down to God and Green Pastures. I now know that I have people who believe in me. I am not worried about relapsing. Wobbly Bob is well and truly gone.
Michael Corcoran was speaking to Sam Hailes

Sam Hailes is the editor of Premier Christianity, the UK's leading Christian magazine. He also serves as editorial director for the Premier media group. Sam is husband to Stacey and Dad to Evelyn and Ezra.
View full Profile