They may be mega stars, but Justin and Hailey Bieber need the support of friends and family as much as the next couple. It's an important reminder that church family is one of God's greatest gifts to us, says singer-songwriter Philippa Hanna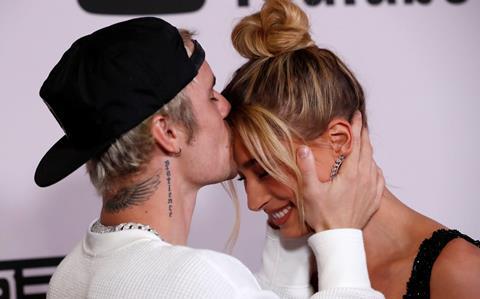 Well, folks. I didn't expect to be downloading marriage insights from Justin Bieber this afternoon, but here I am listening to Christian podcast In Good Faith and noting surprise similarities between Justin's marriage to Hailey (formerly Baldwin), and my own.
Although our lifestyles can hardly compare, it seems our stories have some parallels. Like Justin, I've had a journey with mental health. Coming into my marriage twelve years ago, I felt I was still in a healing process. As a new Christian, I was letting go of old shadows, particularly where relationships were concerned. All of these issues are touched upon just minutes into this conversation with the relatively-newlywed Biebers, who tied the knot a little over three years ago. But more on that later.
Why marriage?
The title of the podcast is: 'Why marriage?' It seems that, in today's dating culture, the concept of life-long monogamy is viewed as increasingly outdated. So when a young, celebrity couple jumps headfirst into holy matrimony, it's worthy of a deeper dive. Are they in it for the lavish party and lucrative brand deals? Should we give it more than a few years? What does marriage have to offer rich, successful 20-somethings who seem to have it all?
There probably isn't a more famous couple than Justin and Hailey Bieber. As the daughter of Hollywood actor Steven Baldwin, and niece of (more famous) brother, Alec, fashion model Hailey has a bona fide showbiz pedigree. Former teen pin-up Justin has been on the music industry's A-list since his viral rise to fame aged just 13. Like many, I looked on nervously as Justin hit his teens and began to unravel chaotically. Having heard of his Christian upbringing, I rooted for him to escape the fate of so many child stars and come out the other side unscathed.
All of the privilege and adventure in the world can't replace authentic relationship
So it was genuinely lovely to hear he'd reconnected with his Christian roots, even deciding to marry a girl who shares his faith. The pair tied the knot in 2018 and Justin has been increasingly open about his church life since. But it still feels unexpected to find him talking about the inner workings of his marriage from a faith perspective. I'm intrigued.
Authentic selves
As the hosts, celebrity pastor Judah Smith and his wife, Chelsea, introduce their 'besties' to the podcast it's hard not to be a bit cynical about what's coming. But the conversation flows quite authentically and I'm surprised by their level of openness. Hailey begins by saying that, as an introvert, she felt really uncomfortable on her wedding day. And who could blame her? A big component of any wedding day is the public declaration. As Christians, we make that declaration before God and invite those around us to witness and support the union. But for celebrities, the public element is a tad more daunting. I often joke that celebrity married years are like dog years - one year should probably count for seven. When placed under the media microscope, alongside unimaginable temptations and pressures, marriages become super vulnerable (the shortest celeb marriage I could find on Google was less than one day long!)
The couple goes on to divulge why they married after just six months of dating. Justin explains that he'd "lived a lot of life" thanks to his unconventional career path. They had also been friends since childhood and knew each other well. The haste doesn't set them apart from other celebs incidentally, or other young Christians. But when probed more about why they chose marriage over just dating, Justin says something pretty profound: "I'd travelled the world and just got to a place where I was lonely. I didn't want to do it all alone."
The best things in life
It's the simplest reminder that actually, fame and fortune are meaningless in and of themselves. Smith chips in here to tell us how he tells his own children: "Uncle Justin could have anything in the world, but what does he want most? He wants what we have." We're reminded here that, as a child, the closeness of family is something that Bieber didn't really have and, as a result, desperately craved. Perhaps that longing was behind those brushes with a more destructive lifestyle later on. The takeaway for me is, no matter how much you have in this world, God's greatest gifts to us are family and community. All of the privilege and adventure in the world can't replace the simple intimacy of authentic relationships.
I'd travelled the world and just got to a place where I was lonely
When they talk about Justin's journey with mental health issues, this point drives home even harder. Hailey explains that regular chats with her mum got her through the darker moments of that season.
What really comes through in the interview is the essential role of Christian community within successful marriages. Whether it's pastors, podcast hosts, family or friends, couples - like all of us - need support. The Biebers are open about their need for a network - and for this I applaud them. They're not making the journey alone and I don't intend to either. Having people to talk to about the tough stuff might mean the difference between a six-hour marriage and a 60-year marriage. Let's hope it's the latter for these two - and for Joel and I also. As much as marriage is a covenant between two people and God, we will always need the prayers and support of those witnesses in the congregation.