The Friends actor has spoken candidly about a supernatural encounter with God on his kitchen floor. It reminds former Miss England, Natasha Hemmings, of her own conversion experience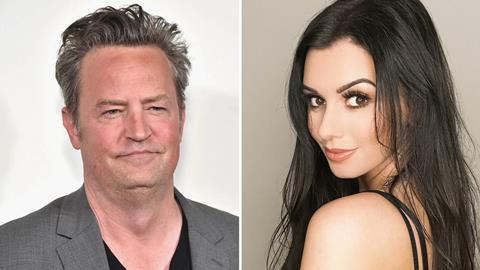 Is Matthew Perry a Christian now?
I don't know. But this week we discovered the world-renown actor has had two answers to prayer.
The first prayer he ever prayed was to ask God to make him famous. But the second prayer led to a very real experience of God. And really, that's what matters the most.
In his memoir, Friends, Lovers, and the Big Terrible Thing, the actor who played Chandler Bing in the cult 90s comedy series Friends details 14 stints in rehab, 15 stomach surgeries and more than 60 attempts at detox. But he also talks about a supernatural encounter that reminds me much of my own.
After hitting rock bottom, Perry describes reaching out to God in desperation: "'God, please help me,' I whispered. 'Show me that you are here. God, please help me.'"
"As I kneeled, the light slowly began to get bigger, and bigger, until it was so big that it encompassed the entire room…What was happening? And why was I starting to feel better?"
"I started to cry. I mean, I really started to cry - that shoulder-shaking kind of uncontrollable weeping. I wasn't crying because I was sad. I was crying because for the first time in my life, I felt OK. I felt safe, taken care of. Decades of struggling with God, and wrestling with life, and sadness, all was being washed away, like a river of pain gone into oblivion.
"I had been in the presence of God. I was certain of it. And this time I had prayed for the right thing: help."
In desperation
Like Perry, my experience of God also came at a point of desperation.
During my A-Levels, I went through a really awful time at school. I felt completely alone. I was sad all the time, and I didn't know what to do.
When I was six years old, my dad left. This led to a lot of issues with rejection that I hadn't dealt with. I was having problems with friends and a relationship broke down. I couldn't talk to my mum or stepdad about what I was going through. It's emotional to even think about that time, because it was really dark.
One night, I was in bed, crying. What came first was the feeling. It wasn't really about what I saw, because I saw everything and nothing all at the same time. It felt like a shadow, but it was also light. It had a form, but not a face. I don't know how, but I knew it was Jesus. He sat on the edge of my bed. I wasn't scared. I was crying hysterically, but I was smiling and I was at peace; I was so happy.
I just knew, like Perry says in his book, that I was going to be OK.
Meeting God
Perry says that after his encounter, he "stayed sober for two years based solely on that moment. God had shown me a sliver of what life could be. He had saved me that day, and for all days, no matter what. He had turned me into a seeker, not only of sobriety, and truth, but also of him."
The same was true for me. My encounter with Jesus changed everything. I started praying to God every day and even went on to study Theology alongside my English degree at university. And it's all from that one experience.
I don't know how, but I knew it was Jesus
Perry admits that "when a particular darkness hits" life can still be tough. I still have my doubts too. But when they creep back in, my memory of that encounter always get me back on track, because I just couldn't have made that up. It has always stayed with me and I think it will forever. Whatever anyone else thinks, as Perry says: "I was there, and it was God."
On a journey
We all come from different backgrounds and we all have different experiences. Wherever Mathew Perry is now on his faith journey, his experience of God was an introduction. Whether it means he is or is not a Christian straight away, it's opening the door; it's allowing that conversation to begin; it's making him aware of something that perhaps he wasn't aware of before.
When you tell other people your story, even if they're skeptical, it can open a conversation. And maybe, when they find themselves in a low moment, they'll reach out to God, too.
We don't hear stories like these as often as we should; it's just not talked about out there in the world. But it is important that we do. Because the more we talk about it, the more likely it is that people will know that God is there. And if they ever go through an experience where they feel abandoned or lonely or stuck, they can reach out, just like Matthew and I did. God will do the rest.
Hear more of Natasha's story on The Profile podcast
Natasha Hemmings is a former Miss England, a classical musician and a singer-songwriter. She has toured with Ronan Keating and The Overtones, and is currently on tour with Aled Jones and Russell Watson. Her second album, Invisible, is available now