Is Russell Brand a prophetic, culturally-attuned figure we need to listen to? Or a foul-mouthed narcissist on a flawed search for salvation? There's much church leaders could learn from the comedian, says Mal Calladine, but he's still praying he meets Jesus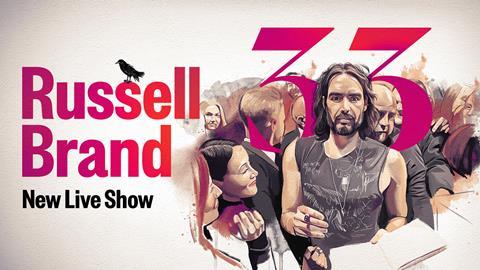 With his latest show "33" Russell Brand gives us an intimate window into his world. The tour is named after his favourite number and matches the number of tattoos that Brand has on his body, as well as being the age Jesus died. His introduction points to a heady mix of deeply considered spirituality and political ideals; alongside his stories of searching for inner peace while wrestling with his well-publicised self-absorption. And all wrapped up in a journey defined by sex and drugs, yet now absorbed by the spiritual.
On many nights, Brand led packed venues in a 20-minute meditation. On booking, audience members were invited to submit intimate and vulnerable confessions of lockdown shame and 'naughtiness'. It's an unusual approach for a comedian.
Lessons to learn
For me, he models many ways of being that I believe are culturally (and spiritually) key. Brand's communication style, emotional vulnerability and self-awareness is disarmingly heart-warming, displayed in his stories of meeting the Dalai Lama and being laughed at, or trying to help (anonymously) at the scene of a car accident while worrying about being recognised.
Often sitting cross-legged on the floor, he opened the show by saying: "I know you've come to listen to me chat, but I want you to know I really don't think I'm better than you…" It was a posture of humility, positioning himself as a servant of the people, that many in the word of Christian celebrity could learn from.
My heart cry for him is he would encounter the person of Jesus – the man he speaks of, points to and reflects far better than many church leaders
He also makes himself extraordinarily available to his fans. In the break, he came into the crowd "for a cuddle" and, at the end, led the audience to the door, where we spent over an hour saying goodbye as people left.
Importantly, Brand's willingness to discuss his journey of spiritualty and seeking, and what he doesn't do anymore (namely the sex and drugs) gives acceptance and hope to many. Both on the night and watching repeated reels on Instagram, I saw ex-addicts shouting in his ear: "I would be dead if it wasn't for you!" and then telling him how long they'd been clean.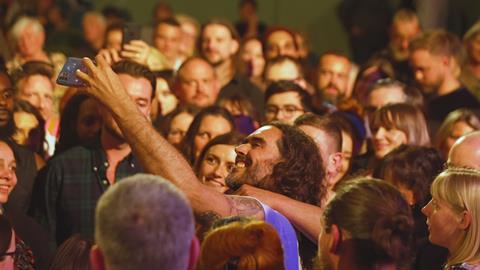 Contradictions and confusions
But there are confusions and contradictions too. He walked up onto the stage accompanied by his two children, and began the show interacting with them; it was super-endearing. But as soon as they were behind the curtain, the air was blue and the content all sex and drugs.
For some, this will be the deal-breaker. Like those who can't get past Harry Potter being set in a world of wizardry to engage with the profoundly redemptive messages in the books, there will be many who dismiss Brand because of his many X-rated references. If you can't get past stories of vibrators in Zoom meetings and masturbating through the alphabet, you may well see no value in what he brings. But I came away challenged and inspired by him, and signposted to areas to pray for both him and the culture he mirrors. The answers we say we carry, are what he says he most craves.
Communal confession
The first half of the show was fascinating, like being at a community confessional. The online submissions of people's lockdown experiences were shared with all: the naughtiest; the most embarrassing; the angriest and the most shameful; the best and the worst. The confessors were called out by name and interacted with: the hidden stashes of toilet rolls, the misused Covid passes and the naked husband trying to distract his wife teaching school lessons on Zoom… For me, it highlighted our desperate need for the real - often in the places where we are most self-conscious and embarrassed. And in those places of empathy, it's easy to find comedy and connection.
The answers we say we carry are what he says he most craves
Seeing everyone at their worst - and happy to talk about it - reminded me of 1 John 1:5-9, that real community is where all of us show our weakness and bring it into the light. There is a deep-held cry of the heart for this kind of community but, for me, this is where Brand falls short, if this is about taking people on an aspirant journey. Those Bible verses don't just end with vulnerability, but in being made clean and put into a right relationship – with each other, and with God.
Praying for more
Brand gets halfway there - in a world that normally doesn't go there at all. He can offer hope of what he no longer does, but there is still sadness. In the show, he admits that he practises the discipline of going to bed early now - the show started at 6 - because, now he's clean, he's got nothing to do late at night "and only has death to look forward to."
I pray that he will experience more of not just what he's saved from, but what he's saved to. I believe there is more hope on the other side of addiction than he suggests.
As the show ended, I left not wanting to join the throng clamouring to touch him in his triumphal exit, but deeply impacted. Brand is a father and a partner who shows more vulnerability and compassion than many leaders. He rails articulately against the hypocrisy and injustice in our world, points to the deepest spiritual longings of the human heart and our aspirations for authentic, vulnerable community. He is willing to share our own deep desires for meaning and peace. My heart cry for him is that in all his searching, he would deeply encounter the person of Jesus – the man he speaks of, points to and reflects far better than many church leaders. He carries the brokenness of his journey for all to see, but aspires to so much more. Surely this man is not far from the Kingdom of God.

Mal Calladine loves juggling the roles of being a husband, dad, foster carer, leadership coach, tennis instructor and pastor. Married to Chriscelle for 30 years, they have raised three birth children and one 'forever family' foster son.
View full Profile