Sam Ryder has compared performing at Eurovision to being in church "because there was so much joy". Singer-songwriter Philippa Hanna says that's because something inherently spiritual occurs when voices unite in song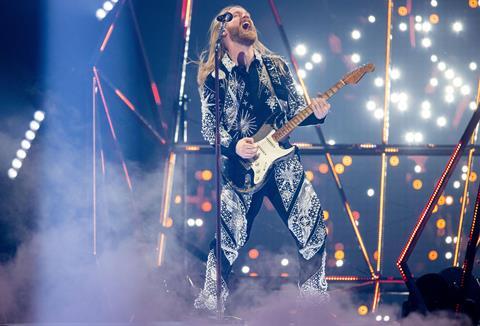 Was this weekend real? I'm struggling to believe it actually happened. I mean, did the UK really rocket to the top of the Eurovision leaderboard… and stay there? Seemingly out of nowhere, TikTok star Sam Ryder took us on a voyage out of decades of "nul point" shame and into triumphant orbit with his song, 'Space man'. And we can't even feel disappointment at being kept off the top spot; the victory for Ukraine was deep. It was millions of us waving our yellow and blue flags in support of our neighbours. For me, after the past few years of Brexit, the Covid-19 pandemic and the relentless scandals of 'partygate', it was also the positive TV tonic I needed.
We are proud of our heritage and we all love to win, but we care about those who are suffering even more
My connection with The Eurovision Song Contest goes back a long way. In 1982, my cousin's band, The Duskeys, represented Ireland in the competition, with a song called 'Here today gone tomorrow'. (I'm told it held some kind of world record at the time, for the most number of "Nah, nahs" in a single song. A real claim to fame!) As a child, I was always allowed to stay up late and watch each country read out the scores point-by-point - it could prove to be a late night for a little one! The budding songwriter in me was spellbound by each nation's expression of their culture and identity in song, and the songs that touched on eternal truths, like Katrina and the Waves' 'Love shine a light', inspired me too.
A deeper love
This weekend, watching the nations share their love and support for Ukraine crystallised everything I love about Eurovision. True to form, the show was spectacular, witty and colourful. But it was a display of something much deeper too, a unity I've only really seen in two places in my life, the concert venue and the Church. And, interestingly, it seems that Sam Ryder noticed this too. On his triumphant return to the UK, he compared the competition to being in the presence of God: "It was like being in a church, because there was so much joy," he told BBC Radio 4 yesterday.
Music has a mysterious, even supernatural, way of creating connection between people. There is something inherently spiritual which occurs when voices unite in song. And when those voices don't even share the same beliefs or traditions, it really blows my mind. Perhaps when God invented music it was always his intention to unify people in this way. Perhaps enemies can truly become allies if they both connect with the melody and lyrics.
God's good gift
I've always believed that music is one of God's greatest gifts to us, even before I had a Christian faith. A musician friend of mine once said: "Music is the backstage pass to a person's soul." As a seasoned songwriter, he'd seen the way a song could touch, perhaps even save, a life. And music can create an open door for people to encounter God too. It was music that first connected me to Christianity at an open-mic night. It was music that moved me to pray for God's help back in 2004 and, ultimately, led to my salvation. Music has soothed me in my most anxious times, and provided me with a vehicle to share my story and God's truth.
Music is the backstage pass to a person's soul
I know that some draw strict lines between the sacred and the secular when it comes to music, and I do get it. I know that the industry can be a real playground for the enemy and not everything that graces the airwaves is life-giving. But scripture tells us: "Every good and perfect gift is from above" (James 1:17). An event where people lay aside political differences, coming together to celebrate creativity and support one another? Well, that just has something of God's goodness all over it.
The Eurovision Song Contest this weekend was unforgettable on several levels. The win for Sam Ryder was definitely an anything-is-possible kind of moment for the UK. You might say it has inspired hope, giving us permission to dream again. But more importantly, the contest has revealed something of the true colours of our hearts. We are proud of our heritage and we all love to win, but we care about those who are suffering even more. We are (rightly!) more concerned with lifting the head of the oppressed than winning a trophy. And even in the hardest and darkest of times, we will stand together and sing. We will always find the song within, because that is what God has made us to do.