Corrie Ten Boom's story of rescuing Jews during the Holocaust may be well known, but this new theatrical film portrays a relatable hero who still causes us all to ask questions about our response to suffering, says Emma Hide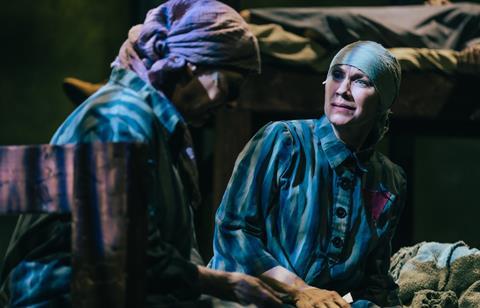 Just like the internationally best selling book and 1975 film before it, The Hiding Place theatrical film not only leaves viewers asking: "Could I have done the same?" but compels the question: "What can I do now?"
Adapted for the stage by AS Peterson and captured for the screen by director Laura Matula, the film chronicles the unwavering determination of the Ten Boom family as they risk their lives to rescue 800 Jews during the second world war. Rooted in biblical themes of faith, love, hope, courage and forgiveness, the performance takes its viewers on a journey into the depths of human resilience and capacity to love.
Thought-provoking
In a genre usually characterised by graphic scenes, harrowing visuals and thunderous roars and explosions, The Hiding Place instead weaves its narrative through inventive storytelling and powerful dialogues. Filmed at the Soli Deo Centre, Nashville, Tennessee, the beautifully simple set and subtle special effects give prominence to deeply thought-provoking exchanges that I continue to unravel days after watching it.
The capacity for radical love is made possible through the work of Christ in us
Enhanced by close-up cinematic shots, Nan Gurley's portrayal of Corrie Ten Boom masterfully depicts a hero for the masses: a woman characterised by immense vulnerability and strength. Alongside her father Caspar (James Belcher) and sister Betsy (Carrie Tillis), Corrie emerges as a beacon of Christ's love amid the unrelenting hatred and cruelty of the holocaust.
From the film's inception, Peterson introduces a central theme: the choice between succumbing to darkness or embracing radical love, even when met with hatred in return. Corrie is first tested when an arrogant young Hitler Youth apprentice steps into their household on the cusp of the German invasion. Her resolve is tested further as she grapples with the decision to shelter strangers, is confronted with unimaginable evil, and faces the monumental task of forgiving the man responsible for much of her suffering.
A human response
Peterson masterfully weaves together poignant conversations and important childhood flashbacks to illuminate the driving forces behind Corrie's extraordinary responses. It becomes evident that her remarkable love and boundless courage are rooted in the Christ-like teachings of her father, who tells a young Corrie: "When we find something in the world that is wrong we mustn't hate it, we must help it to become something different."
For me, the film's brilliance lies in its honest portrayal of Corrie's humanity: one of remarkable virtue yet relatable vulnerability. In contrast to her ever-hopeful sister and father, Corrie's initial responses to injustice are fraught with anger, fear and emotion. This is a hero with whom we can all identify. She becomes infuriated with the rudeness of the German apprentice, is sceptical about her father's plan to hide Jews, asks "Why?" in the face of suffering, and repeatedly expresses fear.
Corrie's frailty, however, serves to highlight the mighty work of grace in her life. When faced with impossibly tough decisions and incredible pain, Corrie repeatedly receives the strength she needs to embrace the path of love. Her own journey serves as an inspiration to viewers, inviting them to contemplate their own potential for Christlike compassion in the face of adversity.
Christ in us
While the film's emotional impact is undeniable, I wonder how the dynamism of a live performance at the Soli Deo stage — with its unfiltered energy and reverberating resonance — might have amplified the weight and impact of the performance. Nonetheless, the The Hiding Place delivers a timely and timeless message: the capacity for radical love is made possible through the work of Christ in us. He is our light in even the darkest moments.
When we find something in the world that is wrong we mustn't hate it, we must help it to become something different
In a society that remains rife with hate, intolerance, division and ideological divides, the film urges us to confront the very same decision that Corrie faced: to succumb to darkness or to embrace radical love, even in the face of hostility. The Ten Booms made the choice to respond to adversity with resounding love.
In a world yearning for compassion and love, it's down to each of us to answer: "What can I do now?"
After a sell-out extended run in the US, The Hiding Place film will be showing at selected cinemas across the UK for one night only on Wednesday 16 August. Find your nearest location at: thehidingplacefilm.com

Emma Hide is a Geography graduate from the University of Cambridge who is dedicated to utilising her communication skills to drive positive social transformation. Having worked for a wellbeing organisation and debt-counselling charity, Emma's passion lies in writing and teaching about social justice, mental wellbeing and their respective intersections with Christianity.
View full Profile