Sarah Yardley, author, speaker and mission and ministry lead at Christian festival, Creation Fest, shares the books that have been shaping her soul in 2021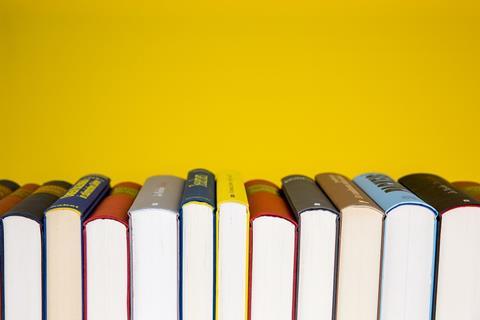 A year of reading tells many stories. It reminds us of the people we met, the ideas we discovered and the questions we wrestled with. These are ten of the books that shaped my heart, life, mind and soul in 2021; it is a glimpse of my biography in books.
1. Strengthening the Soul of Your Leadership (IVP) by Ruth Haley Barton
In a year of echoing disappointment and uncertainty, Ruth's writings were a compelling reminder to seek a spiritual strength beyond easy appearances. Her dance of story, theology and scripture spoke to the depths of my heart. I read this book slowly, one of my finest compliments to a piece of writing, lingering in the way that she used the story of Moses as a modern-day parable for life and leadership. It was water to my thirsty soul; hope in a time of weariness.
2. Metanoia: A Memoir of a Body, Born Again (Acorn Press) by Anna McGahan
I grew up reading biographies, captivated by the depth of the stories of missionary heroes of the past. As I've grown older, I still love the stories of how people meet Christ, but am increasingly searching for the real, honest, unfinished journeys towards Christ. Anna's book is visceral, poetic and honest. It opens with the words: "You asked what happened // between God and me?" It is a story of finding faith, of sexuality, of hope and freedom. Anna's writing is honest enough for the fringes and hopeful enough for the faithful.
3. Dune (Hodder) by Frank Herbert
A rogue choice perhaps, but this sci-fi novel is one of my favourite reads of this past year. Mystical and quotable, the vast storytelling touches on many of the deepest issues of our lives; identity, family, legacy, the choices we make and the life that feels like it chooses us, prophecy, fear, and power are all intermingled in a sprawling, otherworldly story. A good piece of fiction is always a delight, and this one captivated my mind and heart.
4. Under the Unpredictable Plant: An Exploration in Vocational Holiness (Wm. B. Eerdmans) by Eugene Peterson
This classic piece of work on vocational holiness turns the story of Jonah into a modern parable for life and calling. Eugene's writing on prayer and place were particularly helpful to me, as was the idea of finding our strength in places of limitation. In a world that is challenged to find the beauty of holiness, this book reminded me that holiness is not banal, it is blazing.
5. Confessions (Penguin) by St Augustine
Any good reading list should include at least one classic. It took me the first three decades of my life to read Augustine, one of the most-quoted and perhaps least-read fathers of the Church. The raw passion of Augustine's battle with faith, family, desire and theology are captured in beautiful tension. Reading this book reminded me of the deep longing of our hearts for the beauty of Christ, and the way he has chosen us as we choose his love, over and over again.
6. Not by Might nor by Power: The Jesus Revolution (Freedom Publications) by Lonnie Frisbee
I grew up hearing the stories of an ex-druggie, still-hippie; the one who prayed: "Come Holy Spirit" and sparked a revival in the Vineyard church; the messy church leader who led Greg Laurie to Christ and died of AIDS in his 40s. I'd heard many stories, but reading Lonnie's story in his own words was like a punch to the gut and a reminder that God reclaims even our messiest moments with his grace.
7. Simply Christian: Why Christianity Makes Sense (SPCK) by Tom Wright
I read this modern Christian classic while looking for a book to recommend to a friend who was searching for faith, and found it unbelievably helpful for my own heart and journey. When asked to share what it is to simply be a Christian, I often find myself distracted by the secondary debates and topical questions of faith in the 21st Century. Wright reminds me of the compelling beauty of the Christian story and the anchoring truth of our hope in Jesus Christ.
8. Gentle and Lowly: The Heart of Christ for Sinners and Sufferers (Crossway) by Dane Ortlund
The book that has shown up on almost every reading list of 2021 makes an appearance here as well. I listened to Gentle and Lowly while out walking, slowly reflecting on the tenderness of Jesus towards me. It became my companion in the places of weariness that gently turned into wonder as I planned a summer festival gathering. The words of Ortlund on the character of Christ took deep roots in my soul during a year of risk and restlessness, and they are still sparking life in my soul today.
9. A Burning in my Bones: The Authorised Biography of Eugene Peterson (Authentic Media) by Winn Collier
With winsome honesty and compelling stories, Winn Collier unpacks the life of Eugene Peterson, sharing the story of his life, pastoring, writing and family. Scripture became to him like a burning in his bones, and Winn enables Eugene's life to be a parable of truth. Worth reading slowly, thoughtfully, with a warm fire and a quiet heart.
10. The Face of the Deep: Exploring the Mysterious Person of the Holy Spirit (David C Cook) by Paul Pastor
One of the most remarkable people I met this year also happens to be one of the most compelling writers of our generation. Paul's personal experience with Christ and intimate relationship with the Spirit of God seeps through every page of this book. He writes with an authentic sense of presence, tied deeply to a love for the natural world. Although easy to read, this was a book weighty in ideas.
There are many honourable mentions, and it was painful to cut this list to only ten. If time allowed, I would write of the beauty of Samuel Wells' A Cross in the Heart of God (Canterbury Press), the honesty of the writing of Tish Harrison Warren, the poetry of Maya Angelou and the raw freedom of Mary Karr. To read is to grow, and my reading has stretched my heart in ways that continually spark joy. I pray some of these books will be a helpful companion on your spiritual journey. May 2022 be a year when our hearts are captivated again by the wonder of Christ.
Sarah Yardley is a Californian based in Cornwall. She studied Theology at St Mellitus College and is the Mission and Ministry Lead at Creation Fest
View full Profile