When Sarah Yardley moved from California to the UK eight years ago, she brought her love of Thanksgiving with her. Here's how the American festival gives her the best opportunity to share the gospel with her British friends and neighbours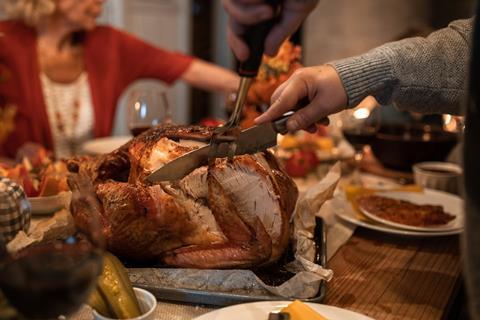 Thanksgiving is a distinctly American tradition. My early years of celebrating this holiday were soaked in seasoned stuffing, candied sweet potatoes, turkey and pumpkin pie. When I moved to the UK eight years ago, I couldn't let go of any of my favourite holidays (to this day, I still celebrate Bonfire Night and Pancake Day alongside 4th of July and Memorial Day). But of all the holidays, Thanksgiving is the one that gives me the best opportunity to give a good invitation.
Even in a season of loss and hardship, of financial challenge and transition, we can still name places of blessing
I love to invite others to a feast, in part because the image of feasting is threaded throughout scripture; the feasts of Genesis and the fathers of faith, the feasts of remembrance and celebration in the Pentateuch, the expectation that eternally, we will feast in the presence of God, when "the Lord of hosts will make for all peoples a feast of rich food, a feast of well-aged wine…He will swallow up death forever." (Isaiah 25:6-8). Thanksgiving has become for me the holiday where feasting and presence meet.
A deeper invitation
So what does that invitation look like? I invite friends, the ones who have become like family to me. Some are from the family of faith, and some are my wider local community. I choose the best food, the choicest ingredients, pull recipes from my American traditions and introduce a few new ones. I look at my table, my living room, and think about a few ways that I can make the invitation a little bit deeper, let the light leak a little bit wider, stretch the boundaries to call out to my friends the song of my heart: "Give thanks!"
Giving an invitation requires intentionality. I've spent the past week prioritising the cleaning, the preparation and the menu for my meal. Hosting in the 21st century requires a delicate balance of dietary needs, safe spaces for those with anxiety, clarity of invitation and generosity. My friends know my house is wide-open in the name of Jesus, but this Thanksgiving meal is one of intentional invitation. I've been challenged recently to continue to move my conversations from inclusive kindness to gospel clarity. To say this another way, I have been praying for the Spirit to move over my heart to name the kindness of Jesus towards my community.
New life
My friend, David Bennett, recently spoke to me about the mission of God being the place where we watch the light of God break into the dark places. We participate simply by announcing and watching the inbreaking power of God. My Thanksgiving invitation is to announce and demonstrate that Christ is King, and that in his presence we find life, joy, feasting, hope, richness and presence; the arrival of a new kind of life, one centred on the God who is saviour and friend.
A life of thankfulness is always the natural overflow of understanding the deep reality of this truth. When we know and see the way that the life of God has reshaped our life today and eternally, we can authentically join the words of the Psalmist in saying: "give thanks to the Lord, for He is good; His love endures forever." (Psalm 107:1).
An endless invitation
At the end of the day, it's not really about the holiday itself, although Thanksgiving does serve as a vehicle to live in gratitude. It's about our endless invitation to be the people of God, who invite friends to give thanks and give an invitation. This becomes a space to say to our friends and family that, even in a season of loss and hardship, of financial challenge and transition, we can still name places of blessing.
My Thanksgiving invitation is to announce and demonstrate that Christ is King
Our local teens traipsed into my offices today, full of joy and energy. We spoke about what it might look like to live a life of thanks, and they named their places of thanksgiving today: friends, a dog, sleep, tinned tuna. For every grief, there is a place of joy. The eternal invitation of Thanksgiving is simply to name these joys as a gift from God. In the words of the Psalmist, I am reminded to "give thanks to the Lord with my whole heart; I will recount all of your wonderful deeds." (Psalm 9:1). I look at this holiday and think of the overflowing reality of a life shaped by the deep love of God.
Give thanks, today and always.
Sarah Yardley is a Californian based in Cornwall. She studied Theology at St Mellitus College and is the Mission and Ministry Lead at Creation Fest
View full Profile