Amid growing hostility and proposed changes to the law, police have warned Indian Christians that they cannot protect them against violent attacks. Instead, they're advising them to close their churches and cancel Christmas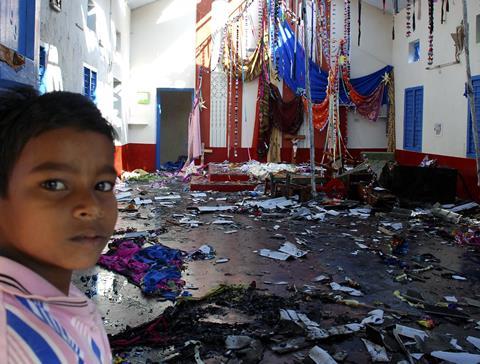 As we busy ourselves preparing to celebrate the Word becoming flesh, let's spare a thought for those for whom this season is a mixture of joy and apprehension. In recent years, it has become a time in which we need to brace ourselves for news of violent attacks on Christian communities across the world.
In many places, the light coming into the world that we remember at Christmas represents a threat to those who prefer the comfort of darkness. Often facilitated by authoritarian or corrupt governments, the cruelty of extremists who derive satisfaction from attacking churches is frequently matched by the hypocrisy of the law enforcement authorities. The latter allow the harassment of Christians to go unpunished while claiming to respect freedom of religion in their countries, even in their constitutions. Nigeria, Egypt, China, India – the list goes on. Indeed, with autocracy displacing democracy in so many places, the list is growing.
No protection
The most recent news from India is that police in Karnataka State have advised church leaders to stop meeting. One of the pastors told a local newspaper that church leaders had been advised not to conduct prayers as fundamentalist groups might attack them and the police would not be able to provide protection. The protection had been withdrawn to "maintain communal harmony," they said.
Singing Christmas carols on Christmas Day could be considered justification for attacks
Karnataka's Christians have been experiencing mob attacks since the start of Advent. On 29 November, the Hindu nationalist Bajrang Dal group barged into a prayer meeting in Belur, accusing those present of forcibly converting Hindus. Around the same time, members of a fundamentalist Hindu group, Sri Ram Sene, disrupted a prayer meeting in the city of Belagavi. The attackers accused the pastor of luring poor Hindus into the Christian faith.
A change in law
The increase in attacks comes after the ruling Bharatiya Janata Party (BJP) proposed an anti-conversion law for the state. Karnataka's chief minister, Basavaraj Bommai, had previously announced that the bill would be passed by the government during the winter session of the Karnataka Assembly that began on 13 December.
These laws are not only unjust, they directly undermine India's claim that it respects religious freedom. Already in place in eight Indian states, Hindu nationalist groups have used them as a pretext to accuse Christians of forcibly converting Hindus and Dalits. The violent attacks that follow are fuelled by this spread of disinformation.
False freedoms
Article 25 of the Indian Constitution recognises that all persons are "entitled to freedom of conscience and the right to freely profess, practise and propagate religion". Though the reality on the ground is very different, this provision is consistent with India's obligations, under international law, to protect freedom of religion or belief. This includes the right to manifest religion in public or private, and the individual right to choose a religion, or no religion, to practise.
The disinformation being openly spread in India is that forced conversions of Hindus to Christianity are on the rise; that the poor and the vulnerable are somehow deceived through free education and food, and are unable to protect themselves. Therefore, anti-conversion laws are necessary to protect these people.
The light coming into the world that we remember at Christmas represents a threat to those who prefer the comfort of darkness
But if Karnataka adopts this law, it will begin to officially propagate the "Hindutva" ideology that being Indian is synonymous with being Hindu. Thus, Indian Christians, Muslims and other religious minorities pose a threat to the unity of India.
Growing intolerance
In many parts of the country, any proselytism or propagation of a religious minority faith - despite the pretence of constitutional protections - and any conversion to a "foreign religion" is classified as 'forced', 'coerced' or 'induced'. All of which fuels religious intolerance.
The laws leave terms ambiguous and ripe for abuse. This has led state governments in India to describe different components of a church's everyday life as breaching a state's anti-conversion law. Even activities such as distributing humanitarian aid, private gatherings for religious instruction or studying the Bible can create grounds for the police to take action.
So if, by Christmas Eve, Karnataka adopts the proposed anti-conversion law, it will mean that singing Christmas carols on Christmas day could be considered justification for attacks on Christians. And the police can always say: "We warned you that we wouldn't protect you."

Dr David Landrum is the Head of Advocacy and Public Affairs for Open Doors UK & Ireland.