Despite being a huge fan of the beautiful game, for the first time in his life David Landrum is determined not to watch the World Cup. He explains why he's avoiding the 'sportwashing' taking place in Qatar this winter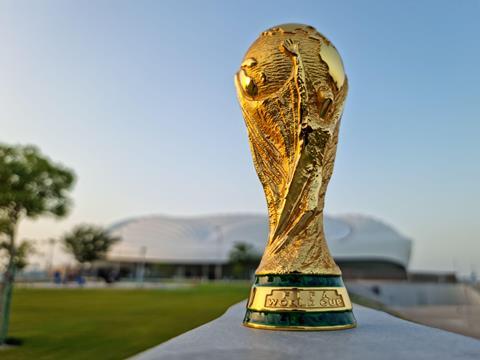 I love football.
There's nothing better than watching the beautiful game, whether it's live in a stadium or on TV via an overpriced sports subscription service. I am a scouser and hail from a large Everton-supporting family - even the cat is called 'Blue'.
When I talk with my dad and brothers, it will most likely be about last Saturday's match - often a defeat - or the latest signing. I play football in a parliamentary five-a-side team. I'm currently in second place on the Open Doors Fantasy Football League. Taken together, I'm aware that all this does look very much like borderline idolatry, for which I repent (although some would argue that The Toffees' current run of games is punishment enough).
However, regardless of my obsession, for the first time in my life, I will not be watching any of the World Cup.
Reasons to be fearful
There are several good reasons to give the 2022 tournament a wide body swerve: the questionable circumstances in which the hosting was awarded, the treatment - and deaths - of migrant workers, as well as Qatar's attitude to women and other minority groups.
As much as it pains me, some things really do matter more than football
However, the central reason for my boycott is another, less discussed one: the lack of religious freedom in Qatar. Religious freedom is foundational for so many other human rights and civil liberties – if you snuff out religious freedom, you can be sure that many other freedoms will crumble in its wake.
Everyday life in Qatar is based around Islamic Sharia law. The only other nation that could be described as a Sharia state in the same way is Saudi Arabia.
No freedom to choose
Religious expression outside of Islam is severely restricted. All officially registered Christian churches in Qatar reside inside a single compound in the capital, Doha, called the Mesaymeer complex. It is open to expatriate Christians, but for Qatari Muslims, it is strictly out of bounds.
The churches are not allowed to display any religious signs, such as crosses, on the outside of their building. Inside, there is limited space, which causes bad overcrowding. A few other expat churches still exist outside of the compound, but these are not currently granted any legal permission to practice their religion.
Then there is the tiny indigenous community of converts to Christianity. In Qatar, this is considered apostasy and is, in theory, punishable by death (although this is no longer carried out in practise). Nonetheless, Christian converts face extreme pressure from their Muslim family and wider community members.
Conversion from Islam is not officially recognised, which causes legal difficulties, as well as loss of status, custody of children and property. The nation prohibits religious expression outside of a narrow Islamic bandwidth, and the right to convert, change or choose your religion is forbidden.
Uncivil liberties
So, in my humble opinion, Qatar falls way short of the minimum level of civility required to host a tournament that eclipses even the Olympics in global prestige and interest.
FIFA should be ashamed of itself for its part in this grand act of sportswashing (the use of sport to cleanse a brand tarnished by allegations of injustice and cruelty). So should the corporate sponsors who otherwise spend a small fortune signalling their deep and passionate commitment to social justice and equality.
While detractors argue that the global attention brought by hosting the World Cup may have an ameliorating effect on the mindset of the Qatari authorities, given the human rights record of such states, I am unconvinced.
Qatar falls way short of the minimum level of civility required to host a tournament that eclipses even the Olympics
As the tournament is going ahead regardless of my viewing, I think it's important that, as Christians, we make the most of the opportunity it presents in other ways. Open Doors is helping to pray for, and raise the profile of, nations in the tournament which currently persecute their Christian populations through a set of new resources.
Despite this I am determined to fulfil my personal boycott of the event. And of course, I fully respect all my friends and relatives who have decided to watch, despite their reservations.
Even if the final ends up being between England and Wales (which would be awesome, if unlikely!) I have resolved to stay clear of this corrupt jamboree.
Much as it pains me, some things really do matter more than football.

Dr David Landrum is the Head of Advocacy and Public Affairs for Open Doors UK & Ireland.
View full Profile