The BBC's I May Destroy You won two Emmy awards, but was missed off ex-media minister John Whittingdale's list of quintessentially 'British' TV shows. Instead of trying to legislate for Britishness, says Paul Kerensa, perhaps we need to work harder at telling the stories of every community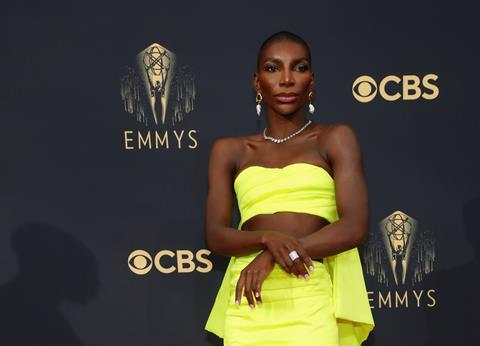 Last week, media minister John Whittingdale declared that public service broadcasters would be required to produce "distinctively British" content – whatever that means.
The very next day, Whittingdale was the victim of a cabinet reshuffle, and left his role. Perhaps that's what he meant by "Britishness" – to stamp one's authority in a generally chaotic manner, then swiftly leave without offering any details. Sounds distinctively British to me…
I'm being a little facetious, but, as Whittingdale himself admitted in his speech to the Royal Television Society (where the legalistic plans for broadcasters were unveiled): "Britishness is, of course, a nebulous concept". Yet he seeks to somehow enforce it.
Forging a new identity
Post-Brexit, our identity is undergoing a rebrand. It presents both a challenge and an opportunity: for politicians, for the media, for the Church - for any institution. How do we best reflect the nations we represent?
As a trustee of Christians in Media (christiansinmedia.co.uk), I think what's good for the broadcasters is good for the Church. Both are well-meaning institutions with a tricky relationship with government, and both should cling to whatever independence they have. Attempts to define or even hijack "Britishness" should be viewed with extreme caution.
That doesn't mean we can't champion British output. The ex-media minister gave a long list of TV shows that we somehow associate with Britain, predictably opening with Only Fools and Horses and finishing with Eastenders, via the Carry On films. But Carry On Abroad? He seems less sure.
A nation of programmes
But perhaps Whittingdale's plans are a solution in search of a problem. British broadcasting doesn't currently look that 'un-British' to me. From Vigil (set off the Scottish coast) to Endeavour (Oxford) via Professor T (Cambridge), Vera (Northumberland), Shakespeare and Hathaway (as British as it gets in Stratford-upon-Avon) and Midsomer Murders (sorry, no, that's as British as it gets), our TV already seems uniquely – what's the word? – British.
Our churches and channels need to keep telling all of our stories, not limited by law
Over lockdown, you couldn't move for celebrity travel presenters touring our land. Julia Bradbury, Joanna Lumley, Simon Reeve, Paul Merton in his campervan, Michael Portillo on a train, Mortimer and Whitehouse fishing, countless celebs antiquing… They must have all met up at a Cornish Travelodge and compared notes.
As they tell British stories, often they've included churches or tales of our Christian past. We can celebrate our Christian story - our British story - without any legally-enforced flag-waving.
Yet later this year, Whittingdale – or his successor – will legislate these plans to make British broadcasting even 'Britisher'. The government seems to have the broadcasters in their sights. Could churches be next? A Union Jack on every Anglican church? I have no problem with the flag, but too many flags can make fences. We should be careful to ensure that all still feel welcome.
Transatlantic edges
Besides, if John Whittingdale feels that his television is full of non-British stories, perhaps he's been watching too much Netflix. Public service broadcasting only covers the BBC, ITV, Channel 4, Channel 5 and S4C in Wales. It doesn't include satellite and streaming services, whose dramas can have a deliberate transatlantic edge for their global audience. Netflix's Sex Education is filmed and set in Britain, yet feels distinctly American. Sky's American-set Succession is a largely British creation, written by Jesse Armstrong and starring Brian Cox.
As Christians, we know our identity is in God
Perhaps this is what bothers our ex-media minister? Private companies like Netflix and HBO have lured British talent across the Atlantic, dangling dollars and doughnuts. Instead the government bring their axe down on the BBC, who are busy producing dramas like, well, Small Axe, a drama series telling forgotten but vital historical tales of London's West Indian community.
I somehow doubt Whittingdale had such ethnically diverse shows in mind when he speaks of "Britishness". His list of programmes reflecting "Britain and British values" includes Downton Abbey, The Great British Bake Off and Top Gear. The government will table a white paper about this – an ironic choice of colour. Whittingdale's "Britishness" focuses on a certain corner of white Middle England: entertaining shows, but there are more stories to tell.
A Christian identity
As Christians, we know our identity is in God. 1 Peter 2:9 declares we are "a chosen people, a royal priesthood, a holy nation, God's special possession." That's our identity.
Church and media should continue to celebrate the stories of everyone in the UK, from Anglo-Saxons to recent arrivals, from Hebridean parishes to ships at sea, and those in boats journeying to us. All are in the audience or congregation.
I don't think "Britishness" is fully celebrated by a white male minister listing white male-led show after white male-led show. Only Fools and Horses may have set a high bar – but Delboy can only fall through it so many times before new stories need to be told.
Then again, it starts with me. My list above – from Vigil to Midsomer – lacks diversity too. We have a habit of telling stories about people who look like us. Meanwhile, Michaela Coel's I May Destroy You is brilliant, diverse, British-set, and won two Emmy awards this very week.
As a TV writer myself, I'll bear in mind Whittingdale's speech – I'll have to, it'll be the law if his promised White Paper is introduced.
But I hope that churches, channels and all of us will keep telling our stories, not limited by law. We reflect Britain, with all of its quirks, just as we all reflect God, made in His image, each with a tale to tell.
Unfortunately for the government, British values also mean poking fun at authority – and long may that tradition continue too.

Paul Kerensa is a writer, comedian and broadcaster. His podcast 'The British Broadcasting Century' tells the origin story of the BBC. He is the author of 'So a Comedian Walks into a Church' (Darton Longman and Todd) paulkerensa.com
View full Profile