After hearing his Good Friday broadcast for the BBC, the Queen invited Billy Graham to preach at Windsor. His son, Franklin, recounts the friendship between a farm boy and a monarch, based on their shared love for Jesus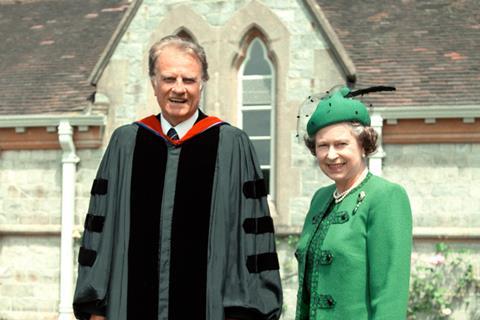 When my father, Billy Graham, passed away four years ago, I was honoured to receive a condolence letter from Her Majesty Queen Elizabeth II.
I appreciated the friendship between the Queen and my father because it was built on a shared love for Jesus Christ and belief in God's word.
The Queen was never shy when sharing her Christian faith. She once said: "I know just how much I rely on my faith to guide me through the good times and the bad."
An unlikely friendship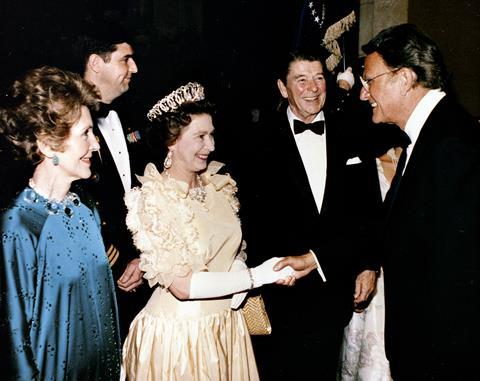 The day I was born, my father was in the midst of planning his first evangelistic outreach in the United Kingdom. The 12-week crusade in London's Harringay Arena took place in 1954, and it was the start of the Billy Graham Evangelistic Association's ministry in the UK. John Stott, a former chaplain to the Queen, called the crusade "the greatest religious congregation, 120,000, ever seen until then in the British Isles."
Her integrity and steadfastness shaped the shores of the UK and the hearts of its people
My father went on to preach to more than nine million people in the UK over the next 37 years, but his early evangelistic campaigns were what led to his first meeting with the Queen.
In 1955, my mother and father were in Glasgow for a six-week crusade, and the BBC broadcast my father's Good Friday message across the nation. Queen Elizabeth II and Prince Philip were among the millions who tuned in to hear my father share the gospel of Jesus Christ.
Not long after that broadcast, my father received a special note from Buckingham Palace inviting him to preach at Windsor Castle. So, on 22 May 1955, he delivered a sermon to the Queen and Duke of Edinburgh in the chapel on the grounds of the Royal Lodge. Afterwards, my parents joined Her Majesty and the Duke of Edinburgh for lunch.
A sincere faith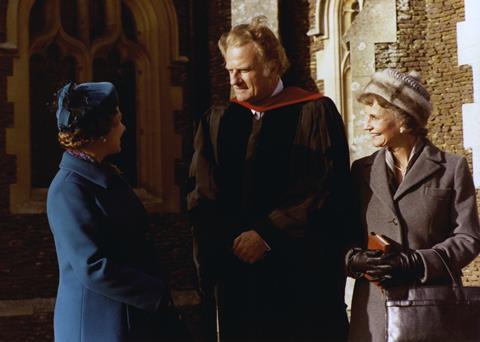 This was the first time that my parents met the Queen, but it was certainly not the last.
Queen Elizabeth II was a woman of sincere faith, and she found a steadfast friend in my father the evangelist. They met at least a dozen times over the next 30 years in the UK, the White House and California.
Throughout the decades, my father rarely shared much about their meetings. When asked, he would respond: "Good manners do not permit one to discuss the details of a private visit with Her Majesty, but I can say that I judge her to be a woman of rare modesty and character."
Her commitment to God will have an enduring impact for generations to come
My father spoke highly of Queen Elizabeth, and in particular, he admired her humility and sincerity. "No one in Britain has been more cordial toward us than Her Majesty Queen Elizabeth II," he wrote. "Almost every occasion I have been with her has been in a warm, informal setting, such as a luncheon or dinner."
My father described a special memory from one of those informal settings in his autobiography, Just As I Am (Zondervan): "Once, when visiting the royal family at Sandringham in 1984, Ruth and I walked past a woman wearing an old raincoat, wellingtons and a scarf; she was bent over fixing some food for the dogs. We thought at first she was one of the housekeepers, but when she straightened up, we saw it was the Queen!"
My father made a pledge to remember Queen Elizabeth II and her family every day in his prayers, and he greatly appreciated how she often talked about Jesus Christ during her public addresses. In her 2014 Christmas message, she said: "For me, the life of Jesus Christ, the Prince of Peace, whose birth we celebrate today, is an inspiration and an anchor in my life."
Ripples of her reign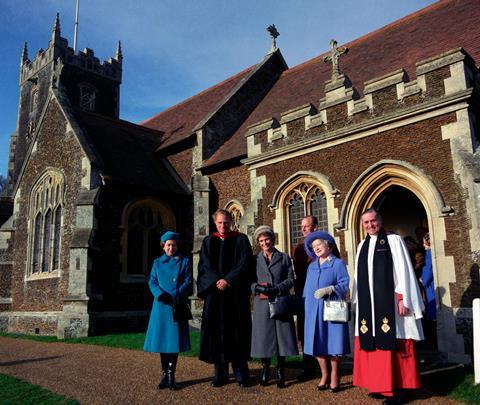 During one of my father's visits to Great Britain, the Queen asked for his opinion on a speech she would deliver. "To illustrate a point, she wanted to toss a stone into a pond to show how the ripples went out farther and farther. She asked me to come and listen to her practice the speech by the pond and give my impressions, which I did," my father recalled.
When Queen Elizabeth delivered that speech during her Christmas broadcast in 1975, she reminded listeners: "We are celebrating a birthday – the birthday of a child born nearly 2,000 years ago, who grew up and lived for only about 30 years…His simple message of love has been turning the world upside down ever since."
The Queen then urged everyone to follow the teachings of Jesus Christ and love their neighbours. It was a reminder that our actions can change lives. "If you throw a stone into a pool, the ripples go on spreading outwards. A big stone can cause waves, but even the smallest pebble changes the whole pattern of the water. Our daily actions are like those ripples, each one makes a difference, even the smallest."
The ripples of Her Majesty's reign touched all of us. Her integrity and steadfastness shaped the shores of the UK and the hearts of its people. She was a friend to my father, but more importantly, she was a true friend of the Christian faith.
I am profoundly grateful for Her Majesty Queen Elizabeth II, and I am confident her commitment to God and her dedicated service to the United Kingdom will have an enduring impact for generations to come.
Premier gives thanks for Queen Elizabeth II. We invite you to share your prayers of thanksgiving for Her Majesty's life, faith and service here

Franklin Graham serves as the president of the Billy Graham Evangelistic Association (BGEA). His first evangelistic event with the ministry was held in 1989, and since then, he has continued to spread the Good News of Jesus Christ through hundreds of outreaches around the world. Graham also leads the international Christian relief and evangelism organisation Samaritan's Purse, which helps meet the needs of refugees, victims of war and natural disasters, the sick, the poor, and the suffering in more than 100 countries around the world.
View full Profile