The vast majority of Brits are uncomfortable with talking about death. Chine McDonald wonders if the pandemic coupled with the death of our Monarch might change that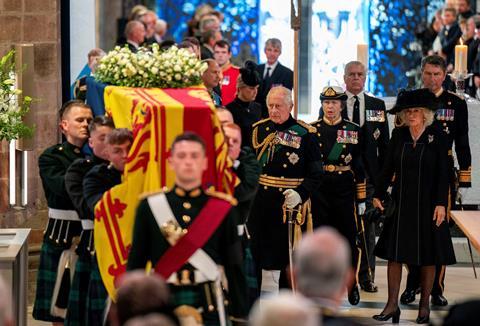 As the world mourned the death of Queen Elizabeth II, one family's outpouring of grief at the death of their own loved one broke my heart.
The family of Chris Kaba – an unarmed, 24-year-old black father-to-be who was shot by armed police officers in south London on 5 September – led a protest in central London, visibly undone by the scale of their tragedy. Their grief was palpable, in a way that we from African and Caribbean backgrounds are familiar with.
I noted the juxtaposition of the Kaba family's grief with that of the archetypally British mourning that we have seen in the aftermath of the Queen's death; the pomp and ceremony, sense of duty and stiff upper lip that are hallmarks of royal funerals. Like many, I will never forget the footage of Prince Harry and William behind their mother Diana's coffin, showing very little emotion for children who had just been through an unimaginable loss.
Shaped by culture
My family is Nigerian. We mourn like we party: loudly and extravagantly. For us, funerals really are a celebration of an individual's life, but also a way of bringing the community together. Three years ago, my white British husband joined me at my grandmother's elaborate funeral in Nigeria, which was attended by more than 1,000 people. Just a few years before, we had buried his parents in ceremonies that were much more sedate affairs.
This is not to say that one form of mourning is better than the other; there are things that are both healthy and unhealthy about each. But the past few days have made me reflect on the need for us all to be able to talk about death.
Mere mortals
Perhaps one of the reasons there has been such an outpouring of grief following Queen Elizabeth II's death is not just the passing of the only monarch most of us have ever known – a stabilising presence in an ever-changing world – but a reminder of our own mortality. If the Queen can die then so, too, will each of us. In Chimamanda Ngozi Adichie's Half of A Yellow Sun (Fourth Estate), Odenigbo puts it well: "We never actively remember death. The reason we live as we do is because we do not remember that we will die. We will all die."
If the Queen can die then so, too, will each of us
Confronting our own mortality can be scary, even for those of us who live with the Christian hope of life everlasting. The realisation can catch us off guard – sometimes in those moments in which life is at its most beautiful; a sadness creeps in which reminds us that it will one day end. This is what psychologists describe as mortality salience – the existential anxiety arising from the awareness that death is inevitable.
A good conversation
Sociologist Jack Fong describes how the "trinity" of the market, the media and life-extending medicine have led us to avoid talking about death at the existential and spiritual level, instead tiptoeing around it. In 2015, a ComRes poll backed this up; it found that 72 per cent of people in Britain are uncomfortable discussing death, dying and bereavement.
On Twitter, Dr Kathryn Mannix, author of With the End in Mind: How to live and die well (William Collins), wrote how Queen Elizabeth II demonstrated a good, ordinary death to the world. Despite the days of national mourning that followed the event itself, Dr Mannix suggests we can learn from the Queen's death "that dying is inevitable, recognisable, describable, and that we can prepare for it… [that] we can still enjoy love, and peace, and companions. That we need to get familiar with dying."
Confronting our own mortality can be scary, even for those of us who live with the Christian hope of life everlasting
It feels like the Queen's death is the latest moment in a period in which we have all been grieving. Death has felt much more present since the outbreak of Covid-19. In the UK alone, it is mind-blowing to think that more than 200,000 Brits died during the pandemic. However we mourn those losses, it's important we get more comfortable with talking about death. At Theos, we'll be looking closely at this over the coming months, exploring public attitudes towards death, dying and the afterlife in the UK and how Covid-19 has shaped these.
Tens of thousands of people across the UK will be signing books of condolence for Her Late Majesty, Queen Elizabeth II in churches and cathedrals up and down the country. The coming days, weeks and months present a unique opportunity for Christians to talk about death – not as those without hope, but as those who look forward to what comes next.

Chine McDonald is a writer, speaker and broadcaster. She is director of Theos, the religion and society thinktank, and previously headed up public engagement at Christian Aid. She is the former communications director for the Evangelical Alliance. Her latest book is God Is Not a White Man (Hodder & Stoughton). She studied theology and religious studies at the University of Cambridge and is a trustee of Greenbelt Festival and Christians in Media
View full Profile