A row about Disney and LGBT issues is breaking out among Christians in America. As the debate crosses the Atlantic, Heather Tomlinson looks at why this beloved institution is generating so much controversy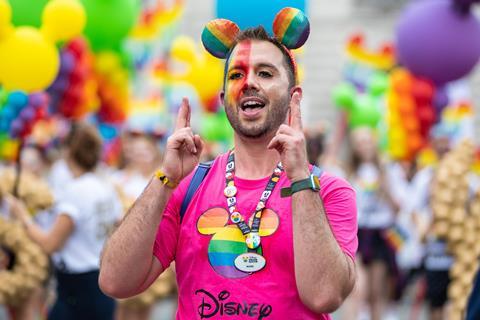 Disney's image was once one of wholesome children's films such as Bambi, and the utopian fun of a trip to Disneyland. However its efforts to support modern interpretations of LGBT rights means it is increasingly being seen differently by some Christian groups in the US.
Opponents include Franklin Graham, son of Billy; the Conservative Baptist Network and Nevada resident Jonathan VanBoskerck, whose opinion piece complaining about Disney's modern politics went viral and was commented on and criticised in several major newspapers.
The former Bethel worship leader Sean Feucht, already controversial for his views on Covid, has been leading protests outside Disney's corporate headquarters. He told Christian Broadcasting Network that Disney's recent political stances are "a massive departure from where they have been and where they've been known to be, and I say that as a parent who used to take my kids to Disney World."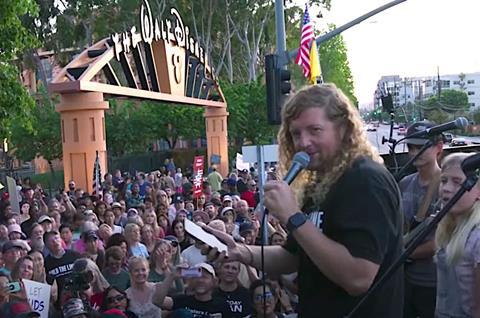 Feucht encouraged parents to sign a petition on parentsfightback.com which states: "Tell Disney that our kids are our kids. They aren't the property of the woke expert class who believe they know better how to raise our kids."
'Woke' refers to a progressive liberal movement that seeks to redress wrongs done to minority communities. It has become increasingly influential, especially in education and the corporate world.
Disney's most recent version of Beauty and the Beast (2017) included a gay character; while the 2020 film Onward was banned in countries such as Russia, Kuwait and Saudi Arabia because it featured a lesbian character.
Accusations of indoctrination
"When I was young, my father Billy Graham took me to visit Mr. Walt Disney," said the well-known evangelist Franklin Graham on Twitter in April. "We weren't allowed to watch many TV programs growing up, but because of Mr. Disney's commitment to wholesome entertainment, parents had confidence in their content. That has sure changed!
"Today, Disney is indoctrinating children w/the LGBTQ agenda—& they don't try to hide it. I hope parents wake up to what Disney is trying to do & protect their children & grandchildren from the lies this once-great company is now so willing to promote."
I hope parents wake up to what Disney is trying to do (Franklin Graham)
Sexual politics is not the only concern, however. Parents have also expressed dismay about sexualised films aimed at children, such as the computer animated Pixar movie Turning Red, which came out this year. "The film depicts a young teenage girl having sexual 'fever dreams' about a boy she thinks is cute, while also cat-calling the young kid outside of a storefront," said Eric Medina on his blog. "Some say the film depicts a young rebellious girl who does not honor her mother and father (Exodus 20:12), while others think the film is a bit TMI [Too Much Information] and over-sexualized."
The theme park Disneyland is also under fire. Changes to fit in with more liberal politics include no longer using 'boys and girls' to greet children but words that are gender-neutral, and hosting events that are supportive of the gay community.
'Don't say gay'
The most recent controversy was sparked by Disney's opposition to a new Florida law that conservatives say is designed to protect young children from being exposed to liberal attitudes to sexuality, but critics say risks marginalising minorities. The 'Parental Rights in Education bill' (dubbed the 'Don't say gay' bill by critics) prevents educators in Florida teaching about trans and gay rights to children younger than 9 years old.
Initially Disney's chief executive Bob Chapek did not take a stance, but now publicly opposes the law following campaigns by staff and a walkout in March.
This is not the first time that Disney has come under fire from the Christian community. In 1997 the influential denomination Southern Baptist Convention voted to boycott Disney and all its films for supporting same-sex employees, allowing Ellen to come out as a lesbian on the show of the same name, and hosting "Gay days" at its theme parks. This boycott ended in 2005 and the SBC promised to "monitor" the products and policies of Disney in the future. However insiders say it's unlikely that the SBC will try another boycott – not necessarily because its members agree with Disney's stance, but because they are wary of "stepping into the culture wars."
The 'culture wars' refer to the long-standing battle between conservatives and liberals in the public square, which seems to have heated up considerably over the past decade. Once mostly the concern of a minority of students, radical politicians and academics, it's now mainstream.
Sensitivity
Jesse Carey of Relevant magazine argued that we should use Paul's stance towards the Athenians in Acts 17 to be more culturally sensitive and not boycott Disney.
"There's a time to stand up against real injustice," he wrote. "Boycotts have been used to draw attention to actual social evils. But when Christians simply organize ineffective boycotts every time a celebrity, TV show or company does or says something they don't disagree with, these Christians start to look like they are more concerned with protecting themselves than actually engaging with others.
Parents can't assume that children's programmes or activities will be in line with their values
"Christians shouldn't be afraid of culture. They should be helping to shape it. And it's hard to do that when you're boycotting it."
Finding a way forward
The rhetoric tends to lump together the issues of rights for sexual minorities, the sexualisation of children, and recent changes in attitudes towards the fluidity of gender. However, these issues are very different, and Christians need to think carefully about what they do and don't support, and why. For example, few people would wish for anyone to be demeaned or degraded for their beliefs or sexuality. And educating children about these issues is possible without sexualising them. However, the subjects are very complex and fashions and beliefs are changing rapidly.
Christians who are firmly entrenched within their political 'tribes' of conservative or liberal will think that they already know which 'side' they support in this latest row. Many others will be confused. There may be sympathy for Disney's attempts to be more inclusive, from some parents. However sex education and opinions about sexuality may be seen as the parents' role and not the school's job, or the latest Disney films.
educating children about these issues is possible without sexualising them
Yet whatever the reason, any corporate attempt by Christian groups to boycott or otherwise 'oppose' Disney will be viewed as openly hostile to LGBT people and inherently bigoted. It's also difficult to see what this would achieve. Christians should find common ground where it exists. For example, we can agree with the modern 'woke' movements that all people should be included and valued, whatever their lifestyle or characteristics. Christians may disagree sharply about what that inclusion looks like, and how it should be achieved. But the message that we are lovers and not haters needs to be made clear.
However, the subject of the hyper-sexualisation of our society and our children is an urgent one. In the world we live in, children will be exposed to modern ideas about sexuality - and sex - in all kinds of media and many places outside of the home. Parents can't assume that children's programmes or activities will be in line with their values. Deciding what is and isn't appropriate for children to be exposed to has become a much bigger part of a parent's role. We can't abdicate it to Disney+, or for that matter Netflix, the BBC, our teachers, or any other organisation. Contextualising the material that children hear and see within a loving Christian worldview is an urgent task, and not an easy one.

Heather Tomlinson is a freelance journalist and regular contributor to Premier Christianity magazine. She likes to communicate the Christian faith to anyone who will listen: find more on her blog - heathert.org
View full Profile