In the midst of a polarised and emotive debate, the Church of England is encouraging 'balanced, inclusive decision-making'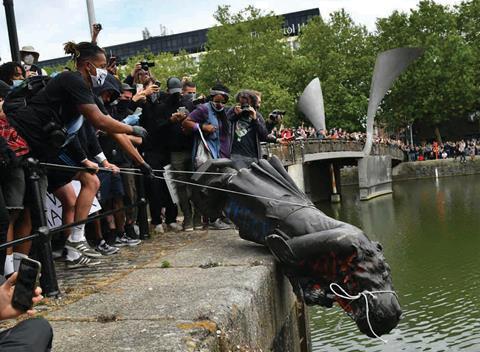 The Church of England has published new guidance for churches on statues and other artefacts that have links to slavery or racism. The Church believes such objects make some people feel unwelcome in church buildings, although that claim has been questioned by conservative voices.
The report Contested Heritage in Cathedrals and Churches asks parishes to review their historical objects. Where memorials to people who were involved in or connected to the slave trade, or that commend or celebrate colonial violence are identified, churches are being asked to consider removing, altering or placing another artefact alongside them.
The nation's statues have come under scrutiny in the wake of the Black Lives Matter protests. Some, such as the statue of Edward Colston, who was involved in the slave trade, have already been torn down by protesters. And some Anglican churches have already taken action as well. Bristol Cathedral removed Colston's name from its stained-glass windows, while St Peter's Church in Dorchester has covered a plaque commemorating John Gordon and his "quelling of a dangerous rebellion" in Jamaica where 500 slaves were killed.
TAKING ACTION
Most Rev Justin Welby, Archbishop of Canterbury has already declared that the CofE is "institutionally racist" and announced a series of initiatives to address this.
The new guidance is aimed at all churches and asks for action to be taken at local level. It contains a "process checklist" including assessing an object's significance, why it might be "contested", and ten possible responses, including no action or change, explanation, relocation, alteration or destruction. To develop it, the Church has consulted with dioceses and special interest groups since June last year.
Churches and cathedrals should be places where everyone feels welcome, said the guidance, before acknowledging that "not all people do feel welcome," citing "objects that they find troubling because of their depiction or commemoration of, or association with, the oppression or marginalisation of people".
It added that it doesn't "prescribe solutions" but offers "options and considerations" and "models for local consultation and discussion", to encourage "balanced, inclusive decision-making."
ANTI-CHRISTIAN
The announcement received a muted response from the faithful. Political commentator and Anglican Calvin Robinson questioned whether statues prevent people in ethnic minorities from going to a church: "While there are, of course, elements of individual racism within individual churches, that does not make the Church institutionally racist," he told Premier Christianity.
"This idea that we must judge people of yesterday by today's standards is bad enough, but now we're going further and requiring statues and monuments only to reflect perfect people. Well, any Christian will tell you that's an impossibility; we're all fallen, even the saints. This movement to erase our history is not only anti-British, it's anti-Christian."
Anglican vicar Daniel French described the guidance as "eerily Orwellian" in The Daily Telegraph, where Bishop Michael Nazir-Ali also questioned why the CofE focuses on its darker side rather than celebrating its anti-slavery campaigners such as the Clapham Sect.
WE'RE ALL FALLEN, EVEN THE SAINTS
French, writing in The Spectator, added that the CofE should focus on the aftermath of the Covid pandemic rather than statues: "Covid unleashed untold misery and suffering across Britain, with the church being afforded a chance to play a leading role in healing divisions and championing national positivity. Instead of embracing this opportunity, precious time, energy and resources are being wasted on this misguided adoption of critical race theory." He added that in 25 years of ministry: "I have never heard a parishioner complain of feeling unwelcome because of a monument."

Robert Poll, the man behind the Save Our Statues group and Twitter account, tweeted: "The problem is the flawed premise that these monuments are negatively impacting people's lives and 'the effects of enslavement continue to impact the lives of many UK minority communities.' Evidence?"

But the Dean of Manchester, Rogers Govender, who is the chair of the CofE's Committee for Minority Ethnic Anglican Concerns said: "The [BLM] protests which took the world by storm last summer have had a huge impact on how we view racism in church and society in general. Our history, faiths, attitudes, actions and heritage are all under scrutiny. This is not about destroying heritage or history, but providing a more balanced view.

"This is essential and appropriate in the light of the discrimination and injustice experienced by people of colour in all walks of life, not least in the life of the Church of England. I would encourage all parishes and cathedrals to respond in a positive way to this challenge.
CULTURE WAR
The statue guidance follows the Church of England's April report Lament to Action which itself followed an anti-racism taskforce set up by the bishops in June 2020. "For the Church to be a credible voice in calling for change across the world, we must now ensure that apologies and lament are accompanied by swift actions leading to real change", says the report. Among other measures, it called for more appointments of ethnic minorities within the hierarchy of the CofE.
Allowing individual churches to decide what to do with their artefacts, and trying to make room for a plurality of views is typical of the Church of England's approach to sensitive subjects. Occupying this middle ground won't be easy, and the Church is likely to be criticised from both sides. In April, Archbishop Justin acknowledged that the UK is in the middle of an "unhealthy" culture war. "Let's be suspicious, let's ask the hard questions," he said in a BBC interview. "But let's do it in a way in which we learn to disagree well and let's avoid saying that someone who disagrees with me is unfit to be called a human being and heard or published or whatever it happens to be."

Heather Tomlinson is a freelance journalist and regular contributor to Premier Christianity magazine. She likes to communicate the Christian faith to anyone who will listen: find more on her blog - heathert.org
View full Profile