It isn't just Christians who are campaigning against online porn. Shocking revelations about the industry are causing those outside of the Church to take action too
The sign in the window of a locked-down hall of residence read: "SEND NUDES, WEED AND FOOD". The order of priorities may have been intended to provoke a laugh, but 'nudes' – naked pictures – did not make it on to that list by chance. For young people, especially young men, looking at pornographic images is a daily occurrence.
Our society, like most of the world, has wholeheartedly embraced pornography. Three of the world's top twelve most-visited websites in 2019 were porn sites, and Pornhub, one of the most popular, was ranked 13th in the UK by traffic, just behind the UK government's own website. Pornhub alone gets an average of 42 billion visits per year, which is 1,200 clicks every second.
Pornhub saw an eleven per cent increase in traffic this time last year as national lockdowns kicked in across the world. The site even gave out free premium memberships in some countries, saying that it was promoting the message to stay home and stay safe. In those countries, usage rose by up to 61 per cent.
Porn use has changed a lot in recent decades. 'Adult content' is no longer just for adults, it is now a normal part of late childhood. The average age to first see porn is eleven, and around one in 20 visitors to porn sites is under 18. Female users make up to a third of the audience. And the type of material available has changed from the days when 'pornography' meant top-shelf magazines; now multiple genres of live-action sexual content are available for free, 24 hours per day, to anyone with an internet connection.
But this is not just a phenomenon in the world 'out there': pornography use is significant among Christians as well, whether we like to admit it or not. Reliable statistics are hard to get hold of, but the Belfast Telegraph reported in 2017 that 95 per cent of born-again Christians admit to having viewed porn, while a Barna Group study from 2016 found that 14 per cent of pastors in the USA struggled with using porn.
There are things going on behind the scenes that are so far from harmless, they should make even the most sexually liberated users think again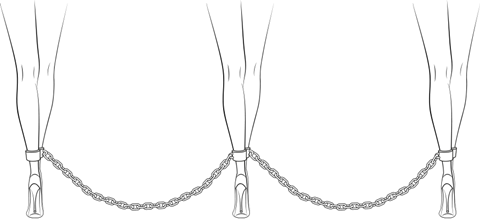 "The Church doesn't want to talk about porn because people will think we have a problem with porn," says Ian Henderson, CEO and founder of the Naked Truth Project, "but we do have a problem with porn." To illustrate his point, he tells me about an anonymous survey that Naked Truth Project uses with teens to gauge their exposure to porn, asking who has seen porn in the last 24 hours, the last week, the last month, or ever.
At a school in St Albans, before lockdown, 78 per cent of the sixth formers said they had seen porn in the last week. At a Christian camp later that same week, the figure was 73 per cent. Some of these had even viewed porn in the last 24 hours – in other words, while they were at the camp.
Figures like these can make porn use seem inevitable. Sexual ethics have changed so much, and exhortations to purity may seem anaemic and outdated. We might as well be speaking a foreign language. In a world of Love Island partner swapping and Tinder hook-ups, watching a little bit of pornography in the privacy of your own bedroom can seem harmless by comparison. But there are things going on behind the scenes that are so far from harmless, they should make even the most sexually liberated users think again.
WHAT USERS DON'T KNOW
There's a much darker side to porn that few of its viewers are aware of. Far from being willing performers choosing to earn a living through pornography, many of the girls who are viewed over and over again on porn sites are victims of rape, trafficking or coercion.
"Real sexual crime scenes are being monetised on the largest porn sites, and those sites generate hundreds of millions of dollars," says Laila Mickelwait, an expert on human trafficking who has spent the last eight years investigating the links between porn and trafficking. In February 2019 she set up Traffickinghub, a non-religious campaign aimed at shutting down Pornhub because of abuses perpetrated on the site. More than 2 million people have signed her petition, and her work led to a major exposé of Pornhub by The New York Times.
Mickelwait explains that the user-generated structure of sites like Pornhub makes abuse incredibly difficult to stop. Because these sites are reliant on user-generated content, anyone with an email address can upload videos of sexually explicit material, with few or no checks on how that material was obtained. "A performer can become officially 'verified' simply by providing a photograph displaying their username. Pornhub is set up for exploitation and trafficking," Mickelwait concludes.
If the structure of modern porn gives cause for concern, so does the content. Fifteen years ago, a list of 'internet rules' were posted on a satirical website. Rule number 34 of the internet was especially popular and continues to be cited today: "If it exists, there is porn of it." So along with what you might consider 'mainstream' sexual situations portrayed on internet porn sites, there are also entire genres dedicated to spycam footage (women who appear unaware they are being filmed), young teens (girls who appear to be underage) and rape, both of conscious and unconscious victims. In the vast majority of sex scenes, women are also physically and verbally abused. Of course, the fig leaf over all this is that these are fantasies, simply make believe. But the real fantasy is the idea that among all this pretend rape, voyeurism and child abuse there is no real abuse going on.
This is not just a theoretical possibility; 2020 was the year that illegal material on porn sites finally became undeniable. In December, following The New York Times exposé, Mastercard and Visa withdrew their payment facilities from Pornhub, prompting the website to take down 80 per cent of its content and remove the download button. Mickelwait had estimated that there might be "tens of thousands" of illegal videos featuring content such as child rape; in the end, Pornhub removed around 10 million videos. Its parent company, MindGeek, is facing a legal action from a woman who claims that footage of her rape, aged twelve, was hosted by its sites. Meanwhile another major porn site, Xvideos, is under investigation in the Czech Republic on suspicion of hosting user-uploaded underage and non-consensual material.
EXPLOITATION
Last October, a teenager who had been missing for almost a year was finally found after she was identified from pornographic videos, but children don't have to be abducted off the street in order to end up on porn sites; they can also be exploited from their own bedrooms. According to UK charity Internet Watch Foundation, in the first six months of 2020, 44 per cent of all the child sexual abuse content they dealt with involved self-generated material, and there was a 77 per cent increase in this kind of material in 2020 – probably due to the extra time we are all spending online. The normalisation of sending naked selfies opens children up to blackmail. In one case, a man posing as a kind and supportive boy persuaded a socially awkward girl to send him sexually explicit videos. He then threatened to send them to her teachers, classmates and parents if she did not continue making more videos. Her videos, of course, ended up on porn sites being viewed by thousands.
Some victims of porn may not even be aware they have been exploited. A college caretaker in North Carolina admitted in 2018 to charges of recording secret footage of women by hiding cameras in their university bathrooms and sports changing rooms. Many of the videos were then uploaded to porn sites. This kind of abuse, along with 'deepfakes', where freely available software is used to replace the face in a porn video with someone else's, could happen to any woman, without her knowledge or consent.
If these amateur efforts are scary enough, online porn moves to a new level of awful when you consider the professional human traffickers who are cashing in on a poorly regulated source of income. Last year, 22 women and girls successfully sued Girls Do Porn, a partner channel of Pornhub, for almost $13m. The company had tricked its victims by offering modelling jobs, then coerced them into shooting porn videos instead. The company's owner, Michael Pratt, is now on the FBI's most wanted list, with a $10,000 reward on his head. Although the videos were taken down once criminal charges were involved, they have been reuploaded elsewhere many times since.
The UK is the third largest consumer of images and videos showing the sexual abuse of children
Meanwhile, anti-trafficking organisations fear that women who had been trafficked as prostitutes before the pandemic may now be suffering abuse online, possibly on cam sites. These are pay-per-view websites where viewers can watch performers in real time and give instructions about exactly what they want to see. The privacy of this arrangement means that it is impossible to safeguard against trafficking or impose age controls. The UK is now the third largest global consumer of images and videos showing the sexual abuse of children.
The effects of this kind of exploitation, both for adults and children, can be devastating. "It's one thing to experience rape, it's a whole other trauma to know that a company is profiting from monetising it and people are getting pleasure out of it," says Mickelwait. The problem is compounded by the fact that once something is on the internet, it is there forever. Even livestreamed porn and Snapchat pictures can easily be captured and re-uploaded and, once they are up, it is difficult to get non consensual videos taken down. Rose Kalemba was raped as a 14-year-old and the footage was uploaded. She wrote of Pornhub: "My rapists put me in a mental prison, but you gave me a life sentence."
RECOVERY
Some believe that the answer to this is 'ethical porn'. If there are checks to make sure the performers are paid, consenting adults, then the problem disappears. But that is an impossible dream.
Mickelwait says: "The problem is that we don't know because they [the sites] don't know. When you see a woman crying, with mascara running down her face, you can't assume she's pretending."
"Some people think that trafficking and pornography are two separate issues. They're not – they're inseparable," says Garrett Jonsson. He used to have a serious porn habit. "For six years while I was married, I was consuming porn at a compulsive level, and my wife didn't know." Now Jonsson is a presenter and podcast developer at Fight the New Drug, a non-religious organisation that educates people about porn. He encourages those who are struggling with their porn use to be open about it.
"I think it has made me a better husband and father because I have told the truth," Jonsson says. "Once you tell the truth, you have more energy because you are not bound by deceit." He adds that in order to have an honest conversation with our kids about porn, we have to be open about our own struggles.
It's one thing to experience rape, it's a whole other trauma to know that a company is profiting from monetising it
Henderson agrees that the most important thing in quitting porn is to be honest with ourselves, but he also sees an opportunity for the Church in the current porn-saturated environment. "Lots of non-Christians have a problem with their own porn use," he explains, citing a statistic from the Association of Divorce Lawyers in the USA that 56 per cent of divorces cited compulsive porn use. He envisions something similar to CAP debt clubs, where churches offer specialist help for the problem without judgement and with no strings attached. He adds: "People who find recovery often find Jesus." Henderson's organisation, the Naked Truth Project, has a variety of resources for individuals and churches to tackle this problem, which the Church, up until now, has tended to ignore.
Henderson believes that public perception of porn can be changed. He compares it to the tobacco industry. "Fifty to sixty years ago, when people first made tentative claims, lawyers and scientists were funded by tobacco companies to say: 'This isn't legit.' The porn industry is also a multi-billion-pound industry that is lawyering up. They write off critics as angry feminists, religious types, unsuccessful ex-performers." As with the harms of tobacco smoke: "Until there is such a surge of numbers, voices can always be silenced."
But with major companies withdrawing their support and lawsuits pending, perhaps the time is coming when the voices of those standing against the porn industry will no longer be silenced.
How to quit
Giving up a powerful habit is not always simple. If you are struggling to ditch porn:
Identify your triggers
What places, times, emotional states make you most likely to watch porn? Can you avoid temptation, for example by removing electronic devices from your bedroom?
Tell someone
Open up to someone you trust, then stay accountable to them about your progress.
Keep praying
Even when you mess up, you are not disqualified from a relationship with God.
Get help
If you are struggling, online courses like Click to Kick or apps such as Fortify can offer support.

Karen Murdarasi is a freelance journalist