Part of American rock band, Luxury, Chris Foley was a Christian musician who struggled to reconcile his faith with his creativity – until he discovered Eastern Orthodoxy. He tells his story of how he became an Orthodox priest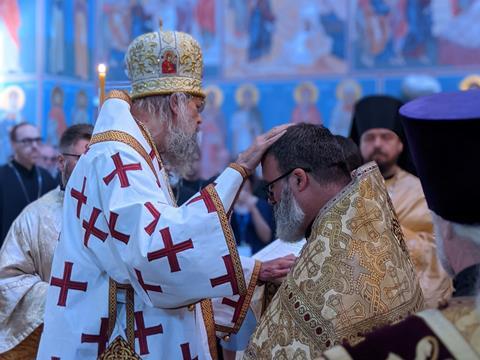 I came to discover the rich heritage of the Eastern Orthodox faith during a time in my life when I was heavily involved with the band, Luxury. I experienced a profound sense of joy in the creative process of writing, performing and recording music; somehow, intuitively, I sensed it was participation in the creative energy of God. But Luxury never fitted in the Christian music industry. We were much happier pursuing music in a mainstream context - we were simply Christian musicians who were trying to create something worthwhile and beautiful.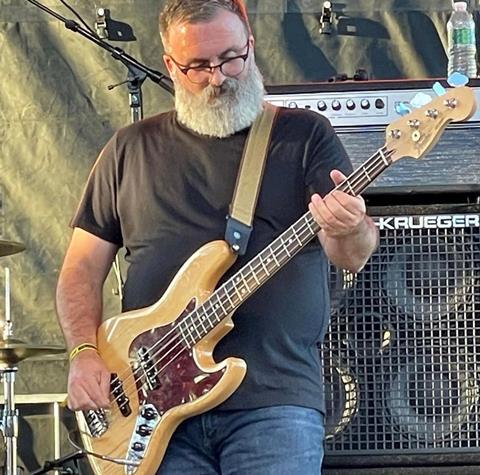 Growing up an evangelical Christian, I attended a small, evangelical liberal arts college in Georgia. But I struggled to reconcile my involvement in music with my Christian faith. What makes music inherently Christian or non-Christian? How do you maintain artistic and Christian integrity? Was music only a tool to carry a message? How does someone bring the totality of their faith into their music - or any art form for that matter? Why this need to dichotomise everything in the Christian ghetto? Wasn't there a way to just 'be'? Could I simply be a Christian who performs music without apology?
When I began to study Eastern Orthodoxy at college, I began to find answers to some of these questions. I found that the emphasis on the incarnation of Christ stressed the goodness of creation, and that matter is now united to God. This means that matter matters; beauty is not just something external to God (and therefore optional) but an energy emanating from God himself - an absolute. This idea speaks profoundly to faith as it relates to the creative process.
Beauty in all things
The Orthodox faith teaches that the Lord is present and fills all things. Because of the incarnation, everything can become a means of communion with God if we have the eyes to see it. This idea is articulated best by Fr. Alexander Schmemann when, in For the Life of the World (St Vladimir's Seminary Press) he explains that man's primary vocation is to be a priest of creation who offers up all of their life to God in thanksgiving. As we pray in the Divine Liturgy: "Thine own of Thine own we offer unto Thee on behalf of all and for all." If we keep in mind these words of St John Chrysostom, our creative endeavours will themselves become a form of prayer and honour to our creator.
The touch point between creativity and faith is the inner disposition of the heart
As I look at culture around me - and even within the Church – I notice that we tend to place God in a sphere called 'religious' and have ceased to see him in all things. This has caused the world, and everything in it, to become a closed circuit. Fr. Alexander goes on to say that man "does not know that breathing can be communion with God. He does not realise that to eat can be to receive life from God in more than a physical sense." I think this can be said about the creative process too. Whether you are explicitly Christian in your creativity or implicitly so, God can still be glorified. The touch point between creativity and faith is the inner disposition of the heart. In short, we must be sure that the Word of God is in our hearts when we articulate our God-given creative spirit.
The artist, through this God given creativity, has the responsibility to offer up this talent to God and to do something with it (as in the parable of the talents.) We are to glorify God in everything that we do. Thus to create something beautiful with a spirit of excellence can be an offering to God. This is how faith and creativity converge. Paul Evdokimov, an Orthodox theologian from the last century, sums up this vision for life when he says: "all of life, every act, every gesture, even the smile of the human face, must become a hymn of adoration, an offering, a prayer. One should offer not what one has, but what one is." Every note, every stroke of the brush, every word can be offered up in thanksgiving and praise to our creator God, the source and origin of all things.
A new understanding
It was this understanding that led me to enter into the Orthodox faith. I have grown to appreciate the joyful sobriety of worship. Rather than hip, young, seeker-oriented worship, there is a timeless, yet ever-present, relevance in the sublime doxology offered up with reverence. This spoke deeply to my soul; I had been longing to be connected to something with roots and beauty.
Because of the incarnation, everything can become a means of communion with God
In 2003, my family and I moved to New York to attend Saint Vladimir's Orthodox Theological Seminary. I was ordained as a priest and have been serving now for almost 16 years. While I still love to write and record with Luxury, it is really the vocation of priest that brings me the greatest fulfillment.
Standing at the holy altar and offering up thanksgiving and praise to God for his love towards us, and receiving back from him the life-bearing gifts and offering them to the people of God for their salvation, is beyond anything that this world has to offer. It is Christ himself offered up and returned to us for the life of the world. What could be more important than that?

Fr Chris Foley is priest-in-charge at Holy Cross Orthodox Church, High Point, North Carolina. He is also a member of rock band Luxury.
View full Profile