Since winning The X Factor in 2008 Alexandra Burke has released hit singles, starred in Strictly Come Dancing and taken her talents to the West End. As theatres re-open after an 18 month hiatus, it seems her Christian faith is as strong as ever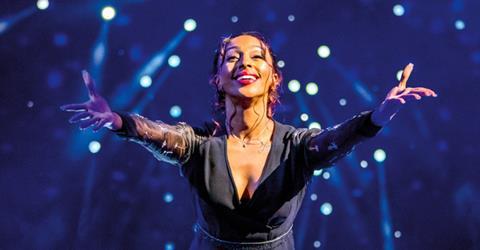 After a heart-breaking hiatus for theatres, the stage is set for shows to make a glorious return and no one is more excited than Christian performer Alexandra Burke.
The talented songstress, who received rave reviews for her performance as the narrator in Andrew Lloyd Webber and Tim Rice's much loved classic Joseph and the Amazing Technicolor Dreamcoat, broke down in tears live on stage during a matinee last week as it hit her that "we were back on stage after not performing for such a long time."
Relying on prayer
Despite all her energy, talent and appearance of confidence, Burke has previously said that performing doesn't come easy for her and she needs her Christian faith to see her through.
Speaking to The Radio Times, she explained that she relies on prayer before taking to the stage, "There is no joking when it comes to praying - I'm always praying. Because I'm always quite hyper, if I'm silent, it's me praying to myself."
Despite the nerves she confessed to feeling before a show or performance, the star always had her sights set on singing. Burke's mother Melissa Bell, a member of 80s band Soul II Soul, was an inspiration for the aspiring artist growing up. Burke described her as having "the best voice in the world." But as a result of her mother's touring with the band, Burke was forced to grow up quickly, taking care of her brother and picking him up and dropping him off at school.
Because I'm Christian, I want to make sure the message in my music is positive
Writing for the Daily Mail, Burke said: "Our Christian faith was a big deal for us growing up. I know that God is a big part of my life and always will be." Speaking in 2018 to BBC's Songs of Praise, she added: "I grew up going to church and I just remember from a very young age wanting to sing gospel."
Early success
Fortunately, Burke was able to back up her passion for music with some serious talent; enough to make it all the way to final of The X Factor in 2008. She beat off competition from JLS – with a little help from an epic duet with Beyonce – to win the series.
As always, the winning contestant released a Christmas single. Burke's was 'Hallelujah', which sold more than a million copies in the UK, earning her the Christmas number one. It was also the top-selling single in the UK that year. The singer continued to release hits before taking over from Beverly Knight in The Bodyguard on the West End stage.
Burke has previously said that her faith is central when making choices about projects and songs she works on. Speaking to Songs of Praise, she said: "As I've grown up in the music industry, I've always said to myself, whenever I make music, because I'm Christian, I want to make sure that the message I'm giving out in my music is positive, it's with love and it always has a spiritual aspect to it."
Seeking support
While it seems like Burke went from success to success, thing didn't always come easy for The X Factor winner. She said: "I took a life-coaching course in 2013 in New York to help with my confidence. I was quite low back then — changing record labels knocked me."
Then in 2017, just as she was about to start competing in BBC's Strictly Come Dancing, her mother passed away at the age of 53. Melissa Bell sadly died on the same day as the Strictly red carpet launch event on 28th August, but despite the tragedy, Burke decided to continue with the competition.
I grew up going to church and from a very young age wanted to sing Gospel
In a statement on Twitter, Burke said: "Mummy has always been my biggest supporter and was over the moon when I told her I was doing Strictly… I know that she would have wanted me to carry on."
In interviews, the X-Factor winner said that Church helped her to be "positive, hopeful and thankful, which is a really important part of life" and God's support not only helped her perform but would "drive [her] through the competition". But she was also frank about the toll the bereavement had on her faith.
Speaking to HELLO! she said: "Losing my mum so young made me question my faith in God and so many things, because I was completely in denial with how sick she was. I asked them in hospital if she was deteriorating and they said no. But then, boom, she was gone. She is meant to be here."
Despite the understandable questions that grief and pain raised in her life, it appears Burke is still invested in her faith. In a recent post on social media, the talent singer uploaded a glam picture of herself with the simple caption: "God made this."

Lauren Windle a journalist, author and presenter who focuses on faith, recovery and love. Her debut non-fiction book Notes On Love: Being Single and Dating in a Marriage Obsessed Church (SPCK) is out now.
View full Profile