Michael Bublé has joined a whole host of celebrities who are investing in, and publicly endorsing, Christian wellbeing app Glorify. But what do we know of the Canadian crooner's relationship with Jesus?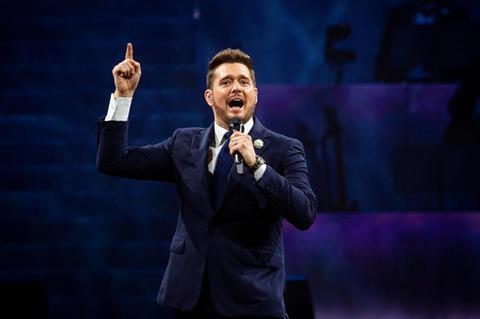 We're barely into Advent, but it's highly likely you've already heard the dulcet tones of Michael Bublé on more than one occasion. Love or loathe his music, the charming Canadian is an indelible part of our soundtrack to the festive season. This year sees the re-release of his 2011 album Christmas, so expect to hear a lot more of his voice over coming weeks. Loathers, you have been warned.
Glorify thy app
But among all of this, something unexpected has happened. Bublé has been promoting a Christian app. (Yes, I typed that correctly; Christian app, not Christmas app). And he's just one of a number of high-profile figures, including Jason Derulo, Kris Jenner and the founders of Candy Crush, who are contributing $40 million to help expand the scope, functionality and content of Glorify, a daily devotional and wellbeing app for Christians.
"Whether you are in the studio, on the road, or even with family, it is incredibly challenging to carve out quiet time," says Bublé. "Prayer has been such an important part of my life. With Glorify, we now have the tools to find moments throughout the day to connect with God on our own terms." The Archbishop of Canterbury and Rick Warren have also commended the app.
If you're like me, you may have done a double-take to check whether this promotional blurb, featuring undeniably Christan phrases such as 'prayer' and 'quiet time', was actually spoken by the Christmas crooner. They're not words we'd expect to come from him. In fact, for all his associations with Christmas, the idea of Bublé even having a faith may be a surprise in itself.
Sleeping with my Bible
In a 2009 interview with Associated Press, Bublé revealed that he grew up Catholic and "slept with this Bible and prayed every night". But his faith evolved, he said, and moved from being based around organised religion to something far broader: "I have a relationship with that one thing, the universe, God," he says. "You can call it Jesus, you can call it Jehovah… call it whatever you want. Buddha, if you want." He added that he still prayed and had always sought to give back to others from what he has been blessed with. And his extensive charitable endeavours certainly bear witness to this.
It is one thing to acknowledge Jesus' role in your son's healing, another to give him the central place he deserves in your life
Fast forward nine years, and it seems that Bublé's thoughts about faith have shifted once more. It is now more about Jesus — and the turning point appears to be an illness suffered by his eldest son, Noah.
In 2016, three-year-old Noah was diagnosed with liver cancer. "At this difficult time, we ask only for your prayers and respect for our privacy," Bublé shared in a Facebook post. "We have a long journey in front of us and hope that with the support of family, friends and fans around the world, we will win this battle, God willing."
In February 2017, Bublé and his wife, Luisana Lopilato, released a statement in which they said: "We thank God for the strength he has given all of us. Our gratitude to his doctors and caretakers cannot be put into words. We'd like to thank the thousands of people that have sent their prayers and good wishes to us."
A month later, Bublé's brother-in-law, actor Dario Lopilato, told Argentinian newspaper La Nación: "I believe in God and sought comfort in Jesus Christ and a miracle from God came, from the way it [the cancer] was discovered, after the operation, everything." He added: "God exists."
Prayer has been such an important part of my life
This recognition of Jesus' role in Noah's healing extended to Bublé himself, as revealed in an interview on The Late Late Show With James Corden in 2018. "We all moved and we lived at [Children's Hospital Los Angeles] and we just had the best doctors and, God… thank you, Jesus Christ!" said Bublé, clearly overcome with emotion. In a separate interview he acknowledged that the family felt uplifted by the prayers of others: "We knew they were praying for us," he said.
Closer to Jesus
Of course, only so much can be gleaned from soundbites. It is one thing to acknowledge Jesus' role in your son's healing and another to give him the central place he deserves in your life. But it's telling - and encouraging - that, between the 2009 and 2018, the direction of Bublé's faith has clearly moved. And, it seems, he is closer to Jesus than ever. His financial backing of Glorify, and the public staements that he has made about how he hopes it will deepen his own prayer life, suggests this trajectory is continuing.
I guess that's another reason to listen to Bublé this Christmas (as if you needed one).