After speaking about his faith on Strictly Come Dancing, Rhys Stephenson took to Instagram to encourage those "who felt empowered" by his openness. In an age of increasing scepticism, celebrity Christians can bring much-needed credibility, says Philippa Hanna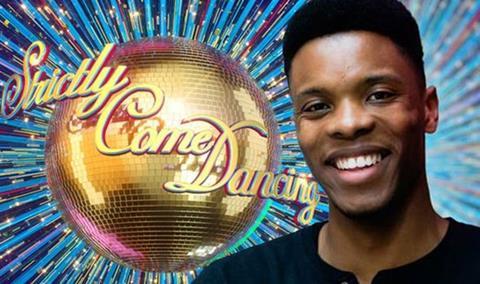 It's 2017 and, in the wake of the horrific terror attack in Manchester, England, a huge concert is taking place. Pop music's A-list has gathered en masse and we can hardly believe it. The likes of Katy Perry, Miley Cyrus and Ariana Grande are standing in support of the northern British public and crucially, our Western freedoms.
It's exactly what the city needs at that moment - a dazzling display of positivity and unity in the face of unthinkable evil. The concert brings peace and comfort to thousands who are shaken and grieving. But the thing we're really not expecting is the gospel. We're not expecting to hear the name of Jesus confessed as the answer to all of this discord, from the mouth of one Justin Bieber.
Our celebrity allies provide hope that we'll be understood for the decent, loving people we are
I think we all knew JB had faith. The pop sensation's Christianity is something I've been aware of since the earlier days of his career because, like many believers, I have an internal directory of famous Christians which I casually pull out when evangelising to my pals.
I can tell you without blinking that Chris Pratt, Denzel Washington and even legendary rocker Alice Cooper are card-carrying lovers of the Lord. "Tom Hanks loves Jesus, you know. That's Forrest actual Gump," is something you might overhear from a low-key evangelist like me. I think of these celebs as allies. An Oscar-winning actor or two can really help challenge the stereotypes we regularly run into when sharing our faith.
The scores are in…
There's always a sizzle of excitement when someone young, relevant and technically 'outside of the church walls' shares their faith publicly. This past weekend, we sat beaming at our TV screens as Strictly Come Dancing contestant Rhys Stephenson called his faith the "one constant" in his life, saying: "My family and I are Christians and that has been an integral part of who we are," before describing his church as a "second home". The CBBC presenter then took things to the next level by featuring his pastor in his pre-performance VT and even chatting with the church via live-link before the judges' scores came in. A win for God's people surely? It certainly brightened my Saturday night as I ironed the crisp lapels of my Sunday best…
But I've always had mixed feelings about mega churches spotlighting their celebrity members. I get why it works - don't get me wrong - with 268 million Instagram followers, former Hillsong Church members like pop sensation Selina Gomez present a jaw-dropping opportunity for sharing the gospel. The potential for actually changing lives and hearts is astounding.
Followers of Jesus have been mischaracterised as living at odds with progress, inclusion and even love itself
But the idea of this kind of 'kingdom marketing' can sit a little uncomfortably. Celebrities have incredible influence, but holding them up as some kind of advert for Christianity can be a risky business. It gets a little messy and uncomfortable, for instance, when someone's Instagram grid or song lyrics don't stack up with our ideals of what a Christian role model should look like.
There's also that internal conflict of loving our faith being positively represented in the mainstream but not wanting to see it 'up-sold' as something culturally desirable and cool. Anyone who knows Jesus knows that being born again is supposed to give us freedom from having to live up to those types of expectations. Part of the beauty of belonging to Christ is no longer having to value ourselves based on those standards. There are no VIPs in the kingdom, right?
Unafraid
So I did a little poll on my socials to find out how people feel about all this stuff. An overwhelming majority of my followers said they enjoyed seeing celebrities talk openly about their Christian faith. Perhaps we're all a little relieved, in an age where faith is becoming almost taboo, to see someone unafraid of speaking out. In today's political climate, Christianity hasn't fared well as a 'brand'. Followers of Jesus have been mischaracterised as living at odds with progress, inclusion and even love itself. On some level, our celebrity allies provide hope that we'll be understood for the decent, loving people we are. We hope our young people will encounter Christ in their example, and find freedom in this confusing culture where wealth, popularity and sex are relentlessly glorified.
Christianity hasn't always fared well as a 'brand'
So if people have a shot at encountering Jesus, does the platform matter? Is the messenger relevant? For me, it doesn't matter if it's Justin Bieber or Justin the worship leader at Friday night youth club. I just want people to get to know God. Yes, celebs can be risky advocates for Christ. But actually, aren't we all? Are any of us fit for the job? Wasn't the apostle Paul a little risky? Weren't the disciples? We're all just sinners saved by grace in the end, doing the best we can to model Christ and not stray too far off the narrow path. If a teenager goes to church because their favourite singer does, we should pray they stay because they meet the true Lord and lover of their soul.
How did I feel when Bieber confessed the name of Jesus that day in Manchester? In all honesty, I felt relieved. I felt emotional. I felt grateful. I felt like he'd spoken for me. On such a sombre occasion, loaded with such heavy questions and emotions, I was just glad to hear the name of Jesus. I wish him every blessing, it's as simple as that. Oh, and Rhys Stevenson for the Strictly win OK? Let's pray it's so.