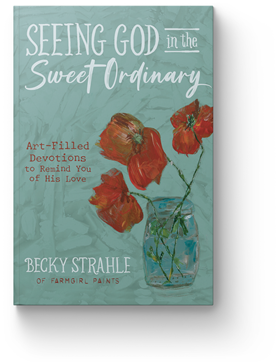 This is a sweet set of love letter-style devotionals from Nashville-based author Becky Strahle. The small, hardback book is visually appealing, and the size makes it is easy to carry with you.
Strahle's undated devotionals are designed to be read one day at a time. If too many are read at once, the book soon feels repetitive.
While the pages are visually eye-catching and the words flowery, the devotionals can veer into the simplistic. Perhaps this is deliberate (given the phrase "sweet ordinary") but the lack of grit is disappointing. Similarly, some of the photos taken of and by Strahle in her gorgeous home can make the author seem unrelatable.
Seeing God in the Sweet Ordinary strikes an encouraging tone, but with its popular Bible verses and toothachingly sweet, simplistic form, it won't offer anything new to mature Christians.


Daisy Edwards is a history and journalism graduate, Londoner and lover of country music.